Bryan Clay on the way to Beijing Olympic games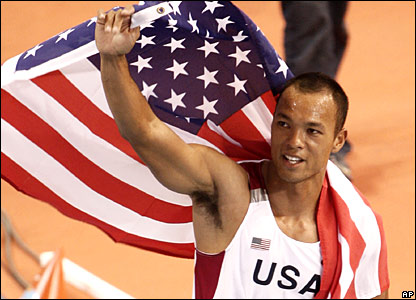 Hawaii decathlete Bryan Clay— a 1998 graduate of Oahu's Castle High School— is bound for the Olympics again, this time as a record-holder.
Clay earned his ticket to Beijing by earning 8,832 points in the U.S. Olympic track and field trials yesterday—a new record for the competition and the highest score from an American athlete in 16 years.
The 28-year-old Clay exceeded the 1996 Olympic trials record of 8,726 points set by Dan O'Brien. Also in the dust, Clay's own personal decathlon best of 8,820 points, at the 2004 Athens Games, where he earned a silver medal.
Clay's point count gave him the sixth spot on the list of best athletes ever in the 10-event competition. Sport watchers say Clay has a great chance of besting his new record at the Olympic games in Beijing.
The world record in the sport is 9,026 points, set by the Czech Republic's Roman Sebrle in 2001. Sebrle beat Clay for the gold medal in 2004.
"I'm happy with my training. I'm happy with my mindset and I want to bring that to Beijing," said Clay, on his Web site. "I just have to get after it every event, stay focused, and do my job."
The summer Olympic games in Beijing begin August 8th.