Byodo-In Temple is a Hidden Gem Flanked by the Ko'olau Mountains
Leave bustling Honolulu and into a new world on the Oʻahu's Windward Side at the Valley of the Temples.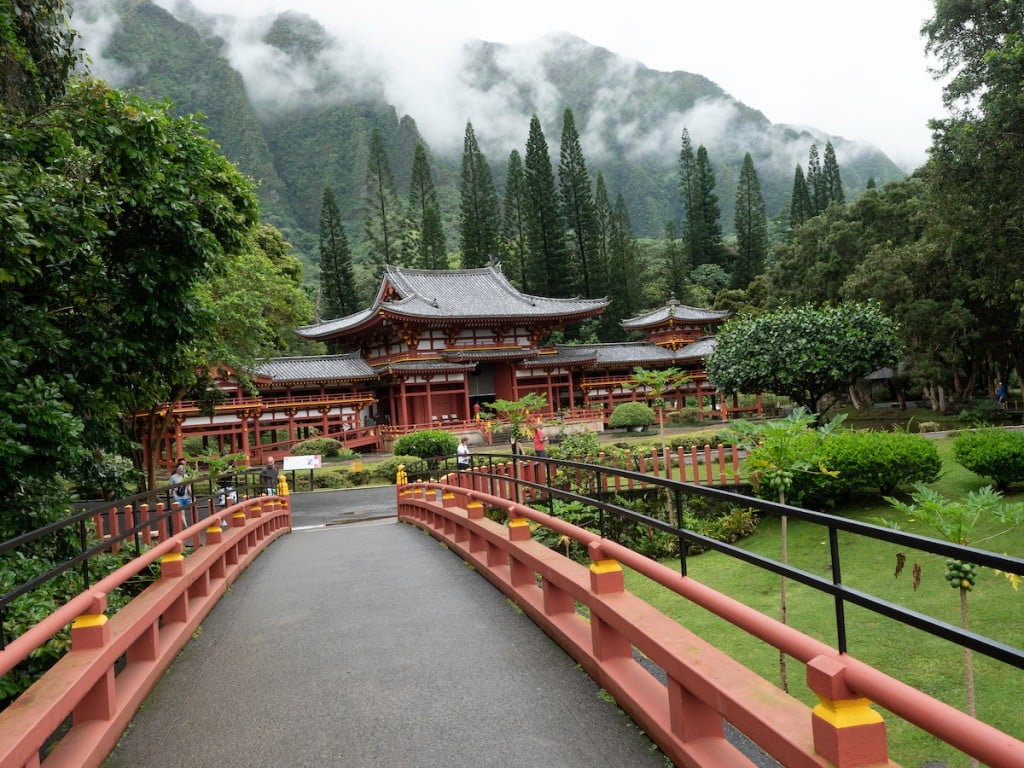 Tucked away on Oʻahu's Windward Side, at the base of the majestic Koʻolau Mountains, Byodo-In Temple in the Valley of the Temples Memorial Park is one of the best-kept secrets on O'ahu. Although the temple is just a short drive from popular destinations like Windward Mall and Kāneʻohe Bay, when you step onto its quiet grounds, you're in an entirely new world. One of the best times to visit is in the morning as the sun rises and casts light on the entire valley. Standing It stands in stark contrast to the lush greenery that surrounds it.
The temple is a replica of Byōdō-in, a 900-year-old temple—a World Heritage site—located in Uji, Japan, built to commemorate the 100th anniversary of the first Japanese immigrants' arrival to the Islands. This nondenominational Buddhist temple sits alongside various Catholic statues and mausoleums and doesn't function as a Buddhist temple. It doesn't host an active congregation, either.
Once on the grounds, you'll see the bell house, which houses a 5-foot, 3-ton bon-sho (sacred bell). Visitors are encouraged to ring the bell, which is believed to cleanse the mind of evil spirits and temptation and invite happiness and blessings into one's life. It closely resembles the bon-sho at the temple in Uji, which is thought to be more than 900 years old.
If you decide to head inside the temple, you'll need to take off your footwear. (It's a sign of respect.) Here, you'll stand before a 9-foot-tall statue of Amida Buddha, thought to be the largest figure caved outside of Japan. Fifty-two smaller statues of bodhisattva (enlightened beings) surround the larger golden Buddha.
Surrounding the temple are large ponds—shinji-ike, or reflection ponds—filled with hundresd of colorful koi (carp). You can feed the koi by buying fish food at the gift shop. You'll also see peacocks, turtles, frogs and black swams on the premises.
While this isn't a place of worhsip, it has been a popular location for weddings and movies. The picturesque temple has been featured in several television shows including "Hawaiʻi Five-O," "Magnum P.I." and "Lost." The beautiful temple grounds, with its serene ponds and striking architecture, are popular with both amateur and professional photographers alike.
Although Byodo-In Temple is temporarily closed due because of COVID-19, temple staff and members monitor the situation daily. Updates are available on its website. In the meantime, you can enjoy a virtual 360-degree tour of the temple grounds and surrounding park here.
General admission $5 (ages 13 to 64), $4 seniors (age 65 and up), $2 children (2 to 12 years), The temple grounds are open 8:30 a.m. to 5 p.m. daily. Last entrance is 4:45 p.m. 47-200 Kahekili Highway, Kāneʻohe, (808) 239-8811, byodo-in.com.