Cane Haul: Hawaii Plantation Museum a treasure trove of sugar-era artifacts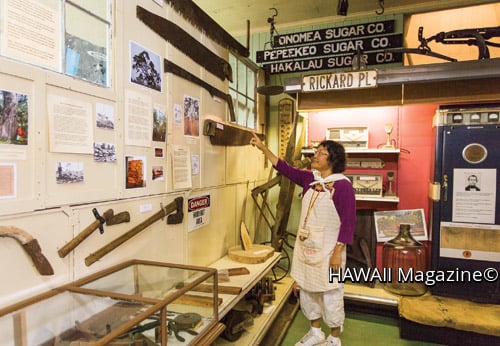 For more than a half-century, Wayne Subica spent most of his free time hunting for artifacts related to Hawaii's sugar-plantation era on eBay and at antique stores and garage sales. Some of the vintage items he purchased are chipped. Others are rusted or discolored. But, to Subica, each is a priceless vestige of the agricultural industry that was the backbone of Hawaii's economy from the late 1800s to the mid-1900s.
The collection includes tools, toys, signs, books, furniture, letters, clothing, even a one-horse wagon. A reservoir of artifacts that grew so vast, amazed friends and family urged Subica to start a museum. He demurred, at first, believing he didn't have the time or the experience to take on such a project. But, after retiring in 1999 from his post as Hilo district conservationist for the U.S. Department of Agriculture's Natural Resource Conservation Service, Subica decided to give it a try.
Hawaii Plantation Museum opened in 2004 in a 1,500-square-foot, old storefront in downtown Hilo, established by Subica and a group of dedicated volunteers. The museum and its collection quickly outgrew the space, forcing Subica to search for a larger location to fulfill his vision for it. Six miles north of Hilo, in the former sugar-plantation town of Papaikou, the long-empty Onomea Plantation Store, first opened in 1902 and, in later years, known as the S. Yoshiyama Store, seemed a perfect location. In February 2013, after months of extensive repairs, renovation and cleaning of the 14-years-closed, two-story store, Subica welcomed visitors to a Hawaii Plantation Museum exhibit space that was more than twice its original size.
A history buff, Subica has devoted countless hours of research, phone calls and meetings with plantation families to gain insights about each of the 1,000-plus artifacts on display at Hawaii Plantation Museum. Ticket stubs from the Tanimoto family movie theaters, once fixtures in several Hawaii Island plantation towns. A Papaikou plantation phone booth from 1900. Signage from the now-shuttered Sun Sun Lau, once Hilo's fanciest Chinese restaurant. "Bango tags" worn by plantation laborers as identification. ("Bango" is Japanese for "number.") One could lose hours combing through Hawaii Island history at the museum.
The first item Subica set up in the new location was a wood booth from Olaa Steak House, which Yasuo and Aiko Ogata opened in Hilo on Dec. 4, 1941, three days before the Japanese attack on Oahu's Pearl Harbor. The Ogatas, it's said, served the best T-bone and Porterhouse steak meals in the territory—complete with salad, starch, grilled onions and homemade pie—for just a few dollars.
"Plantation workers were on limited budgets, but many of them would go there on special occasions or when friends and family were in town," Subica says. "I asked the Ogatas' daughter if she had kept a menu. She laughed and said, 'Wayne, there never was a printed menu. It was always written on a chalkboard.'"
The museum's highlights also include laminated copies of monthly sugar-plantation newspapers dating from the 1940s through the 1960s. Museum volunteer Donna Santos Johnson knew that her father had worked for Onomea Sugar Co. for three decades. She was thrilled to find a story about her parents' wedding—including a portrait of the couple at the altar of Papaikou's Immaculate Heart of Mary Catholic Church—in the February 1958 issue of the Onomea Echo newspaper.

A vintage wood booth from long-shuttered Hawaii Island restaurant Olaa Steak House. Photo by Andrew Richard Hara.
The article reads like a feature straight out of New York City's society pages:
"The (bride's) gown of white nylon net over taffeta featured a hoop skirt with circular insets of deep lace. The lace bodice featured a Queen Anne neckline and long tapered sleeves. Her fingertip veil of illusion net was held in place by a small crown. Her bridal bouquet featured white carnations and ivy detailed with streamers of white satin ribbon."
Plantation employees composed all of the writing for the newspapers. Their companies paid the printing bills.
"Plantation populations were made up of immigrants from all over the world, including China, Japan, Korea, Portugal, Puerto Rico and the Philippines," says Subica. "They had very different cultures and backgrounds, and the papers played an important role in connecting them as a community."
The Hawaii Rifles was a volunteer regimental guard of men who worked for the sugar plantations during World War II. Organized in February 1942, two months after the attack on Pearl Harbor, the guard was not part of an official military branch and was to be mobilized only if an invasion occurred or all of the Islands' full-time military forces were deployed elsewhere. Few people remember the Hawaii Rifles because it was never in combat, but its 4,500-strong membership trained every Sunday. Japanese plantation workers, however, were not allowed to join.
For decades, Subica believed that his father had never served in the military. After his parents passed away, he found an old photo of his dad in a group dressed in military uniforms.
"The picture was of Olaa Sugar Co.'s Hawaii Rifles, which made sense since my dad worked for that plantation," Subica says. "I heard that, when the Hawaii Rifles was first formed, their friends would call them the Broom Brigade because the men trained with brooms until the Territorial Guard [now the Hawaii National Guard] loaned them rifles."

"Bango tags" worn by sugar plantation laborers as identification. Photo by Andrew Richard Hara.
Studying the photo, Subica noticed a red, yellow and green lehua-blossom patch on the men's left sleeves. Old-timers told him the patch was designed especially for the Hawaii Rifles and that the first ones were felt and later ones were embroidered. An embroidered patch is now displayed at Hawaii Plantation Museum.
As word has spread about Subica's labor-of-love museum, more and more people are bringing stories and artifacts to him, increasing his already impressive collection. He's excited about the growing interest.
"People are realizing that things their parents, grandparents and great-grandparents did and used have meaning and value," Subica says. "Communities are coming together to preserve their histories and heritages."
Hawaii Plantation Museum
27-246 Old Mamalahoa Highway, Papaikou, Hawaii Island • (808) 964-5151 • memoriesofhawaiibigisland.com
(This feature was originally published in the July/August 2014 issue of HAWAII Magazine.)