Catching up with HawaiiMagazine.com's best posts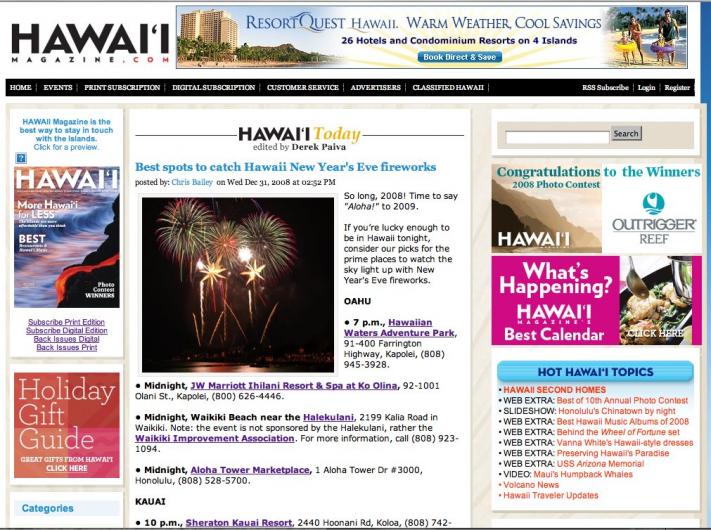 Time to catch up with our Web posts again!
Every couple of months, we like to bring our new HawaiiMagazine.com readers—and even our regular visitors who sometimes miss a few days—up to date with the best of our daily Web site posts.
We put together more than 455 posts in total in 2008—all of 'em still here at HawaiiMagazine.com. Short features on Hawaii's people, places, and products. Travel tips. Slideshows. Lists. And dozens of updates on all of the activity at Kilauea volcano on the Big Island.
Click the links below to catch up with HawaiiMagazine.com's favorite recent posts from the last four months. And click here and here for the last couple of "Best of HawaiiMagazine.com" compilation posts we put together in 2008.
Best Hawaii music albums of 2008
And HAWAII Magazine's 10th Annual Photo Contest winners are …
Affordable Hawaii: 5 ways to get more Hawaii for less
Hidden Hawaii: Honolulu's Chinatown by night
Hawaii Volcanoes National Park's Puu Loa petroglyphs
HAWAII Magazine visits the USS Arizona Memorial
Hawaiian Grammy nominee list a deja vu who's who
Behind the scenes at the Hawaii Wheel of Fortune set
State of Hawaii quarter ready to spend today
Aloha, Mr. President! Hawaii son Barack Obama wins.
See Hawaii. See HawaiiMagazine.com's slideshows.
Web site promotes "green" travel on Hawaii's Big Island
Hidden Hawaii: Along the Hana coast
What's the story behind Hawaii's flag?
HAWAII takes a sunset trip to Mauna Kea's summit
Disney's first Hawaii resort aims for 2011 opening
VIDEO: Explosive weekend eruptions rock Kilauea volcano
Char's Chopsticks: Punaluu Bake Shop
Dwarf planet named after Hawaiian goddess
Tales from a Waikiki "on-the-beach" luau
Deconstructing Travel + Leisure poll's Honolulu views
Pat and Vanna read HAWAII Magazine