Catching up with HawaiiMagazine.com's best posts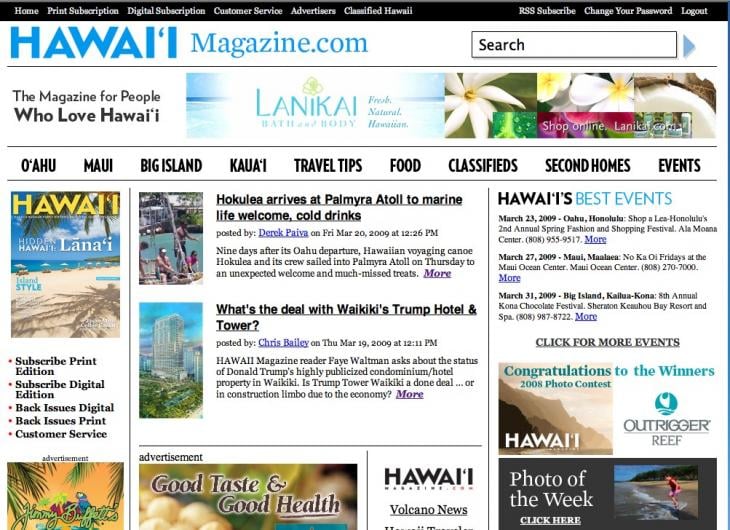 Time to catch up with our best and most-popular Web posts again!
Every couple of months, we bring our brand new HawaiiMagazine.com readers—and even regular visitors who sometimes miss a few stories—up to date with the best of our daily Web site posts.
We've written 528 posts in total since January 2008—all of 'em still here in our HawaiiMagazine.com archives, all of 'em searchable by subject or island. Short features on Hawaii's people, places, and products. Travel tips and travel deals. Slideshows of the photos we take on our travels throughout the Islands. And dozens of updates on activity at Kilauea volcano on the Big Island.
The Hawaii subject matter we write about is as infinite as our continuing fascination with this collection of Islands we call home.
Click the links below to catch up with HawaiiMagazine.com's staff and readers favorite posts since the beginning of the year.
• Celebs, music and fireworks light up Royal Hawaiian gala reopening
• Hawaii officials huhu at The Rock's SNL skit. Are you?
• Jason Mraz shares tales from "I'm Yours" Hawaii video shoot
• What's the deal with Waikiki's Trump Hotel & Tower?
• Take a tour through Lahaina's historic trail on Maui
• Where's the beach? Seeking the origins of Waikiki sand
• Colbie Caillat shows Kauai roots in "Little Things" video
• Hidden Hawaii: Cool, green and serene Lanai
• New Hawaii burger joint part of Daniel Dae Kim's post-Lost plans
• VIDEO: Kilauea volcano lava lake rising, falling
• Jack Johnson's Kokua Festival taking a break in 2009
• Where to stay in Hawaii if you smoke
• Searching for Hawaii's poi on the Mainland
• L.A./San Francisco to Hawaii airfare and hotel as low as $299
• The best restaurants in Hawaii
• It's humpback whale season in Hawaii
• Doing a Hawaii-themed luau away from Hawaii
• Char's Chopsticks: Fresh Catch restaurant
• Char's Chopsticks: Sam Sato's, Inc.
• Maui's Grand Wailea Resort finishes multimillion dollar renovation
• What's really "essential" on iTunes' Hawaiian Music Essentials playlist?