Celebrate Earth Day with Volunteer Week Hawaiʻi
To coincide with the 50th anniversary of Earth Day, Volunteer Week Hawaiʻi is running from April 19 to April 25, and here's how you can get involved.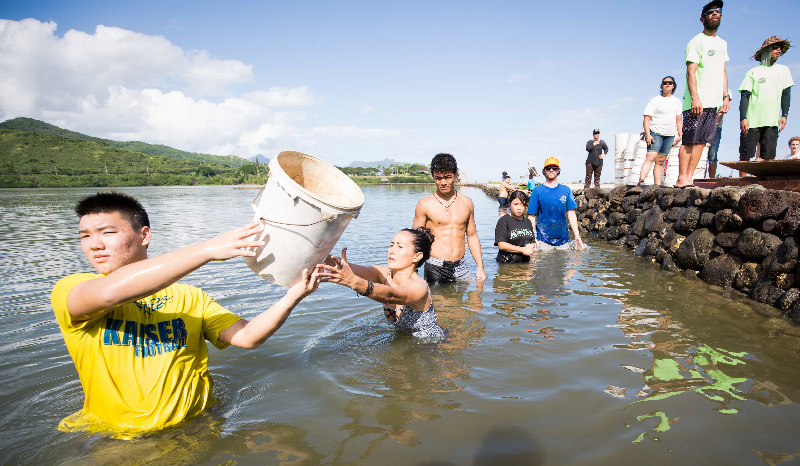 Earth Day is just over a month away, and it's a big one. The annual event, which calls on the public to demonstrate support for environmental protection and is celebrated globally, is turning 50 this year on April 22.
To celebrate this momentous occasion, local nonprofit volunteering organization Kanu Hawaiʻi is holding its annual Volunteer Week Hawaiʻi from April 19 to April 25 to coincide with Earth Day. In 2019, Volunteer Week Hawaiʻi, the largest weeklong volunteer drive in the state, had over 5,000 volunteers donate their time and effort to over 130 different volunteering events, ranging from meals on wheels to beach cleanups, which spanned all islands.
SEE MORE: HAVE ALOHA WILL TRAVEL EP25: CAT AND KEVIN TALKS SUSTAINABILITY WITH KEONE KEALOHA OF KANU HAWAIʻI
If you've been itching to log your own volunteer hours, but don't even know where to get started, Kanu Hawaiʻi can help. Via its website, Kanu Hawaiʻi has made it easy for volunteers to connect with event organizers. After accessing Kanu Hawaiʻi's website and signing yourself up as a volunteer for Volunteer Week Hawaiʻi—the sign up section can be found under the "campaigns" tab on the top menu—volunteers are then asked to select what opportunities they'd be most interested in. These topics are broad and range from physical labor to tech support.
After creating your account, users can then select which volunteering events they'd like to attend from a map of the Hawaiian Islands which is populated with these opportunities. Although Volunteer Week Hawaiʻi is still over a month away, there's a handful of volunteering efforts already listed, such as walking with a kupuna (elder) at a senior living home in Kapolei on Oʻahu and helping to plant sandalwood trees in Hawaiʻi Island's Puʻu Waʻawaʻa area.
Sometimes, the hardest part about volunteering is just getting started. Fortunately, with Kanu Hawaiʻi's easy-to-use website, you can get your entire Volunteer Week Hawaii itinerary ready to go weeks ahead of time. So grab yourself a pair of gloves, and a wide-brimmed hat, and get ready to give back.
For more information, visit Kanu Hawaiʻi's website or call (808) 206-8446.