"Champagne & Sushi" with Hawaii Chef Roy Yamaguchi—everywhere but Hawaii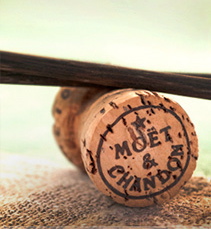 Usually, we're telling you what you're missing because you're not in Hawaii. Here's a switch.
You can have a gala sushi and champagne dinner at Hawaii superchef Roy Yamaguchi's restaurants next month—everywhere but in Hawaii.
Yamaguchi's five-course "Champagne & Sushi Dinner" takes place in his restaurants nationwide on November 10 (and November 9 in Baltimore, Md., a city always ahead of the curve).
The "sensual dining experience," as Roy's describes it, includes three courses of sushi, a Waygu beef entrée and dessert, all paired with Moët champagnes, including Moët Impérial, Moët Rosé Impérial, Moët Nectar Impérial and Moët Grand Vintage 2000.
For $75, it sounds like a deal.
Here's our favorite Hawaii detail: The evening will begin with the Moët & Chandon Impérial "POG" Cocktail – a passion fruit, orange and guava mimosa. (If you don't know what POG is, click here.)
Roy Yamaguchi has been bringing vivid tastes of Hawaii to the whole world. Where can you find a Roy's? In 31 cities nationwide, but if you're in Hawaii on Nov. 10, you won't find the "Champagne & Sushi Dinner" at any of the Hawaii locations.
We're not miffed. But we are curious why Hawaii—and, apparently, Roy's Pebble Beach location—were left out of this dinner deal.
If you're braving the growing chill of the fall season on the Mainland, however, enjoy the evening! And feel free to tell us about it.
Roy's Restaurant locations in the U.S.:
Anaheim, CA
Austin, TX
Baltimore, MD
Bonita Springs, FL
Chandler, AZ
Chicago, IL
Honolulu, HI – Waikiki
Honolulu, HI – Hawaii Kai
Kapolei, HI
Koloa, HI
La Jolla, CA
Lahaina, HI
Las Vegas, NV
Las Vegas, NV – Summerlin
Los Angeles, CA
Naples, FL
Newport Beach, CA
Orlando, FL
Pasadena, CA
Pebble Beach, CA
Philadelphia, PA
Phoenix, AZ
Plano, TX
Rancho Mirage, CA
San Diego, CA
San Francisco, CA
Sarasota, FL
Scottsdale, AZ
Tampa, FL
Waikoloa, HI
Woodland Hills, CA
For location details and the "Champagne & Sushi Dinner" menu, see www.roysrestaurant.com