Char's Chopsticks: Dim sum at Mei Sum in Honolulu's Chinatown district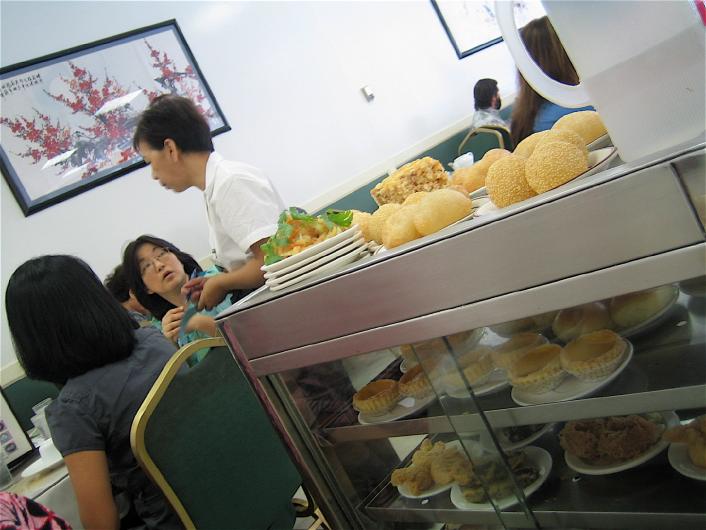 I love getting dim sum. If you like seeing food before you order it, there's no better way to dine out.
And Mei Sum Chinese Dim Sum Restaurant is the place to have it when you're in downtown Honolulu's Chinatown district.
Carts of Hong-Kong-style dim sum are rolled around the restaurant right to your table. If you like what you see on the cart, just ask your server for it. Don't like what you see? Wait for the next cart to come around. Instant gratification!
Going to a dim sum restaurant requires little prior experience or expertise in Chinese cuisine. If you're unfamiliar with what's on the cart, most restaurants have a menu with pictures and the names of each dish. If you're still unsure about an entrée, you can always ask your server.
In addition to Mei Sum's dim sum, you can also order entrées or starch dishes like noodles and fried rice. But most of the fun comes from checking out what's on the carts.


We ordered pretty much everything we saw: from char siu bao (barbeque pork manapua), spareribs with black bean sauce, shrimp dumpling and shrimp pork hash (pictured above) to pot stickers, barbeque pork pastry and cold jellyfish (pictured to the right).
That's right, cold jellyfish, which I was curious to taste. It was a bit chewy, and definitely an acquired taste.
A must-try though? The deep fried taro (pictured left).
The best thing about eating at Mei Sum is that it's affordable. The price for each dim sum entrée depends on its category: small dishes will cost you $2.15, medium dishes are $2.55 and large dishes are $3.35.
Mei Sum is open for lunch, dinner or takeout. Reservations are highly recommended for large groups.
You'll find Mei Sum at 65 N. Pauahi St. (on the corner of N. Pauahi and Smith St.). Call (808) 531-3268 for hours and more menu information.