Char's Chopsticks: Little Village in Chinatown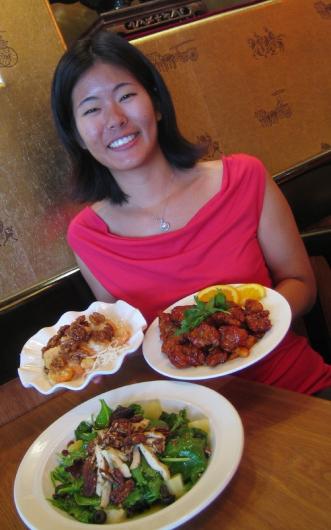 Little Village Noodle House has been one of my favorite restaurants. This week, I've eaten lunch there twice.
It's hard to resist this place because the food is excellent and the restaurant is within walking distance from our office.
The menu is divided into 12 sections: Appetizers, Soups, Salads, "Beef, Lamb & Pork," Poultry, Seafood, Vegetarian, Rice, Noodles, Taste of Hong Kong, Desserts and Beverages. Everything is meant to be shared "family style."
My list of must-haves includes the Honey Walnut Shrimp, Dried String Beans, Peking Duck, Pan Fried Beef, Eggplant with Garlic Sauce, Pecan Spinach Salad, Orange Chicken and Sweet and Sour Pork. I could go on and on, because everything I've eaten here has become one of my favorite dishes.
But if I had to choose just one dish, it would have to be the jumbo-size Honey Walnut Shrimps (pictured left). According to their menu, the shrimps are tossed in a garlic-and-green-onion cream sauce and topped with honey walnuts. It's almost like a seafood candy treat.
Little Village Noodle House is open for lunch and dinner. I strongly recommend making reservations before you go, because the popular restaurant has a tendency to get crowded. There's even take out if you're in a hurry.