Check Out These 3 Alternative Stays on Oʻahu
From ultra-luxe Waikīkī hotels to adventurous campervans, you'll want to check out these alternative Oʻahu accommodations.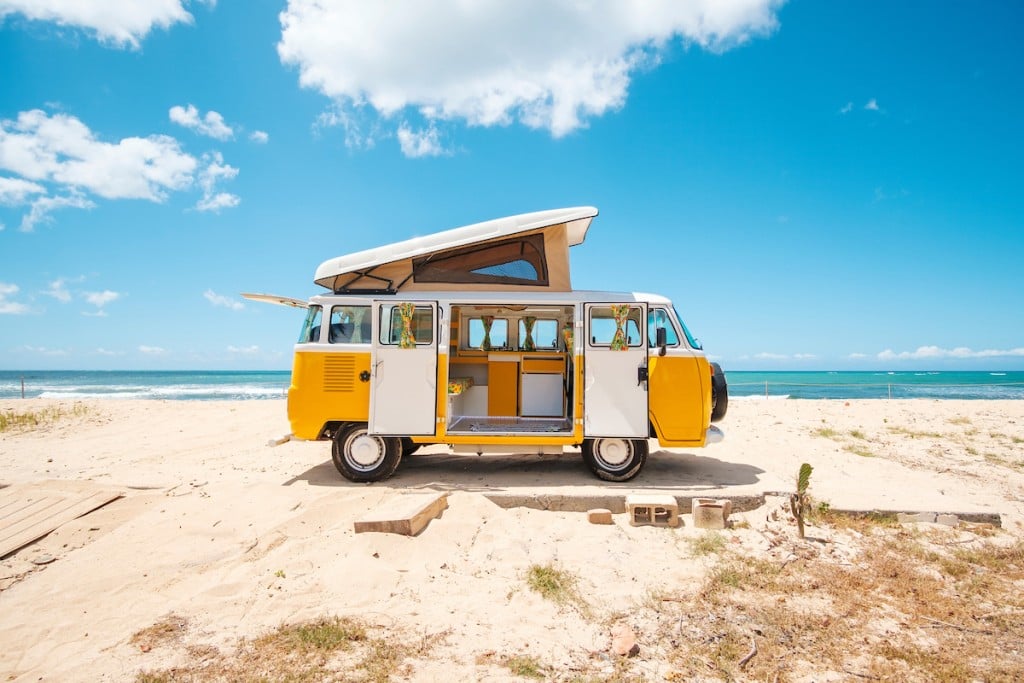 Don't get us wrong, your everyday, swanky hotel room is not a bad place to spend your vacay. But if you wanted to try something new—or just like the idea of staying in an accommodation that's outside the norm—we've got three you should check out.
1. Paul Mitchell Estate
One of the most luxurious properties on O'ahu—that, yes, you can rent—is the Paul Mitchell Estate fronting Lanikai Beach in Kailua. This 1.3-acre estate features seven buildings designed by legendary hairstylist Paul Mitchell that overlooks the Mokulua Islands. The ultra-luxe amenities include a saltwater pool and hot tub, lagoon pool with a cascading waterfall, a spa house with a sauna and meditation pond, and a kitchen house that boasts high-end appliances. Notable celebs have stayed here, including Rihanna, Adam Sandler and Mariah Carey—and you can, too, starting at $6,000 a night. This property rents for a minimum 30-day period. "We wanted a house that is not only beautiful but which welcomes the stunning outdoor environment into the indoors," explains Angus Mitchell, Paul Mitchell's son and estate owner, on the website. "We wanted a space for living that strikes the perfect balance between privacy, comfort, and social interaction." For more information about the Paul Mitchell Estate in Lanikai, visit paulmitchellestate.com.
2. Espacio Waikīkī
Stay in bustling Waikīkī but feel like you're miles away. Espacio Waikīkī, which opened in September 2019, is right on Kalākaua Avenue, boasting nine 2,250-square foot suites—one per floor—each with three bedrooms, 3 1⁄2 bathrooms, a private elevator, private dry sauna, spalike bathroom, chef-inspired kitchen and an expansive balcony equipped with a Jacuzzi and panoramic views of Waikīkī Beach. Rates start at $5,000 a night. Even more, guests can also dine at Espacio's in-house fine dining restaurant, Mugen (pronounced moog-in), which will serve French-Japanese cuisine, using fish from daily shipments from Toyosu Fish Market in Japan. Wine connoisseurs will also be happy to know that the restaurant is home to a 500-bottle collection of Domaine de la Romanée-Conti (DRC) wines, which is valued at more than $5 million. Espacio is taking bookings now online or by calling (855) 945-4092.
3. Hawaiʻi Surf Campers
Why dish out for a car rental and a hotel room when you can get both at once? Yes, we're talking about camper vans. And while there are plenty of rental choices, Hawai'i Surf Campers has some "suite" wheels. From Tango, a 1982 VW Vanagon that is fully kitted out with a stove, sink, cooler and propane fridge, to the eye-catching Big T, a 2017 Ford Transit that has been transformed into a moving hotel room, with a fridge, rinse shower and automatic drive, Hawai'i Surf Campers has the van to match your style. Of course, you'll need to find a spot to park your swanky campervan for overnight. Fortunately, the folks at Hawaiʻi Surf Campers will provide a list of suitable—and legal—campsites upon reservation, and they're even connected with smaller, private campgrounds that will be able to accommodate your hotel room on wheels. Reserve your camper van at hawaiisurfcampers.com or call (808) 797-2808.