Check Out These 3 Unique Hidden Hawaiʻi Island Stays
If a tiny home built on the Kalapana lava beds isn't unique, then what is?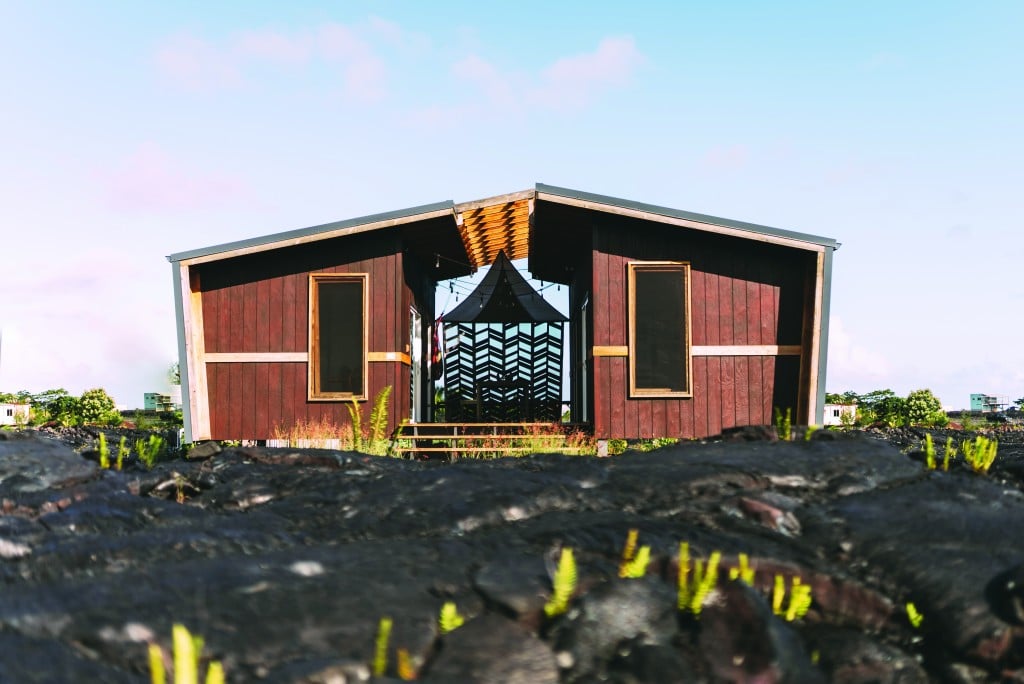 Being on Hawai'i Island is unique in its own way. The largest of its island brethren, Hawaiʻi Island—often referred to as the Big Island—has so much to see, thanks in large part to its massive and ever-growing size. And among the lava fields, tropical rainforests and volcanic foothills are a myriad of fun and unique places to call home, for a week or two. Check them out below!
1. The ʻOhana House
This tiny home is on the Kalapana lava beds near the base of Kīlauea on Hawai'i Island. The home features two individual pods connected to a lānai, where guests can enjoy sweeping views of the lava fields. The home was designed by Will Beilharz and built by ArtisTree Homes. The 'Ohana House is meant to be in harmony with the elements and a place where people can reconnect with nature. It is off-grid and equipped with hot water, bathroom and kitchen facilities, clean bedding and more.
To make your reservation, visit The ʻOhana House's website here.
2. Kūono
Kūono is a modern cabin outside Hawai'i Volcanoes National Park. Here, guests are immersed in the beauty of Volcano's natural landscape while still enjoying the comforts of a luxury guest home. Kūono's design allows for a great blend of indoor/ outdoor living. Its living spaces include both an open concept interior floor plan and an expansive lānai that features a central fire pit, lounge chairs and cedar ofuro hot tub. The cabin accommodates four, with a fully equipped kitchen and bathroom and a vaulted sleeping and living space. It won an award of merit from the Honolulu chapter of the American Institute of Architects.
To make your reservation, visit Kūono's website here.
3. Herb Kāne Plantation Guesthouse
If you love Hawai'i, you've probably heard the name Herb Kāne. His paintings and written works are unequaled in the way they depict Hawaiian culture and history. And you can stay in his old home, on the foothills of Mauna Loa on Hawai'i Island. The Kāne Plantation Guesthouse is a 27-acre avocado farm that doubles as a luxurious B&B, and its three suite options are perfect for visitors looking to enjoy some peace and quiet in a lush, tropical environment.
To make your reservation, visit the Herb Kāne Plantation Guesthouse's website here, or call (808) 328-2416.