Check Out These 5 Unique Cafés in Hawaiʻi
These diverse coffee shops offer up some special treats from all around the Hawaiian Islands.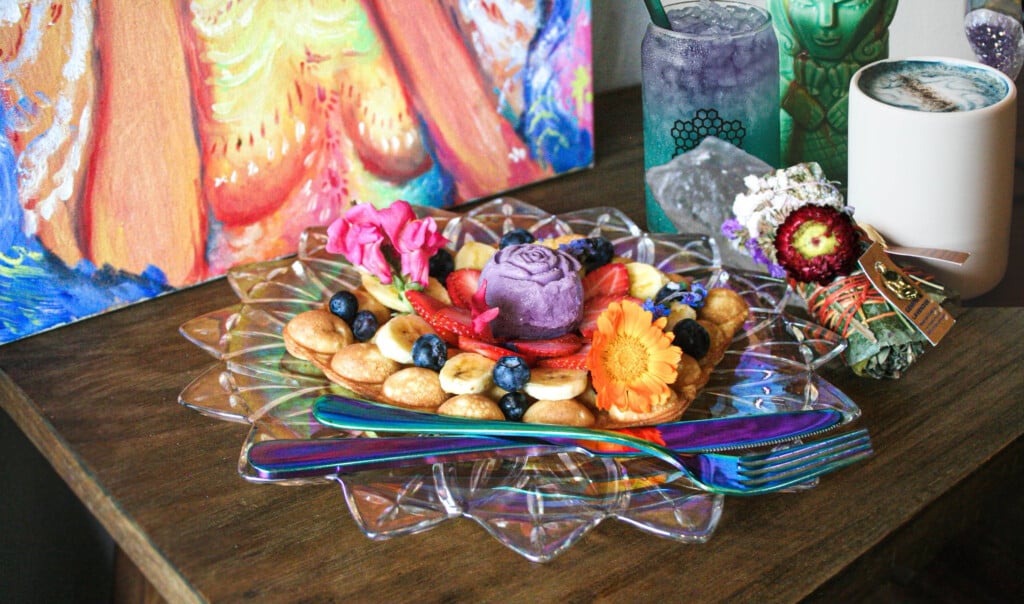 Be on the lookout for these unique cafés across the Islands, ranging from a place where you can scratch cats while sipping on a coffee to one that operates out of a bright red truck complete with its own patio.
Café des Amis
With covered patio seating and beautifully plated dishes, Café des Amis offers a blend of Indian, Mediterranean and French cuisines, including Indian-style curry wraps and sweet crêpes in well-sized portions. Organic ingredients are used to create fresh, tasty dishes like its Maui grass-fed beef curry. People can also find sister cafés of the eatery by the same name in Canterbury, England, where they resided before moving to the Islands and setting up shop in Pā'ia, Maui. This cozy, rustic café is just the place to enjoy a meal with fairy lights above you.
42 Baldwin Ave., Pā'ia, (808) 579-6323, cdamaui.com
Nector Café
Visitors should absolutely stop by Nector Café for its distinctive color-themed drinks. The café showcases the entire spectrum of colors in its decor and treats, mixing the traditional with the modern—and its mission is to make unforgettable beverage. The café sources all of its coffee and espresso locally; for its smoothies, it uses vegan, non-GMO products from Unicorn Superfoods. They include the Berrylicious Blend, consisting of extracts of açaí berry, blueberry and more. Some treats only found here include the Maui Muggle, a special take on a butter-beer milkshake, and Oooh-Bae, a bubble waffle paired with ube ice cream and a homemade marshmallow ghost. With adorably decorated drinks and food items, Nector Café is a place worth visiting and revisiting.
216 Kamehameha Ave., Hilo, toasttab.com
Hawaiʻi Cat Café
Once you walk into this café on Kapahulu Avenue, you'll greeted by sprightly kittens and cats, all up for adoption. The café has partnered with the Hawaiian Humane Society to find temporary homes for its feline friends, and ultimately, permanent homes with café patrons. People can play with the cats while trying any of the many delicious pastries and drinks sold here. Hawaiʻi Cat Café offers both cats and humans a mutually beneficial one-of-a-kind experience.
415 Kapahulu Ave., Honolulu, hawaiicatcafe.org
Small Town Coffee Co.
Tired of going to regular cafés to grab your morning cup of joe? Visit the bright red truck in the small town of Kapaʻa, Kaua'i. At Small Town Coffee Co., which opened in 2004, you can order at the window of the truck then relax on its adorable wooden patio and enjoy honey-flavored drinks and local treats, such as quiches and bagels.
4-1543 Kuhio Highway, Kapaʻa, (808) 638-4799, small-town-coffee-co.square.site
Makani's Magic Pineapple Shack
Desserts that evoke childlike delight can be found at this inviting coffee shack with a wonderfully vibrant aesthetic. At Makani's Magic Pineapple Shack, you can supplement a day of fun with a light, creamy unicorn-themed ube ice cream cone decorated with glitter sprinkles. Or ice cream cones with customized fruit, cereal or mochi toppings. The place has an impressive selection of ice cream flavors and a magically refreshing variety of açaí bowls, smoothies, frappes and sandwiches.
54 Waiānuenue Ave., Hilo, (808) 935-8454, @magicpineappleshack