Check Out This Kauaʻi Night Market in Līhuʻe
The monthly festival is helping to strengthen the community and the connection between residents and visitors.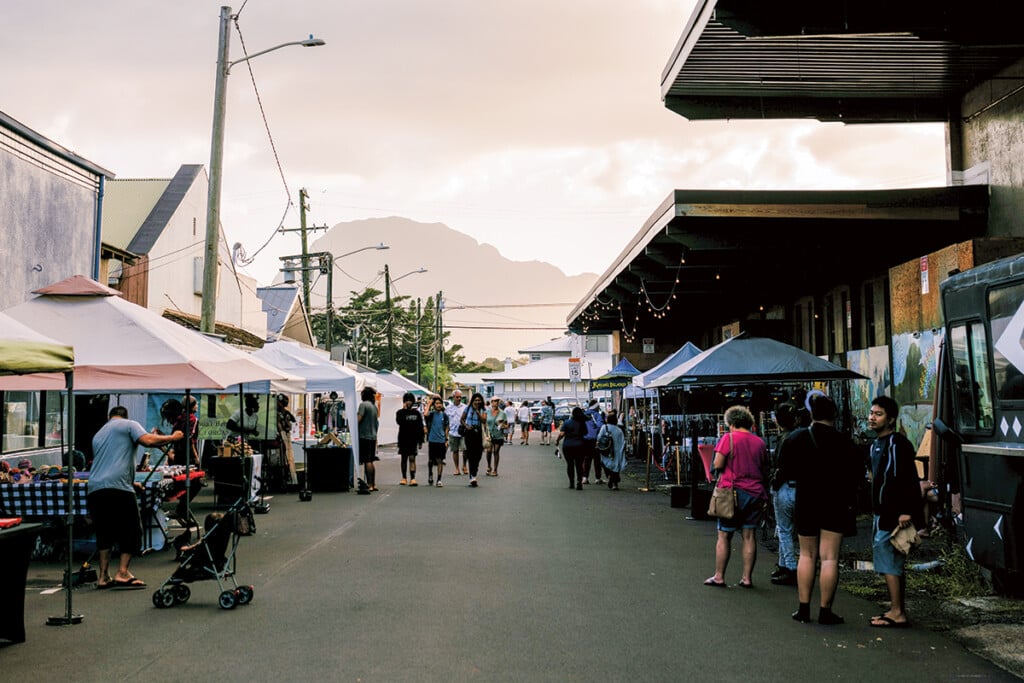 A stroll down rice street in Līhu'e, under the sporadic shade of monkeypod and palm trees, leads to the historic County Building in the center of town, past the great lawn. Often the location for community gatherings, the Kaua'i County Building is a nod to the past; it's the oldest operating government building in the state, and a fixture downtown. Often referred to as "town" by locals, Līhu'e is as close to the hustle and bustle of a city that Kaua'i has, which is part of its charm.
And that hustle and bustle gets a little busier on the second Saturday of each month for Downtown Līhu'e's increasingly popular night market, which transforms Kress Street into a thriving space for local vendors and entrepreneurs.
Līhu'e's deep historical roots have expanded to support an artistic and culinary renaissance on the Garden Island as the community embraces post-pandemic life with adaptability, innovation and aloha. The result is an authentic Kaua'i experience that restores connections between locals and visitors. Here, storefront murals help make for a picturesque (and Instagram-worthy) main street. Night market vendors line the area with everything from handmade jewelry and candles to splash proof bags, authentic souvenirs and secondhand treasures—and the best local food selection you will find at any market on the island.
The eclectic mix of local musicians taking turns setting the mood elevates the experience as you browse and chat with the vendors. A giant Jenga and Connect 4 is set up and children, whether they came from two miles away or 6,000, find common ground in a game or two. Kress Street comes alive as the veil between old Līhu'e and new Līhu'e is lifted between 4 and 8 p.m. every second Saturday.
Sprawling murals line the street and begin to tell their stories, like guides on a walking tour of Kaua'i. Since 2020, artists have completed over 40 murals (and counting) across the island. Utilizing bus stops, unused storefronts and even electrical boxes, they've made the ordinary beautiful and brought back a tradition dear to the Islands—storytelling. From indigenous people to native flora, the murals—which depict scenes from the north shore to the westside of the island—tell stories of triumphs, struggles and a precious culture too often lost in the day to day. (Artistic scavenger hunters can visit kauaimurals.com to track the murals and their stories.)
In conjunction with the Rice Street Business Association, Alakoko, a local nonprofit, has created community partnerships and educational opportunities to strengthen Kaua'i's small businesses. With the Downtown Līhu'e Night Market as one of their lead initiatives, Alakoko is increasing local sourcing, production and accessibility for Kaua'i-made products. Alakoko means "road of blood" and points to the local entrepreneurs past and present who put their blood and sweat into creating something special.
"We believe stronger small businesses are key to a stronger community, which provides higher quality of living for locals, better employment and housing, all while keeping a more circular stream of wealth on-island for our future generations," says Committee Coordinator Addison Bulosan, who describes the night market as a long-term vision sparked by the pandemic but 30 years in the making. Born and raised in the Līhu'e area, Bulosan is a local butcher's grandson and remembers the days when his family's general store was on Rice Street and Kalena. "The emphasis and focus is on being a community together, the culture and the stories," Bulosan explained, "whether it be a historical event or celebrating cultural practices." All vendors must source locally to participate in the night market, he says.
Among the 20 core vendors and 20 rotating vendors, there's something for everyone: If you're looking for a taste of the Islands, you'll find it here.
On the corner of Kress and Rice streets sits one of Kaua'i's two breweries, Kaua'i Beer Co. Somehow seamlessly blending into the pop-up market, this spot with al fresco seating is perfect for a midmarket beer (and don't forget the furikake fries!). And after tasting a flight of brews from Kaua'i Beer Co., craft beer lovers will want to stick around for the Kaua'i Brewers' Fest in April. The festival is another initiative by the Rice Street Business Association in conjunction with Kamāwaelualani, a nonprofit grassroots organization dedicated to art, culture, education and community activation.
At the end of Kress Street on market night, you'll find a smattering of food choices. Hamura Saimin is nearly 100 years old and a Kress Street staple. Shaka Burger's Asian fusion serves up delicious options like the Yakuza Burger and loco mocos, and Aunty Manapua's steam buns and wontons always hit the spot. Kaua'i Family Café is known islandwide for its Filipino cuisine, and you won't believe how much soft serve can fit on its homemade cake cones.
Kaua'i is filled with opportunities for growth, beauty and unforgettable experiences. With fewer than 75,000 residents, the Garden Isle is often overlooked, seen simply as a vacation destination. But for the right visitor, it can be so much more. Kress Street is a short walk, but a long journey for those who are listening.
A family-friendly event, the Downtown Līhu'e Night Market is open from 4 to 8 p.m. on the second Saturday of each month. Admission to the event is free. Street parking on Rice Street can be the luck of the draw, but Līhu'e is a small town so you're just a short walk away from the action no matter where you park.
This story was originally published in our 2023 Spring issue. Buy a copy here.