Check Out This Scenic Upcountry Maui Pickleball Court
With panoramic visions of Haleakalā and the Maui coast, this pickleball—or pukaball—court has one of the best views in the world.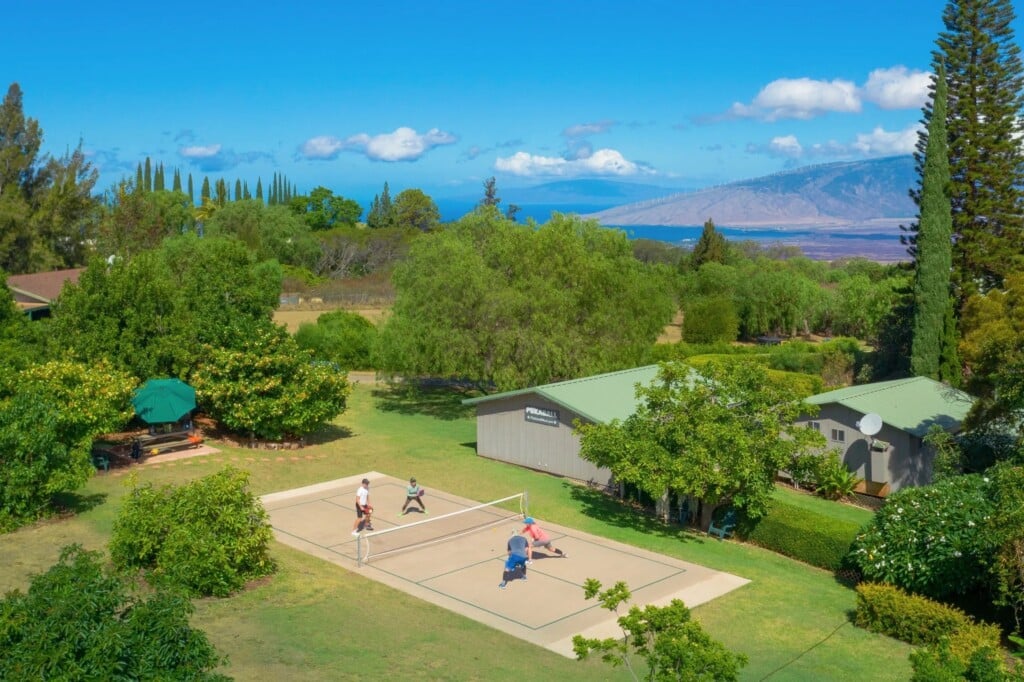 In the late 1960s, a family friend introduced then-10-year-old Laurie Loney to a tennislike game. The sport used a smaller flat paddle and a plastic ball full of holes. Most people know of this now-popular game as pickleball. But to Loney, it has always been "pukaball."
Today, Loney brings this game she loves to others who rent her court and take lessons at her Kula home. From the vibrantly hued blue, green and purple court, players catch sweeping views of Haleakalā and husband Steven's (who goes by "Pocket') banana and avocado trees. Loney's 2 ½-year-old dachshund, Dottie, greets players, barking at newcomers and soliciting treats from those she knows.
Loney has been playing pickleball for 50 years. She and her father, Roger Knox—and the rest of her tennis-playing family—learned the game from pickleball pioneer and Bainbridge Island, Washington, resident Bob O'Brian while O'Brian was vacationing on Maui. Loney's father was hooked instantly. On the driveway of their home on the beach in Kīhei, he built a court by paving over asphalt and adding green dye.
"It was all kinds of shades of greens and part of the driveway was pretty funky," Laurie Loney says.
Loney and her family made paddles out of plywood, wrapping rope on the grip to make them more "fancy." Knox dubbed it "pukaball" after an especially frustrating game in which he exclaimed, "That dang pukaball," and the name stuck.
Some of the Knox's friends never even thought of the game as pickleball. It was always pukaball. In 2003, her husband built Loney a pickleball court on their Kula property as an anniversary gift. Loney continued to hone her skills, and in 2015, she participated in the Aloha State Games Senior Olympics Pickleball Tournament in Kona with her friend, Megan, as a partner. The pair won 10 of the 13 games they played to take home the gold medal.
Soon after, the game's rapidly rising popularity convinced Loney that renting out her home court could be lucrative.
Business was slow in the beginning but soon picked up. Later, Loney was laid off from her job of 20 years. It was a devastating loss, but also a golden opportunity: The perfect job was right in front of her. "I figured, I've been playing this game for 50 years; I can teach it," she says.
And the business took off.
"By the time Covid came around, it exploded," she said. Loney still strives to offer affordable rates for court rentals and lessons to keep the game accessible. Today, there's a three-week wait to rent the court and get lessons. The game "has definitely grown since we were just banging balls around with plywood paddles," she says.
One of Loney's students, Kīhei resident Carol Wallack, grew up surfing and scoffed when a friend suggested she take up pickleball. "I was a little reluctant initially because the name sounded so stupid," Wallack says. She calls Loney a "lovely and supportive teacher and friend."
"She has different ways to explain the task to get you to learn and understand," Wallack says. "As I have progressed, I still see her weekly and we work on specific shots to have in my arsenal."
Over time, Loney's pukaball students have become dear friends, both to her and husband Pocket.
"It's the greatest bunch of people," she says. "My pickleball people are my IT people, and my law and medical advisers." A restaurant owner brings her food, and a jeweler made her a custom pickleball charm.
The Maui community the Loneys have built for lovers of the game has much to do with Laurie Loney's teaching style. She spares no effort.
"I give a lot to try to make it a great experience," she says. "If I were to take a lesson, that's what I'd want."
Find out more about how you can get lessons or rent the court at pickleballmaui.com.