Chef Profile: Alan Wong
One of Hawaii's fabled chefs, the quiet, unassuming Alan Wong offers tastes that are anything but demure.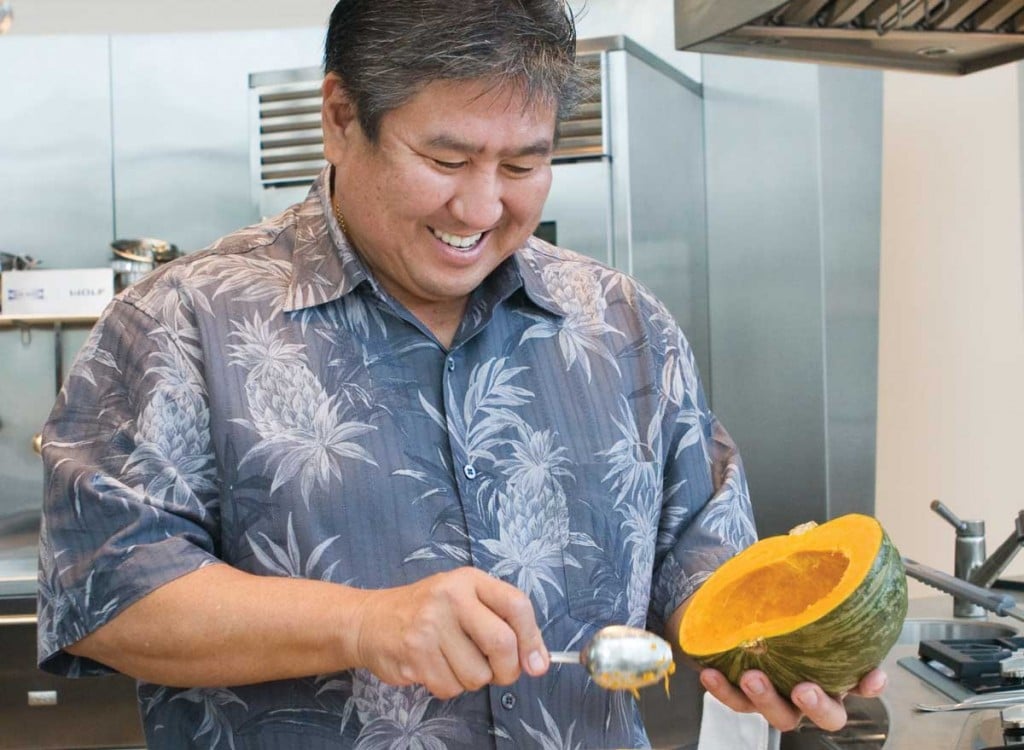 One of Hawaii's fabled chefs, the quiet, unassuming Alan Wong offers tastes that are anything but demure. His food speaks loudly: Bold flavors, unconventional but seamless pairings, the freshest of locally sourced ingredients—all crafted with finesse, common sense and a splash of whimsy. No wonder this critically acclaimed chef and his restaurant win awards year after year and garnered a Best Chef award from the James Beard Foundation.
Wong was born and raised in Wahiawa, Oahu, and educated in the culinary arts at Kapiolani Community College. He apprenticed at the Greenbrier Hotel in White Sulphur Springs, West Virginia, then spent three formative years at Lutèce in New York City under the tutelage of Chef Andre Soltner.
Returning home to Hawaii, Wong first taught at his alma mater. Then he became the opening chef of the Canoe House at the Mauna Lani Bay Hotel and Bungalows on Hawaii Island, where his signature style became part of the emerging Hawaii Regional Cuisine movement.
Alan opened his award-winning restaurant in 1995; the Pineapple Room at Macy's at Ala Moana Center opened in 1999. Both continue to delight food enthusiasts and discriminating diners. Foremost on his menus are the products he selects personally from among the many farmers and ranchers throughout the state.
Grilled Kona Kampachi with Stir-Fried Bean Sprouts and Pickled Kabocha
Serves 4
4 filets Kona kampachi, 6 ounces each
2 cups bean sprouts, rinsed and roots removed
2 cups ½-inch ribbons mustard cabbage
2 cups Pickled Kabocha
Canola oil for cooking
Kosher salt and black pepper
Heat a grill. Season kampachi with salt and pepper. Grill fish until it is cooked; remove from grill and set aside.
In a medium-size sauté pan, heat a tablespoon or two of oil over medium-high heat. Add bean sprouts and mustard cabbage and cook. Add salt and pepper to taste. Cook vegetables until wilted but still crunchy. Remove from heat.
Divide bean sprouts and cabbage among 4 plates. Top with kampachi and garnish with Pickled Kabocha
on the side.
Serves 4.
Pickled Kabocha
1 small kabocha, about 3 pounds
4 cups rice vinegar
1 cup granulated sugar
Wash kabocha and cut in 6 pieces lengthwise. Remove seeds and fiber. Cut each slice crosswise into ⅛-inch-thick pieces.
Mix vinegar and sugar in an airtight glass container. When sugar has dissolved, add kabocha. Cover and refrigerate overnight before using.
Serves 6 to 8.
• Use a sharp, heavy knife to cut kabocha. Be very careful—the rind is tough!
This and many more recipes featuring the fresh bounty grown in Hawai' can be found in "The Hawaii Farmers Market Cookbook – Vol. 2: The Chefs' Guide to Fresh Island Foods," by the Hawaii Farm Bureau Federation and edited by Joan Namkoong. Available at bookshawaii.net and local bookstores.