Chef Roy Yamaguchi's new Humble Market Kitchin is a success
Located at the Wailea Beach Resort Marriott, the restaurant has stunning Maui views and ultra-fresh, island-grown dishes.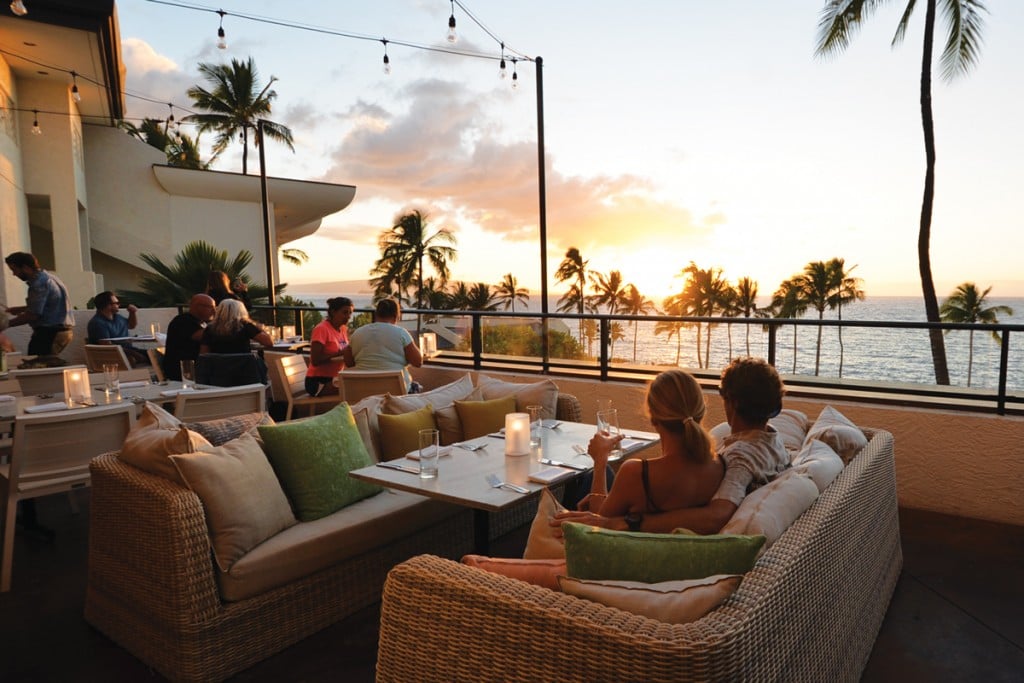 Just how good is the ocean view from Humble Market Kitchin? Before I'm seated at my table I've already counted four whales breaching offshore.
Located inside the Wailea Beach Resort Marriott, Humble Market Kitchin is Maui's latest Roy Yamaguchi masterpiece. The name is inspired by Yamaguchi's grandfather who lived on Maui, and who taught Roy the value of humility—even if you go on to become Hawaii's first James Beard Award-winning chef.
After its space underwent a $7 million renovation, Humble Market Kitchin opened its doors in December 2016. Unlike Yamaguchi's flagship, Roy's, which spread across multiple Islands, there aren't any plans for Humble Market Kitchin to expand outside of Maui.
"It's special to Maui since my grandfather settled there," Yamaguchi says of the restaurant, now a Wailea standout that redefines what it means to have a table for two with a view.
We arrive right at the 5 p.m. opening to ensure we get a table outside on the open-air lanai (patio). I put in an order for two of their cocktails—Upcountry Love and The Humble One—which not only features freshly squeezed juices and Maui's-own Ocean vodka, but lemongrass and lavender sprigs that are also grown on the island.
That level of freshness isn't exclusive to cocktails, as much of the produce, meat and fish are locally sourced when available. The use of Hawaii's local ingredients is a pillar of Hawaii Regional Cuisine that Yamaguchi helped found, along with a handful of other well-known Hawaii chefs. "We're staying true to Roy's flavors by showcasing what the island and sea have to offer," says Humble Market Kitchin executive chef Charles Andres, who's been honing his skills at Roy's Restaurants since 2002.
Many of the restaurant's fresh, local dishes are rooted in Hawaii's plantation days, but are presented with modern, innovative flavors and twists on island classics. There's also some personal history in each bite, as Yamaguchi recounts childhood summers spent on Maui helping his grandfather run the family store.
You'll find that history in the Yamaguchi style ramen, where Roy's memories of his grandfather's saimin helped foster an interest in noodles. Today, that interest has manifested itself in a bowl that's packed with dumplings, pork belly, sous vide egg and sesame, and while a similar dish graces the menu at another Yamaguchi restaurant—Eating House 1849—Humble Market Kitchin is a bit more upscale.
Many of the dishes' flavors come from bold Asian spices that burst their way through the sauce—most notably in the very first pupu (appetizer) we order: the pork, crab and shrimp dumplings.
Bathed in a chili soy dipping sauce, the dumplings could be a meal in itself, if you're looking for dinner on the small side. So, too, could the blackened ahi that's topped with pohole ferns, and as I'd soon find out with each passing course, the plentiful portions mean you won't walk away hungry.
Take, for example, the plate of fish —or rather, the fish on a plate.
Served whole in a chimichurri sauce, the opakapaka (blue snapper) lands on my table just before sunset, looking as if it's jumped from the sea directly onto my plate. Accompanied by a charred Kula corn guacamole, the fish takes on a slightly spicy, almost Southwestern taste, which perfectly melds with the soft white, tender meat.
The fish has definitely garnered some attention from guests at nearby tables, but nearly everyone else in the restaurant has turned their attention to the fiery performance that's happening over the water.
Streaks of orange, red and pink race across the sky, and by the time the sun has made its final dip beneath the horizon, nearly every patron inside the restaurant has gathered on the lanai to watch. Rows of string lights flicker to life above us, and now it's as if we're at a balcony party with a team of bartenders feverishly slinging cocktails.
As I take out my smartphone to join everyone else in digitizing the moment, I realize this is what makes this restaurant so unique.
Once the sunset fades away, my wife and I decide there's room for squeezing in one more course. Normally, we'd say we were stuffed, but you make exceptions for the chocolate soufflé—the same one made famous at Yamaguchi's other restaurant, Roy's.
Anyone who's had the soufflé can attest to the fact it's in the running for Maui's best dessert—and also knows you need to order it 20 minutes ahead. It takes that long for the gooey chocolate to reach just the right consistency, adding to the anticipation leading up to the very first bite.
Finally, on the walk to the door, I stroll past one of the four private rooms that accommodates groups and parties, and can see that it—like the restaurant—is packed with smiling guests. The waiting lounge is also full, there's a party outside in the lobby, and all the staff stays true to the name—humble despite the success.
Humble Market Kitchin
Humble Market Kitchin is located inside the Wailea Beach Resort-Marriott on Maui, and is open for breakfast and dinner. For reservations and more information, call (808) 879-4655 or visit hmkmaui.com.