Chow Down at this Unnassuming Kitchen on the Corner of Lono Street and Kīlauea Avenue
A true hole-in-the-wall gem, Aloha Mondays keeps its diners on their toes with an ever-shifting menu filled with locally sourced dishes.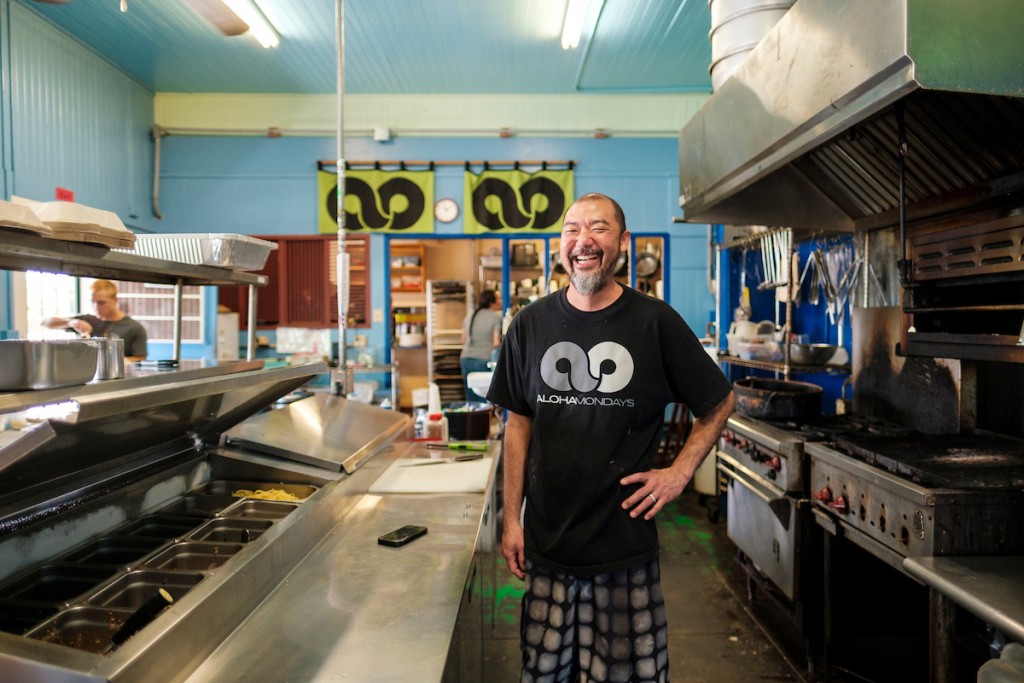 For years, Aloha Mondays didn't even have a sign outside its unassuming kitchen in the heart of Hilo, on the corner of Lono Street and Kīlauea Avenue. And they still don't have a set menu, but that's on purpose.
Known for its catering and food delivery services, Aloha Mondays also serves lunch and dinner, which are based entirely on what is available locally. While this may mean that your favorite dish won't be available every week, you will be getting the freshest produce, fish and proteins Hawai'i Island has to offer.
Aloha Mondays began in 1996, more as a concept than an actual business. At the time, Kanoa Miura, head chef and owner, was just beginning his culinary career, working at his first restaurant cleaning fish. Since Mondays were his off days, he would throw an "Aloha Mondays" get-together with friends, where they would eat whatever he would cook up.
In 2005, the concept evolved as Miura and his wife catered their own wedding with the help of a few chef friends. A wedding attendee thought the food was so good, the person asked if Miura could cater their wedding as well. From there, the jobs kept rolling in, and in 2009, Miura moved into the location where Aloha Mondays is currently located. Now he has a sign, a full kitchen to work in and even a small staff, which helps balance the catering and daily takeout load.
Miura reinvents the meal every week, using meteorological data and weather forecasting apps to craft his menu, knowing that the weather in the Islands directly affects what kind of fish or produce will be on the market. This challenge leads to innovative dishes you might not have heard of before, such as a crispy Korean chicken and waffle plate that perfectly teeters the line between savory and sweet, served with a side of sesame syrup and gochujang butter, or an 'ahi burrito with furikake rice, edamame, melted cheese and served with a side of starfruit tsukemono and wasabi crème fraîche. 
Of course, when you visit, you probably won't find these dishes—but that's what makes every visit to Aloha Mondays so unique.
For more information, visit alohamondays.com.