Cirque du Soleil finally makes it to Hawaii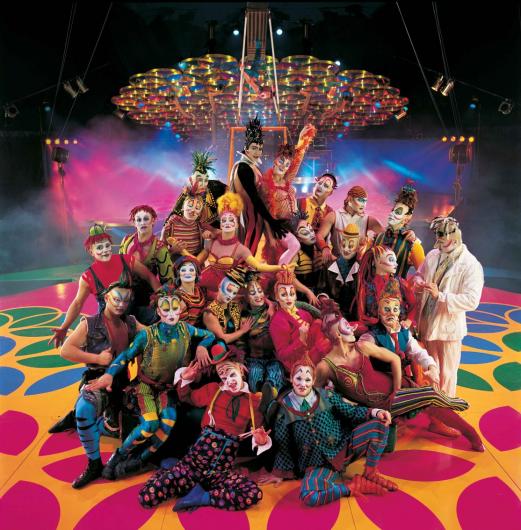 It's colorful. It's thematic. It's musical. It's acrobatic. It's French-Canadian.
It must be Cirque du Soleil—coming to Hawaii for the first time ever this October, with its arena-touring show Saltimbanco.
Saltimbanco is Italian meaning "to jump on a bench." But anyone familiar with the 18 worldwide shows put on by these masters of circus reinvention knows a night with Cirque is much more.
The folks at Cirque du Soleil say Saltimbanco, "explores the urban experience in all its myriad forms." Oh. Click here if you feel like understanding Cirque's full explanation.
Theme aside, we're looking forward to two hours with a cast of 49 international performers doing stuff like this and this. (Video may the only way to convey it.)

After touring under big tops since its 1992 debut, Saltimbanco was redesigned last year to play arenas. More than 10 million people worldwide have seen the show in its 16-year existence. It's Cirque's longest-running show.
There'll be 28 performances in all at Honolulu's Blaisdell Arena, from October 30 to November 16.
Tickets are on sale now if you join the company's Cirque Club, which you can do free of charge by clicking here. General public sales begin Mon., Aug 4, at 10 a.m. (Hawaii time). Click here for those tickets.
Prices range from $40 to $95 for adults, $32 to $76 for ages 12 and under.
Our advice? Sign up for the Cirque Club and buy them now.
Given these are Cirque's first-ever Hawaii shows and ticket prices are low compared to the company's Las Vegas shows, seats should quickly sell out. Another reason to go? It turns out Saltimbanco was built for venues like our Blaisdell.
"This is one of the best arenas," said stage manager Gabriel Dube-Dupuis, scanning Blaisdell Arena with me yesterday afternoon. "It's the right size for the show. Very intimate. Everything will seem up-close."
Asked if there was a bad seat in the house given Saltimbanco's stage design—which utilizes virtually the entire arena floor, Dube-Dupuis smiled.
"Look at me. You can see that I'm excited."
Trust us, he was.