Cooking Channel show spotlights Oahu, Big Island food culture in episode airing tonight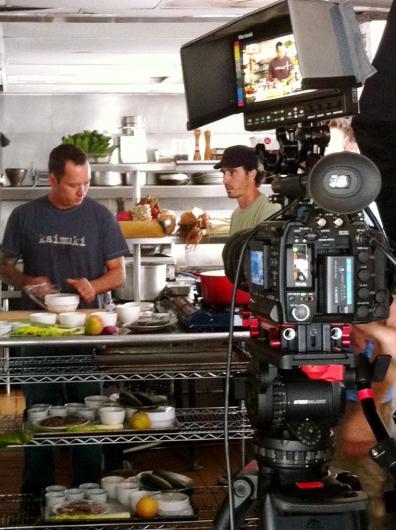 The Cooking Channel's popular Food(ography) show, which explores how people and societies are shaped by food, is spotlighting Oahu and the Big Island in an episode slated to air tonight.
"Hawaiian Islands" will be on the tube at 9 p.m., with re-broadcasts at 11 p.m. on Sun., Oct. 16, and at 8 a.m. Sun., Oct. 23 (all East Coast times).
Food(ography) aims to detail stories and passion behind dishes. According to synopsis posted on the show's website, the episode will start on Oahu with a Mai Tai prepared by star mixologist Christian Self at the posh Modern Honolulu (formerly the Waikiki EDITION hotel). After that, the cameras will focus on Hawaii celebrity chef Alan Wong, followed by a kitchen visit with green-minded chef Ed Kenney of Town (pictured, right), in Kaimuki — a 15-minute car ride from Honolulu's downtown area.
In addition, plate lunch will be served at Helena's Hawaiian Food. Perhaps plate lunch — two scoops of rice and a scoop of macaroni salad paired with just about any food favorite reflecting Hawaii's multicultural population — most succinctly defines our everyday "food(ography)" profile in the Islands.
On the Big Island, the foodie talk story will turn to farm-raised Wagyu beef at Merriman's Restaurant in Waimea, followed by a "seafood odyssey" at Mauna Kea Beach Hotel's Manta & Pavilion Wine Bar.
The episode — hosted by humorist, actor and writer Mo Rocca — also promises Hawaii treats ranging from mochi to Kona coffee, and a visit to a "major luau." Rocca is also a correspondent for CBS Sunday Morning News with Charles Osgood, and a regular panelist on NPR's weekly quiz show Wait, Wait…Don't Tell Me!
Want to sample a bit of the featured Hawaii food? For the complete lowdown on two Big Island recipes — Luau Bread, courtesy of The Coffee Shack, and Portuguese Seafood Cataplana, courtesy chef George Gomes Jr., Mauna Kea Beach Hotel — click here. For additional information about Food(ography), click here.
Hungry for more? Check out HAWAII Magazine's food issue, November/December 2011. The issue features a comprehensive and fun-filled guide to local eats.