Cuisine of the Sun coming to The Kahala Resort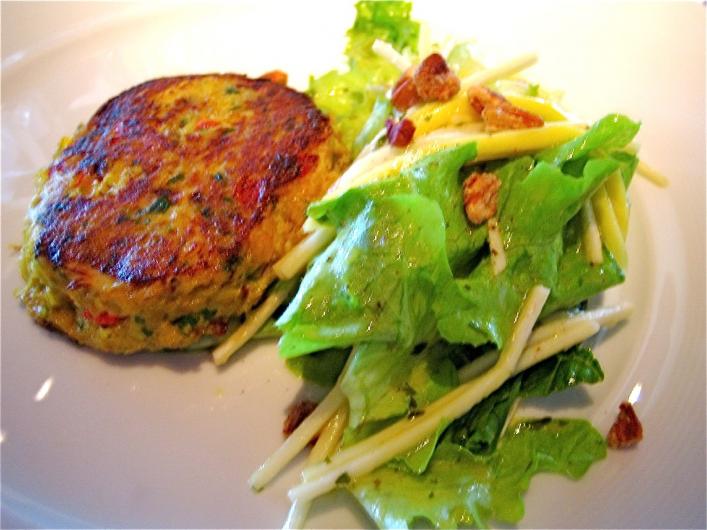 There hasn't been much Mainland press on this so good thing you're a HawaiiMagazine.com regular.
Especially if you're a regular who's going to be on Oahu on June 13 and 14 and digs food, wine and/or cigars.
That's the weekend The Kahala Hotel & Resort hosts its first-ever Food & Wine Classic. Think two days of all of the above, with guest chefs and vintners, and the very capable culinary staff of The Kahala.
The theme for this first event: Cuisine of the Sun.
I was at a tasting yesterday at the resort's award-winning oceanside restaurant Hoku's. The Kahala's chef Wayne Hirabayashi crafted two dishes, originals from Miami chef Cindy Hutson, who will be a guest chef at the event—both whipping up gourmet dinners and holding outdoor, oceanfront cooking classes.
The coolest part of the afternoon lunch, besides the food?
Hutson herself, chatting us up via an internet feed while mixing her Caribbean curried crab cake recipe, all while the dinner rush was happening at her Coral Gables, Fla., restaurant Ortanique on the Mile.
Hutson was still mixing jumbo lump crab meat, various curries, peppers and panko, when our version (above) arrived courtesy of Hirabayashi's kitchen.
This was preceded by a wonderful curried kabocha squash bisque (below), served while the ebullient Hutson praised the Hawaii seafood and produce she flies in regularly for Ortanique.
All press conferences should be as concurrently interactive and palate pleasing.
It also left us enthusiastic about Cuisine of the Sun weekend, whose entire schedule of multi-course oceanside dinners, hands-on cooking classes, wine tastings and on-the-beach late-night cigar and cognac conversations you'll find here.
(I was considering taking up cigar smoking after hearing the late night Davidoff-hosted cigar-and-cognac event's irresistible name: "Toes in the Sand.")
More good news? The Kahala aims to hold its Food & Wine Classic several times a year, with a different theme for each outing.
Our suggestion for the next one: "Cuisine of the Windy City." We want Charlie Trotter!