Culinary fundraiser on Hawaii Island for lava flow impacted communities, Feb. 28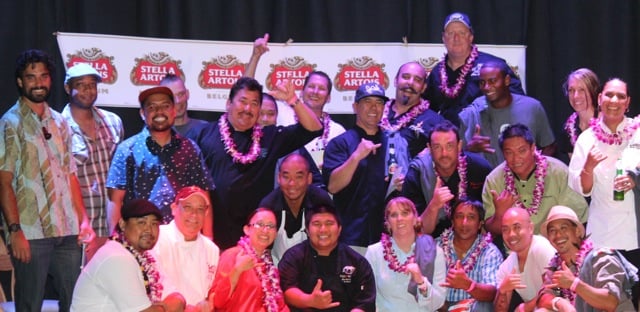 Project Kokua (help, aid) for Hawaii Island, a culinary fundraiser for communities suffering from the effects of the ongoing June 27 lava flow, will be held this Sat., Feb. 28 from 5:30 p.m. to 8:30 p.m. at the Hilo Hawaiian Hotel.
Proceeds from Project Kokua for Hawaii Island will benefit Pahoa and Puna district businesses, some of which have already been forced to close, and communities dealing with the ongoing and disruptive uncertainty caused by the lava flow. The area is still recovering from earlier destruction caused by Hurricane Iselle, now considered one of the strongest tropical cyclones to make landfall in Hawaii Island history. Iselle caused millions of dollars in damage when it passed through Puna district in Aug. 2014.
Tickets for the event cost one canned good and $50, and can be purchased at any of five east Hawaii Island Rotary Club locations: Hilo, South Hilo, Hilo Bay, Pahoa Sunset and Volcano.
Maui Chef Lyndon Honda, owner of Laulima Events & Catering, organized the fundraiser featuring 12 Hawaii Island and three Maui chefs. Honda was responsible for a similar culinary event on Maui that, following Hurricane Iselle, saw Maui chefs raise $28,000 for Hawaii Island farms and the Food Basket of Hawaii Island.
"I love that here in Hawai'i, we all work together in times of need," Honda said in a press release for the event. "It's all about helping one another especially those who see their way of life and their family's way of life being threatened. It's not even a question. We just jump in and help our community as much as we are able."
Participating chefs and restaurants include:
HAWAII ISLAND:
• Mark Pomaski of Moon and Turtle
• Chris Damskey of ULU Ocean Grill + Sushi Lounge, Four Seasons Resort Hualalai
• Ippy Aiona of Three Fat Pigs Restaurant and Ippy's Hawaiian BBQ
• Mike Remen of Hilo Hawaiian Hotel
• Nikki Kekaualua of Cucakes, BOOM!
• Colin Nakagawa of Seaside Restaurant and Aqua Farm
• Casey Halpern of Café Pesto Hilo
• Lori King of Aloha Lehua Café
• Kanoa Miura of Aloha Mondays
• Maria Short of Short N Sweet Bakery & Café
• Peter Kaluna of Sodexo University Dining Services at UH Hilo
• Rhonda Nichols of Hilo Burger Joint
MAUI:
• Lyndon Honda of Laulima Events & Catering
• Sheldon Simeon of MiGRANT
• George Gomes of 5 Palms Kihei
Though the leading edge of the June 27 lava flow remains stalled behind Malama Market, the larger lava flow remains active and the stream of lava nearing the town continues to widen and move with variable speed. According to the Hawaiian Volcano Observatory's Thurs., Feb. 26 morning update, breakouts about a mile from Highway 130, the main road connecting the district to the rest of the island, are still moving slowly toward the road.
The fundraiser features entertainment from Hawaii musicians Jennie Kaneshiro, Rob Yamanoha and MokuLeo, and will include former meteorologist and Miss Hawaii 2005, Malika Dudley, as emcee. For up-to-date information, visit the event's Facebook page here.