Day Trip Through Kula, One of Upcountry Maui's Best Towns
A laid-back, breezy and delicious day trip through this relaxing Maui town is worth the drive.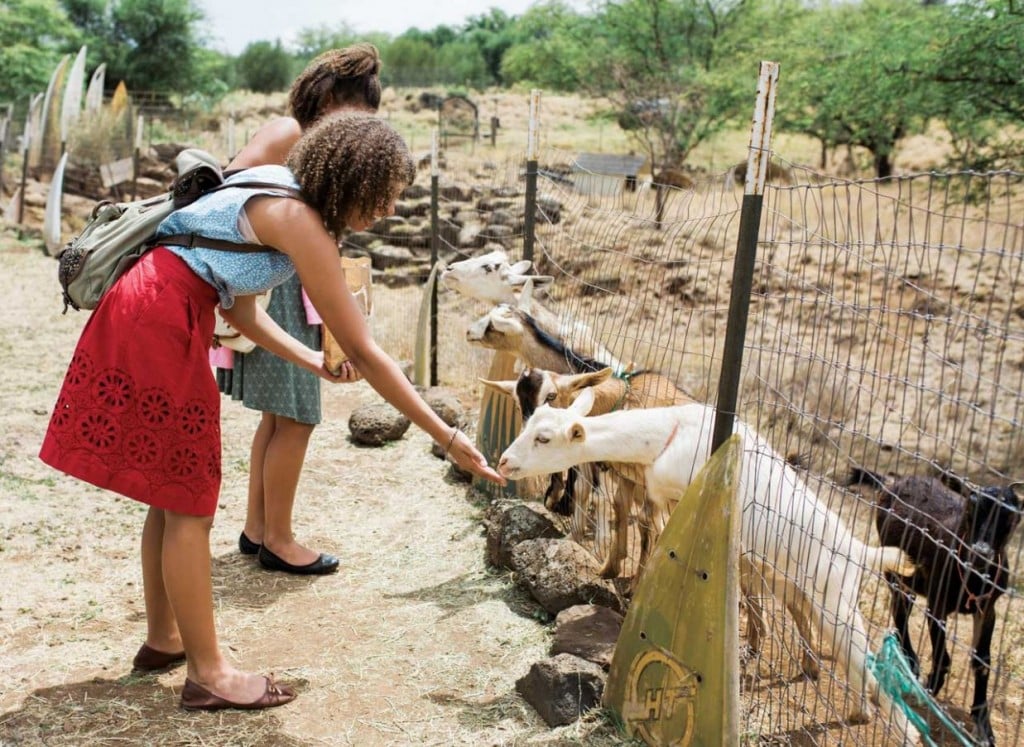 I wasn't even there yet, but already I was more relaxed. I was driving east in my compact rental car to Upcountry Maui.
The area, hugging the slopes of Haleakala, is known for its agriculture and has been farmed since early times. Today, Upcountry has cultivated a reputation for harvesting strawberries, onions, protea and lavender and raising cattle and goats. Upcountry is more than just a location; it's a way of life. It's the perfect balance of country and secluded Hawaii.
I decided to spend the day in Kula, one of the rustic Upcountry towns. With its laid-back charm, natural beauty and breezy farm-to-table commitment, Kula perfectly encapsulates Upcountry Maui. Here the air is cooler, the rolling hills greener and the space wide open. It was the perfect escape from the bustle of Honolulu, where I live.
Getting to Upcountry Maui is part of the fun. Everyone talks about the Road to Hana as a must-do while on Maui—it is—but cruising along Upcountry's winding roads as you climb higher above the curling waves is scenic and enjoyable in its own way.
No day trip to Kula can begin without a stop at Grandma's Coffee House. The homey coffee shop is in a historic building, painted grass green with a white trim. Grandma's is a fourth-generation family business founded in 1918. A century later, you can still get locally grown and roasted coffee, plus a made-to-order breakfast or baked goods to go along with your Upcountry cup of joe. Grandma's is a small, simple, and charming café alongside a country highway. The service is friendly and the baked goods are just like tutu (grandma) makes. I devoured my banana bread.
Hunger satisfied and fully caffeinated, I hit the winding road again. A visit to Kula means a visit to a farm or two. The best smelling of them is the Alii Kula Lavender Farm. Roll down the windows as you drive up Waipoli Road to the farm. Your nose will thank you. The heavenly scent, and sight, of lavender growing on the slopes of Maui's massive volcano is a treat for the senses. There are 45 varieties of lavender grown on the farm's 13.5 acres. Founder and owner Alii Chang began to grow lavender after he was gifted the shrub by a good friend. The plant flourished on Chang's 4,000-foot-elevation farm, and a new business was born. Today, the farm has multiple daily walking tours and a gift shop with lavender bath and body products, essential oils, tea, chocolate and honey. (Don't forget to bring cash; admission to the farm is $3, or $2 for residents and military.)
A leisurely walk through the lavender farm is relaxing Upcountry Maui at its best. I learned about the differences in lavender species as I meandered through the fragrant fields. But the farm isn't just home to the sweet-smelling plant; hydrangea, protea, succulents and more are also grown here. There are blissful spots throughout the farm; my favorite is a white bench, from which you can see West Maui and catch a glimpse of Lanai.
It just happened to be lunchtime after I left the lavender farm. I only had to drive about 10 minutes up the road to find the perfect spot. Kula Bistro opened in 2012 and has been a local favorite since. Chef and owner Luciano Zanon, who began his culinary career in Venice, Italy, crafted the bistro's homestyle menu with an Italian flair.
I was having trouble deciding what to get, so I asked the server for her recommendation. "Everything here is good," she said. "I know, that doesn't help!" The bistro's kitchen makes focaccia bread for its chicken and fish sandwiches, dough for its pizzas and sauces for its pasta, all in house. To the right of the room is an alluring dessert case with a rotating assortment of fresh-made mini pies, tarts and cakes. I finally decided on the grilled chicken sandwich with pesto aioli. The bread, airy and soft, took this simple sandwich over the edge. Definitely save room for dessert.
Heading back to my car after lunch, I walked by a wooden sign reading "Worcester Glassworks." It's a glass-blowing studio run by Sally and Bill Worcester and their son, Michael. When they're open, they're more than happy to have people in their studio to talk about their craft. In the corner of the studio is a small gallery featuring colorful bowls, orbs and jewelry. My favorites were the intricate glass ipu, or gourds, made by Sally.
If the Alii Kula Lavender Farm is the best smelling farm, then Surfing Goat Dairy is the cutest. Who doesn't love little farm animals? The farm, owned by Eva and Thomas Kafsack, is home to around 188 goats. The farm is 42 acres, nearly two-thirds of which is pasture, giving the animals plenty of space to frolic and feed. And happy goats mean delicious goat cheese. Surfing Goat Dairy makes cheese on-site every day and has a menu of more than 30 fresh and aged cheeses, 18 of which have won national awards. The dairy also makes its own goat cheese truffles and goat milk soap.
I walked around the farm, reading about Surfing Goat, the goats and cheese making on posters tacked to old surfboards throughout the property. But mostly I took too many photos of the kids, aka baby goats, and sampled goat cheese to buy to take home. For those who want to fully experience the dairy, take one of its tours, where you can feed and milk the goats and see the cheese-making process.
It was late afternoon when I left Kula and started driving back to my hotel. Cruising along the highway, I thought about my day Upcountry. The phrase Maui no ka oi popped into my head. Maui is the best. Each time I visit, I believe it more and more.
Kula Highlights
Grandma's Coffee House, 9232 Kula Hwy., (808) 878-2140, grandmascoffee.com.
Alii Kula Lavender Farm, 1100 Waipoli Rd., Kula, (808) 878-3004, aliikulalavender.com.
Kula Bistro, 4566 Lower Kula Rd., (808) 871-2960, kulabistro.com.
Worcester Glassworks, 4626 Lower Kula Rd., (808) 878-4000, worcesterglassworks.com.
Surfing Goat Dairy, 3651 Omaopio Rd., (808) 878-2870, surfinggoatdairy.com.