Decorate your Christmas Tree with These Hawaii-Themed Ornaments
Who wouldn't want a Spam musubi, nene or humpback whale on your tree?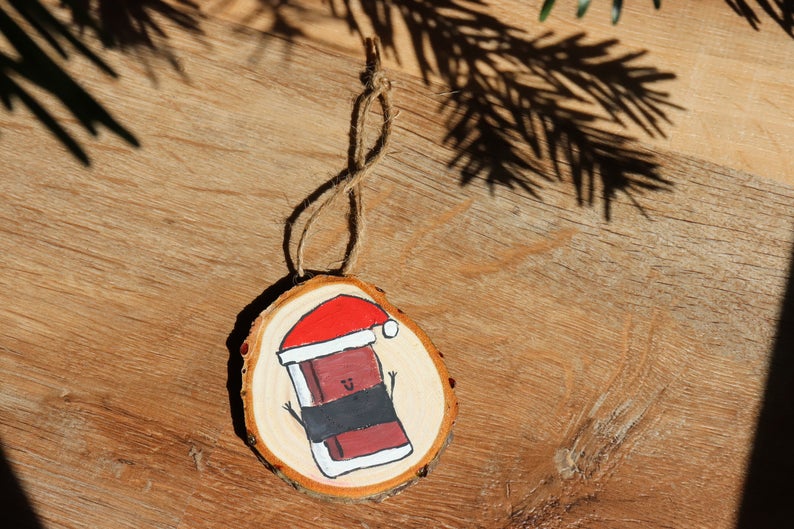 Got yourself a Christmas tree yet? Maybe you've already pulled out the artificial one from the closet or picked up a Norfolk pine from Helemano Farms in Wahiawa on Oahu. Regardless, no Christmas tree is complete without its ornaments, and we've picked out a few of our favorites that might make you want to hum along to the tune of "Mele Kalikimaka." (That's "Merry Christmas" in Hawaiian, by the way.)
Hilo Hattie's Hawaii License Plate
Sold by Hawaii's iconic retailer Hilo Hattie, these handpainted license plate ornaments are a festive riff on the state's iconic—and real—license plate. Now if we could only put them on our cars, too!
$7.99, hilohattie.com
Friends of Honolulu City Lights' 2019 Ornament Set
Every year the Friends of Honolulu City Lights, a non-profit organization that helps raise funds for the annual city-run Honolulu City Lights, sells a commemorative ornament that features images of Santa cruising around Hawaii. The group is also commemorating Honolulu City Light's 35th anniversary with a special edition ornament, which can be bought separately.
$24 each or $48 for the set, honolulucitylights.org
Aloha Cuts' Hawaiian Islands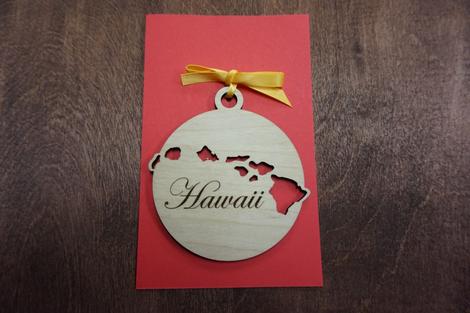 Designed and cut in Honolulu, this birchwood ornament features the Hawaiian Islands set in a round ornament. And if you have a favorite island, Aloha Cuts also sells the same design but with a single island, so you can show off your Oahu (or Maui, Kauai or even Niihau) pride on your tree.
$7.99, alohacuts.com
Handmade Mele Kalikimaka Spam Musubi
You wouldn't want to eat this Spam musubi—it's too cute! Oahu artist and creative Michelle Clemen sells these delightful little ornaments on Etsy; each ornament is handpainted onto a slice of fresh noble fir with "Mele Kalikimaka 2019" written on the back.
$15, etsy.com
CocoNene's Christmas Nene Goose
View this post on Instagram
The creative minds behind CocoNene have a variety of Hawaii-themed ornaments to choose from, like its
Christmas Monk Seal
and
Hawaiian Gingerbread House
pieces. However, there's no better time than the present to pick up a
nene
 (Hawaiian goose) ornament, since they have recently been downlisted from an
endangered species to a threatened species
under the Endangered Species Act. What better way to celebrate than by putting one of these geese on your tree.
$12, coconene.com
Hawaii Pacific Park's Handwoven Lauhala Honu
View this post on Instagram
This is not your average ornament. These 
lauhala 
(pandanus leaf) creations are handwoven by the 
kupuna 
(elders) at Hawaii Pacific Parks, a nonprofit that works in partnership with the National Park Service in Hawaii and American Samoa to help fund Hawaiian educational programs, research projects, publications and cultural activities. The organization also sells
lauhala ia (fish)
, too.
$7, shop.hawaiipacificparks.org
Pacific Whale Foundation's Glass Humpback Whale
You won't have to be on Maui with a pair of binoculars to spot this North Pacific humpback whale. In collaboration with Dynasty Art Glass, the Pacific Whale Foundation has crafted these gorgeous little humpbacks to help decorate your tree. Made through a delicate glass blowing process, this ornament is pretty enough to stay hung in your home year-round.
$17.95, store.pacificwhale.org
HAWAII Magazine Holiday Ornament
How could we write an ornament guide and not plug our own! It's literally postcard-perfect and makes a great gift for fans of HAWAII Magazine. If you've still got space to fill in those stockings, check out HAWAII Magazine's online store for our numerous other products and Mele Kalikimaka notecards designed by award-winning Honolulu-based Bradley & Lily.