Defy Gravity on a Jet Pack in Maunalua Bay on Oahu
Try this thrilling, one-of-a-kind experience and see the island from a whole new perspective.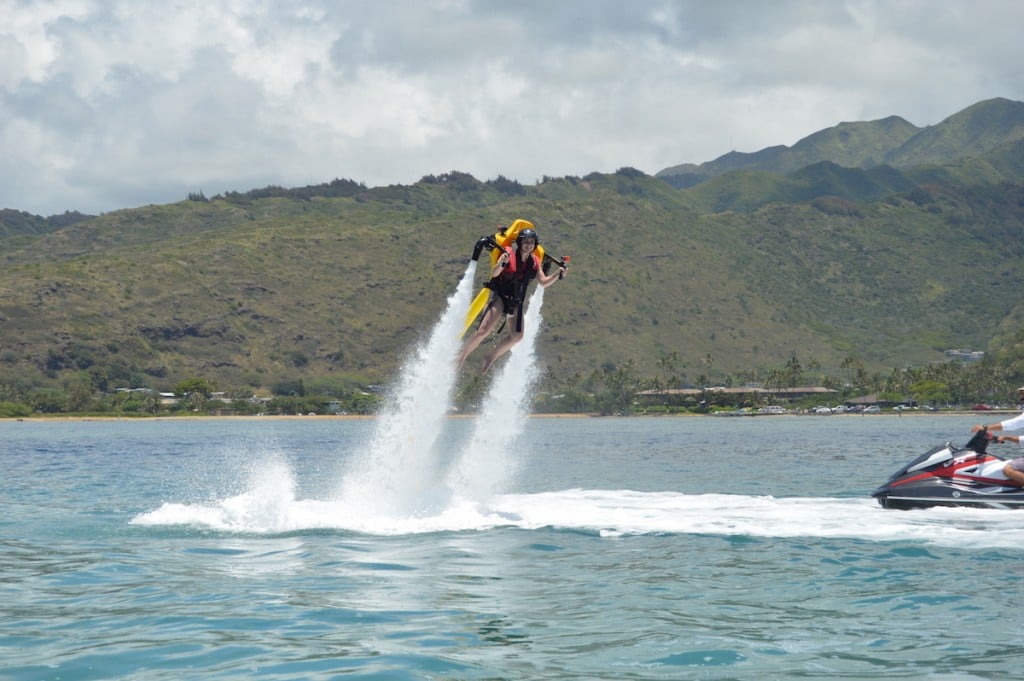 My feet may be dangling 20 feet above the turquoise water below, but my eyes are focused straight ahead at Leahi (Diamond Head) looming in the distance. It's an incredibly clear afternoon in Hawaii Kai on the southern coastline of Oahu, and from one of H2O Sports Hawaii's jet packs, it's the first time I'm seeing the iconic crater from such a unique perspective.
And I'm pretty sure if I look down, I'll throw off my momentum and fall into Maunalua Bay.
I had been itching to fly on a jet pack for years now—ever since I moved to Hawaii Kai on the Windward Side of Oahu and spotted a man hovering above the water, suspended in motion by the coursing jet pack strapped to his back. As I watched him soar, casting a long shadow on the still ocean water beneath him, I knew it was something I had to try myself.
So last month I headed to H2O Sports Hawaii in Hawaii Kai—the largest water sports company in the Islands—located 9 miles from Waikiki. It's the only place on the island where you can test out the renowned Jetlev JetPack (as well as the first place in the U.S. to offer it commercially). After a short boat ride to its floating activities "island" and jet pack instruction from Nick Yuzawa, I strap on my helmet and get secured into the harness.
"I want you to feel like you're in control," Yuzawa says as he shows me how to maneuver the jet pack's somewhat-counterintuitive controls.
And by the end of his demonstration, I'm as prepared as possible for flight—for someone whose feet are still on the landing. I know I'm in good hands with Yuzawa, who has been a jet pack instructor since the company began offering flights five years ago.
He handles the throttle, which controls the jet pack's altitude. That way, the jet pack wearer can concentrate on steering. I'm connected to Yuzawa through a headset attached to my helmet, so he can talk me through my steering and I can ask him countless questions. The jet pack is connected to his Jet Ski, anchoring me so I don't rise higher than I can handle and ensuring he's always nearby to guide me.
Although Yuzawa says take-off is the hardest part of using the jet pack, after pumping my legs and slowly raising my handles, I find myself rising from the water. I'm incredibly surprised—usually my ambition to try new things highly exceeds my athletic ability. Yuzawa is equally as astonished, mentioning that many first-timers have to try a few times before they get themselves in the air.
Before I know it, I'm instinctively angling the handles to turn myself around. The trick is to keep moving forward so that you don't angle yourself backwards, flip yourself upside down and almost land a crazy barrel roll. Not that that happened to me or anything.
But in all seriousness, I only crashed into the water twice, and both times, Yuzawa was able to help me take off again.
I didn't think the 15-minute flight would be enough for the $199 price, but by the end of my experience, I was ready for a break. You may not be exerting any brute force to work the jet pack, but the harness is designed so that all of your weight rests on muscles you didn't even know you had. After 15 minutes, you're a little sore and tired from the constant focus required to guide your flight.
But the experience doesn't have to end there.
The company mounts GoPro cameras to the harness which capture your perspective during the flight, as well as your facial reactions throughout the experience, and are available for purchase afterward. There's also a photographer capturing your flight, in case your own camera doesn't get the perfect shot. You can buy both videos and photos and take them home on a USB or CD, so you can show off your piloting skills and relive your flight again and again.
In additon to the JetPack Flight Experience, H20 Sports Hawaii also offers parasailing, Jet Skiing, banana boat rides, bumper tubing, snorkeling and scuba.
While you must be 16 or older to use the jet pack, children aged 5 through 15 can ride a tandem jet pack with an instructor.
Although jet pack-ing may be considered a watersport, it's perfect for people who may not be comfortable swimming or being in the ocean. The jet pack is buoyant, so for those times when you find yourself in the water—instead of in the air—you'll float with ease. Yuzawa says he's taught many people who can't swim at all to use the jet pack, giving them the opportunity to experience the ocean with a bird's-eye view.
As for me, I'm ready to get back into the harness and master some new tricks. Maybe next time, I'll land my barrel roll.
$199 for 15-minute flight, available Monday through Friday, 377 Keahole St. E103, Honolulu, Oahu, (808) 396-0100, h20sportshawaii.com