DeSoto Brown: 5 Things I Love About Archiving Hawaii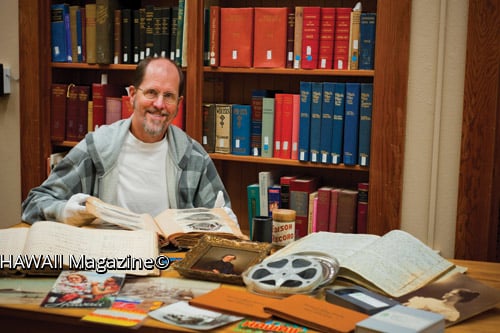 DeSoto Brown's self-proclaimed "addiction" to history began with a stack of old phone books.
"As a kid, I collected phone books because I felt they weren't something we should just throw away," explains Brown. "They were like giant history books that needed to be saved, except I didn't really know why."
At 60, Brown is the longtime gatekeeper of the archives of the Bernice Pauahi Bishop Museum, where he helps information hunters unearth all manner of treasures from the 125-year-old Oahu institution's vast collection of Hawaiian history. Those old, yellowed phone books he saved? Interestingly enough, they're now important tools of his trade, helping him track down people and businesses of the past.
Brown's innate urge to hold onto things most people might otherwise overlook is in his genes. His great-great grandfather, John Papa Ii , was a 19th-century writer and Hawaiian historian who served as adviser to Hawaii kings Kamehameha III, IV and V. Brown's parents were also history buffs who sparked his curiosity in the past.
"I'd dream of traveling back in time to see major volcanic eruptions and the time before humans came to Hawaii," says Brown, enthusiastically.
His Bishop Museum job offers him daily opportunities to fulfill those childhood fantasies, as he delves into rooms, stacks and boxes full of artworks, maps, manuscripts and photos telling Hawaii's story. When Brown encounters a rare archival gem, such as a document signed by Queen Liliuokalani, "It's like Christmas for me!" he gushes.
With so much knowledge of Hawaiian history tucked in his mind, Brown is often the equivalent of a human history book for researchers, making history come to life.
"I show people artifacts to engage them in ways they didn't think were possible and ask them to put themselves in the past," says Brown. "Then, when they've made the connection—when there's that 'Aha!' moment—I feel like I've really done my job."
The five things he loves about that job?
1. NEVERENDING
"Hawaii is not a physically large place, but regardless, there is still a large amount of archival material in existence. In fact, there's too much for just one person to ever know or see or read, so I never run out of things to do, even in the Bishop Museum collection. I'll never get to the end of it, and I love knowing that."
2. DISCOVERIES
"Published materials [such as] books, magazines and newspapers, are fairly well-documented since libraries have traditionally collected and cataloged them. But even so, there are still a great many we don't know about. That's even truer for archival materials that are unique and one of a kind, like handwritten documents, photos or paintings. There are always things to discover and learn."
3. BEAUTIFUL
"A lot of archival materials are just nice to appreciate visually. Even printed or handwritten manuscripts can be beautiful. Commercial artwork on a record cover or brochure can be really pretty, too. There are a lot of interesting depictions of Hawaii that may not be realistic but [are] definitely enjoyable to look at."
4. DETECTIVE WORK
"You learn constantly when you're handling archival materials. You find out dates, names, places, when something started or when it ended, what people thought of other people. It's kind of like being Sherlock Holmes. I'm constantly finding clues about Hawaii's past and putting them together for the bigger picture."
5. SHOW AND TELL
"I get to work on projects that use the archives, both in Bishop Museum and with outside producers. There's a great satisfaction when a rare photo or document appears in a publication or on TV, and you know people are learning from and enjoying it. That's the reason for archiving."
Bernice Pauahi Bishop Museum
1525 Bernice St., Honolulu, Oahu
(808) 847-3511 • bishopmuseum.org
(This feature was originally published in the July/August 2014 issue of HAWAII Magazine.)