Destination: Hawaii Island
Explore the Big Island's stunning geography, storied culture, ono food and plush resorts.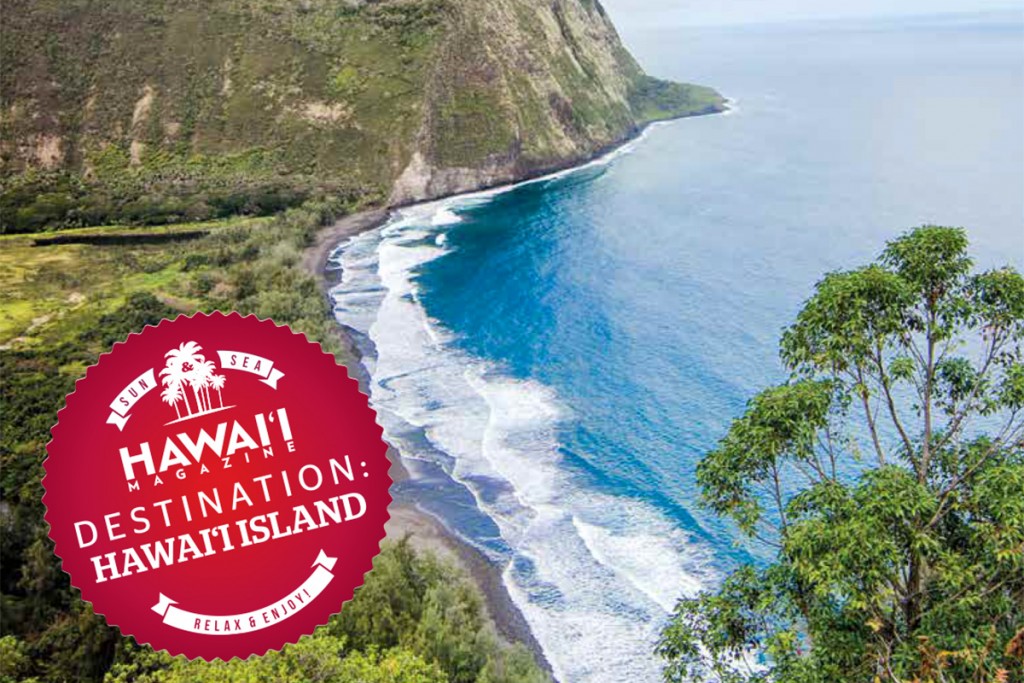 Hawaii Island, also known as The Big Island, is the youngest and largest isle in the Hawaiian archipelago. It's also growing—fresh lava from Kilauea, one of the world's most active volcanoes, continues to create new land and lava rock beaches. But this island has far more to offer than its world-famous volcano. Home to all but four of the world's climate zones, the Big Island is vast and wild and features some of the most diverse terrain on Earth. Travel beyond the majestic shoreline and you'll discover tropical jungles and the spectacular, sometimes snow-capped peak of Mauna Kea, which is taller than Mount Everest from seafloor to summit. From world-class coffee farms and picturesque ranchlands to Hawaiian archaeological sites and crystalline coral reefs, the Big Island is a diverse escape full of adventure.
Larger than all the other Hawaiian Islands combined, the Big Island is rife for exploration. With so much ground to cover, a bird's-eye-view tour with Paradise Helicopters is your best option to see it all. With an expert pilot as your guide, you'll glide past rainbows and get up close to towering 2,500-foot waterfalls. Throughout the ride, you'll learn about Hawaii's stunning geography and storied culture. With options to view extraordinary features, such as the birthplace of King Kamehameha or one of the world's only green sand beaches, Paradise Helicopters will acquaint you with the Big Island's marvelous topography. Our recommendation? Opt for a doors-off helicopter tour for an extra-thrilling experience.
Now that you've got the lay of the land, it's time for a tasty treat. What makes Punaluu Bake Shop's Hawaiian sweetbread so good? It's the secret recipe behind the light and airy dough. This sumptuous dough is also used to create the bake shop's Island-famous malasadas. These fried, sugar-dusted Portuguese doughnuts come in exotic flavors, including the fan-favorite lilikoi glaze. But Punaluu offers more than a fix for your sweet tooth. Situated on a 4-acre tropical estate midway between Kailua-Kona and Hawaii Volcanoes National Park, Punaluu's menu includes local-style plate lunches, sandwiches and fresh salads. And the gorgeous grounds make this eatery a perfect pit stop on the long road to Kilauea volcano.
After a day of rugged adventure, it's time to refuel with a dose of Island food and culture. Considered the gathering place of the Kohala Coast, Queens' Marketplace at Waikoloa Beach Resort is a hub of activity, offering free music, Hawaiian cultural classes and outdoor movies in a beautifully landscaped setting with koi ponds and tropical trees. Two performance venues offer world-class entertainment and cultural shows; the marketplace also features relaxed and upscale dining options and plentiful shopping opportunities at both boutique and brand name retailers. Queens' Marketplace is also a destination resort with 3,000 guest rooms at properties that include Hilton Waikoloa Village, Waikoloa Beach Marriott Resort and Spa, luxury condominiums and decadent vacation homes.
Restore yourself after an exciting day of activity at Dragonfly Ranch, a unique and romantic treehouse-style eco-spa and accommodations. Located in South Kona, this bed-and-breakfast is the antithesis of a sterile hotel. Rather, it's a magical and cozy sanctuary set in the lush Hawaiian jungle. While you're here, relax on a hammock with clear views of meadow and ocean. Peruse a library of Hawaiiana literature. Enjoy a complimentary homemade breakfast of organic produce harvested from an on-site garden, as well as local jams, macadamia nuts and coffee. If you're seeking an authentic, healing place to nourish and rejuvenate, Dragonfly Ranch is your ideal getaway.
Rise with the bold Hawaiian sun and greet a new day of exploration. But first things first: coffee. Pure Kona coffee is an epicurean treasure born of Hawaii Island's rich volcanic soil and ripened in the nutritive Hawaiian sun. But beware of the hordes of imposter coffee brands peddling diluted blends in deceptive packaging that tout the world-famous Kona name. At Greenwell Farms, you'll find the real thing—100% Kona coffee, full-bodied and aromatic. Complimentary daily farm tours offer a window inside each meticulous stage of coffee production, starting with the harvest, when every coffee bean is handpicked at peak ripeness. Tours include free samples of various medium-to-dark roast coffee products and a rare chance to see up close the inner-workings of a Hawaiian coffee orchard.
Now that you're feeling the buzz, you're ready for the Kona Coffee Cultural Festival. Hawaii's oldest food fair is a 10-day celebration of the harvest of Kona's world-famous coffee crop. From Nov. 1 to 10, 2019, you'll enjoy live entertainment and hands-on cultural activities, including a colorful lantern parade, the crowning of Miss Kona Coffee, a traditional Japanese bon dance, Hawaiian poi-making and a flower lei-making contest. Walk among the coffee trees, try your hand at picking ripe coffee cherries and partake in the harvest as the crop transforms into coffee in your cup.
When you're tuckered out from all that food, coffee and culture, rest your head at The Palms Cliff House Inn. Located on a 3.5-acre oceanfront cliff estate in north Hilo, this immaculate, white-pillared home is a boutique bed-and-breakfast absent of touristy gimmicks. The inn offers a carefully curated experience incorporating modern luxury with old Hawaii's charming customs. While you're there, opt for a traditional lomilomi massage or book a private high tea event to celebrate a special occasion in the style of the Hawaiian monarchy. Gratis splendors also abound­­­—calming ocean views, the sound of waves crashing, tropical landscaping and a decadent breakfast on the lanai featuring scrumptious specialties such as mango Dutch pancakes and green chili frittata.
Rise and shine—and get ready to explore the Big Island's abundant jungle landscape. Umauma Experience has it all: an award-winning nine-line zipline, a thrilling waterfall rappelling experience, an exciting ATV excursion, a swim and kayak voyage and a horseback adventure tour. You can kayak, stand-up paddleboard, swim— or tour this veritable tropical playground's scenic grounds, blooming with orange blooms and guavas ready to pick and eat. Choose one activity, or fit in up to three excursions in one day! Whether you're looking to get your adrenaline pumping or prefer a luxurious swim and catered riverside picnic, the wild acreage encompassing Umauma River and Umauma Falls offers the ultimate outdoor escape.
When you've worked up an appetite, head over to Kings' Shops, a premier shopping and dining destination at Waikoloa Resort on the Kohala Coast. Kings' Shops boasts a collection of brand name stores, such as Michael Kors, Tiffany & Co. and Tori Richard, as well as fine art galleries and restaurants and cultural activities. Enjoy a lei-making class, ukulele lesson or petroglyph tour, or try your luck on the lakeside nine-hole putting course. With free weekly entertainment, beautiful grounds abundant with indigenous plants and art installations that pay homage to native animals such as the green sea turtle, humpback whale, nene and Hawaiian triggerfish (known as the humuhumunukunukuapuaa), everyone in the family will find an exciting activity to suit their tastes at Kings' Shops.
On your final night in paradise, unwind with a special vacation package at one of the island's plush resorts. At Sheraton Kona Resort & Spa at Keauhou Bay, you can enjoy a $100 restaurant credit at Rays on the Bay, as well as a manta ray snorkel experience for two adults. Or take advantage of a $50 nightly food and beverage credit when you reserve a suite or guest room in the spacious Na Hale wing overlooking Anaehoomalu Bay at Waikoloa Beach Marriott Resort & Spa. At the Westin Hapuna Beach Resort, your fifth night is free when you book a premier ocean view room — plus you'll receive a GoPro to use during your stay. You can also savor discounted golf and seaside tennis activities at Mauna Kea Beach Hotel, the island's first resort property, open since 1965.