Destination: Kauai
Kauai is the picturesque paradise that dreams are made of.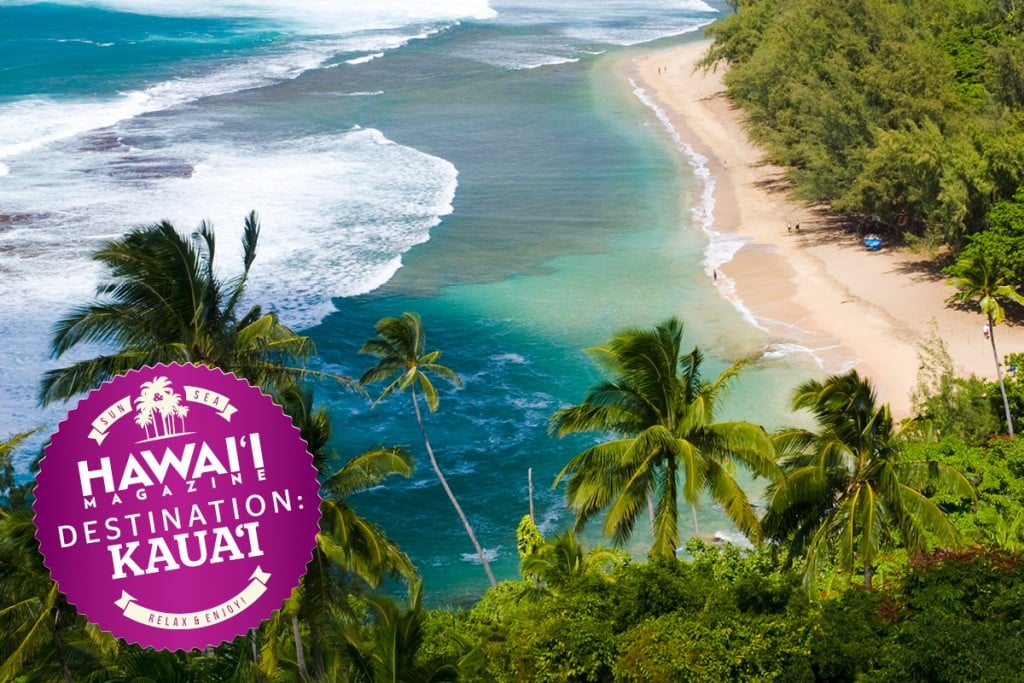 With pristine beaches, coursing rivers and untouched, lush greenery ready to be explored, the Garden Isle is a bucket-list destination for adventurers and relaxation-seekers alike. You can enjoy world-class amenities while experiencing the rich history of the oldest Hawaiian island, so grab your camera and a mai tai, leave your worries at home and say "Aloha" to paradise on earth. Welcome to Kauai.
Driving will only get you so far on Kauai, since only 10% of the island is accessible by car. Expand your horizons and take to the skies with Island Helicopters, departing from Lihue Airport daily. The signature Kauai Grand Circle Island Tour flies visitors over several destinations, from Hanapepe Valley, famous for its rainbows, to Olokele Canyon, inside the Mount Waialeale crater and along the glimmering Napali Coast, all under an hour. Island Helicopters also offers Kauai's only Manawaiopuna Falls helicopter landing adventure, affectionately dubbed "Jurassic Falls" for its appearance in Steven Spielberg's 1993 iconic film Jurassic Park. The Jurassic Falls Tour includes the Grand Circle Island Tour, a landing at the falls and a pilot-guided tour through a jungle path. You'll learn about the agricultural history of this remote area in addition to observing native plants and geological formations shaped over centuries.
There are other great ways to learn about the island without going airborne. Check out the Kauai Museum in Lihue to learn about King Kaumualii, the last independent king of Kauai, view handmade wooden and textile artifacts and gain an understanding of how immigrants from China, Japan, Portugal and the Philippines came to work on sugar and pineapple plantations in the 19th century. The museum is especially worth visiting for its permanent ahu ula display. Ahu ula, or Hawaiian feather cloaks, were worn by alii (Hawaiian royalty) and were given sacred names. Hawaii Island artist Loea Makanaaloha San Nicolas created the breathtaking ahu ula on display at the Kauai Museum, named Haakulou in honor of King Kaumualii's favorite wife.
After a day of exploring, catch up on some rest and relaxation at Timbers Kauai Ocean Club & Residences in the resort community of Hokuala. As Kauai's newest oceanfront luxury resort, Timbers features 47 private residences with whole and fractional ownership opportunities, an infinity pool, a restaurant, spa and the Ocean Course at Hokuala, an award-winning Jack Nicklaus signature golf course. Named "Hawaii's Best Golf Course" in the 2018 World Golf Awards, the 18-hole Ocean Course boasts beautiful views, seaside cliffs and even clinics with PGA instructors to help you play your best game. There's also a barefoot mini-course that keiki of all ages and abilities will love.
If you're visiting Kauai for the first time, various Marriott properties can provide convenient, high-quality accommodations for your stay. With eight hotels and resorts to choose from, you can experience top-tier amenities, modern rooms and suites, restaurants and bars, family-friendly pools, spas, fitness centers and business centers all in one place. Especially worth noting is the Kauai Marriott Resort on Kalapaki Beach in Lihue. The resort boasts a Jack Nicklaus-designed golf course, a heated outdoor pool, a free airport shuttle and exceptional customer service.
Take a trip south for the day and stop in the town of Eleele for an unforgettable aquatic adventure with Blue Dolphin Charters. With a variety of tours to choose from, you'll find a perfect plan for everyone in your travel group. The Deluxe Napali Snorkel & Scuba Morning Tour is 5½ hours of pure fun, with snorkeling and scuba diving (for an additional cost) as you learn about the island's marine life. The tour also includes a continental breakfast and a buffet lunch with unlimited beer, wine and mai tais. If you have an affinity for adventure, the five-hour Napali Coast Rafting and Snorkeling Morning Tour is the call. You'll ride on a 25-foot rigid hull raft alongside dolphins, discover sea caves and snorkel with honu, green sea turtles. Tours come with a dry bag for valuables, packaged lunch, snorkeling equipment and drinks. For an exclusive experience, private charters are also available for sightseeing tours, snorkeling and seasonal whale-watching.
Although Kauai is a relatively small island—it's half the size of Rhode Island—it's home to the largest coffee farm in the United States. Kauai Coffee Estate, in the southern town of Kalaheo, boasts 4 million coffee trees over 3,100 acres of land. Free walking tours are offered four times per day, but you'll see more on the new Farm Tour, which takes visitors through the plantation's red dirt roads in an open-air truck. Learn about the coffee's journey from seed to cup, plant your own tree in the orchard and finish the tour with a cup of fresh coffee, harvested and roasted right in the estate. Popular blends include the peaberry roast and the malty, fruity Kauai Blue Mountain dark roast. If you have a sweet tooth, be sure to try the Hawaiian Chocolate Macadamia Nut and Hawaiian Coconut Caramel Crunch blends.
For dinner, book a table at Tidepools, a contemporary Hawaiian restaurant at the Grand Hyatt Kauai Resort & Spa in Koloa overlooking a lagoon filled with koi. Choose from local favorites such as macadamia nut-crusted mahimahi (common dolphinfish) served with a roasted banana sauce and papaya avocado relish, 100% grass-fed Kauai beef from the Makaweli Meat Co. and salads prepared with ingredients harvested from an on-site hydroponic garden. Don't forget to save room for dessert, with decadent choices such as molten chocolate lava cake smothered in a white chocolate sauce, raspberries and vanilla ice cream.
After a delicious meal, the first thing most of us would like to do is lie down and relax. Luckily, the Koa Kea Hotel & Resort has you covered. Situated at the stunning Poipu Beach, Koa Kea's 121 guest rooms and suites nearly all feature ocean views. You can spend the evening in its saltwater pool or at the spa's seaside cabana. Better yet, bring the relaxation into the privacy of your own guest room. The elevated in-room orchid bath experience, drawn by a spa specialist, utilizes the benefits of red salt, composed of 80 naturally occurring minerals; the awapuhi (ginger) root; fresh Kauai orchids; and Hawaiian clay to create a healing water therapy experience.
Or maybe you prefer vacationing in the comfort of a home. For alternative accommodations, check out Condominium Rentals Hawaii to find comfortable, reasonably priced property rentals. Three Kauai properties are available: Makahuena at Poipu, Pono Kai Resort in Kapaa and Wailua Bay View in Kapaa. Each property comes with free Wi-Fi, in-room washing machines and dryers, and kitchens. Beach gear and barbecue facilities are also available at select properties.
Wherever you decide to stay, consider adding a bit of wellness to your vacation. Sweetfern Living offers packages that include yoga sessions and natural cooking. Owner and holistic professional Kela Yzeiraj teaches Raja yoga and cooks meals in your vacation rental. In her role as personal chef, Yzeiraj, who has also worked on a permaculture farm in Thailand, will do everything from shop at the local farmers market for ingredients to prepare natural and organic meals that are good for the mind, body and soul.
The Shops at Kukuiula is the prime shopping, dining and fine art destination on Kauai, featuring signature plantation-style architecture and community events. The weekly Kauai Culinary Market is held every Wednesday from 3:30 to 6 p.m., showcasing more than 20 farmers and vendors of local produce, flowers, spices, pies, jams and more. The chef demonstration spotlights Kauai's most talented chefs as they prepare dishes with local ingredients. The Shops at Kukuiula is hosting a special culinary market event on Wednesday, Aug. 21 and a flavors event on Friday, Aug. 23 to celebrate the mall's 10th anniversary.
No trip to Kauai is complete without a luau. Smith's Tropical Paradise in Kapaa town opened 50 years ago to bring the aloha spirit to locals and visitors alike, and continues to be family-owned and -operated today. Luau guests can take a narrated tram tour or stroll around the 30-acre botanical and cultural garden, watch an imu (underground oven) ceremony, learn some hula moves, grab a drink at the open bar and enjoy musical entertainment by the Smith family. Dinner includes roasted kalua pig, teriyaki beef, sweet 'n' sour mahimahi, chicken adobo, lomi salmon, fresh poi and more. The Rhythm of Aloha show closes the night with authentic Hawaiian, Tahitian and Samoan performances in the Pele Amphitheater. Show-only tickets are also available.
As you breathe in the beautiful, torch-lit Kapaa night, surrounded by the natural beauty of Kauai and reminiscing about your adventures on this lush island, you'll already start planning your next trip back.