Destination: Maui
Maui offers the best of modern luxury combined with the timeless allure of ancient Polynesia.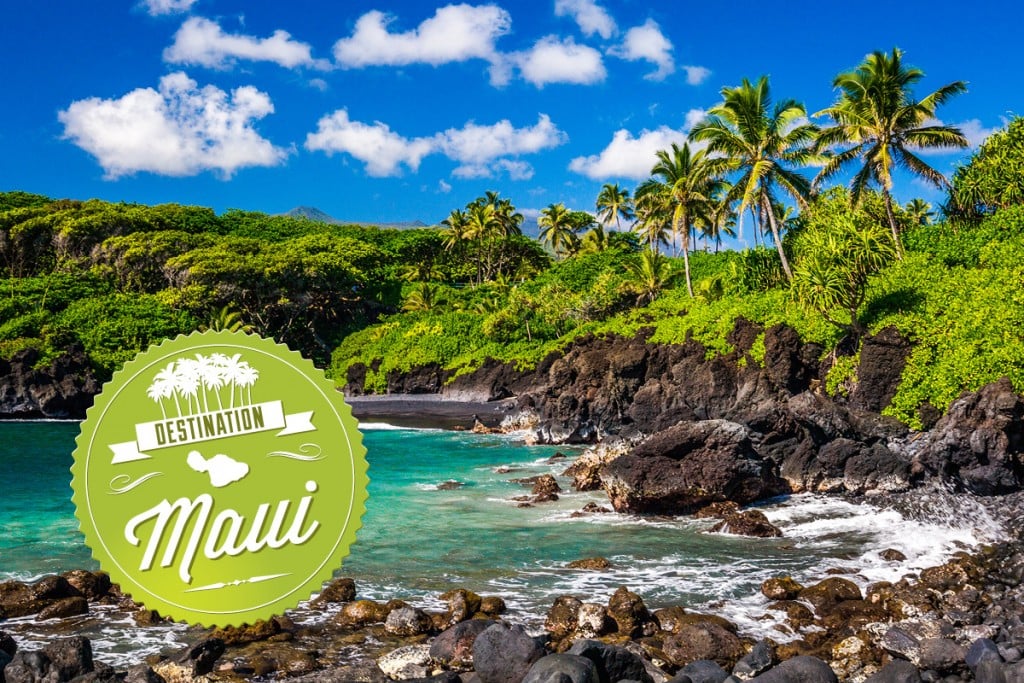 Fondly known as the Valley Isle, Maui is the second largest of the islands that make up the Hawaiian archipelago. A playground of emerald green mountains, jungle valleys, quaint towns and sprawling beaches, Maui is a destination primed for romance and adventure. Home to the famous volcano Haleakala ("House of the Sun"), countless waterfalls and world-class ocean sports, Maui offers the best of modern luxury combined with the timeless allure of ancient Polynesia.
As the airplane descends onto the landing strip at Maui's Kahului Airport, look out the window and behold a tiny green island encircled by a vast, blue sea. Beneath the waves, nearly a quarter of all marine animals in Hawaiian waters exist here and nowhere else on Earth. At the Maui Ocean Center, you'll meet some of these colorful ocean inhabitants through up-close encounters with reef fish, sharks, stingrays, turtles and one of the world's largest collections of live Pacific corals.
This top-rated aquarium also boasts a series of interactive and virtual-reality exhibits. A pair of 3D glasses is your ticket into this otherwordly place, where whales sing and schooling fish flash their glittery, neon scales.
Next stop: Lahaina. In Maui's most charming seaside village, you'll find shopping, a riveting history and a 150-year-old banyan tree with giants roots that stretch across an entire city block. At Moana Glass, you'll explore the gallery and workshop of glassblowing virtuoso Ryan Staub, whose avant-garde designs breathe new vigor into an otherwise fading art form. A student of the world's greatest glassblowing masters, Staub offers a showcase of his own dazzling creations, as well as glass blowing demonstrations and exciting, hands-on lessons. From lighting fixtures and sink basins to glassware and statuettes, you'll find a diverse selection of souvenirs ranging from the functional to the whimsical. Or you can make your own Maui memento in one of Staub's popular glassblowing-for-beginners workshops.
Now that you've worked up an appetite, pop in for dinner at Lahaina's family-owned Sale Pepe for modern Italian cuisine. The menu, which changes seasonally, stars house-made pasta and artisanal pies handmade by an Italian-certified pizzaiola.
A lively wine bar and a kitchen that sources only the freshest, most authentic local and Italian ingredients make Sale Pepe a welcome taste of Italy in the heart of this historic harbor town.
After an exciting first day of exploration, rest your head at Montage Kapalua Bay. A destination in itself, this secluded resort features 50 residential-style accommodations on 24 beachfront acres. Ocean-view rooms with expansive living spaces and a full gourmet kitchen will make you feel at home in the Pacific. With a full-service spa, three restaurants, championship golf and watersports, you'll have little reason to leave this lavish resort.
Rise with the sun for an early tee time at Wailea Golf Club's championship Gold, Emerald or Blue course. Rated among the best golf courses in the country by both Golf Magazine and Golf Digest, Wailea's courses come with panoramic ocean views and lush, tropical landscaping. Blessed with consistently sunny skies and gentle breezes, Wailea is truly a golfer's paradise.
When you've roused an appetite, head over to The Pint and Cork at The Shops at Wailea for a satisfying, tavern-style meal paired with a custom cocktail or local craft beer. Open for lunch, dinner and late-night, The Pint's feel-good atmosphere is topped only by its signature comfort dishes, which include creamy lobster mac and cheese, shrimp and grits and a pork adobo version of Hawaii's famous loco moco.
Settle in for a restorative evening at Maui's ultra-private, adults-only Hotel Wailea. Perched along South Maui's spectacular coastline, you'll relax in one of only 72 opulent, one-bedroom suites on 15 lush, gated acres. With poolside living room-style cabanas, beach valet service and a sleek, luxurious ambiance that blends seamlessly with the tropical landscape, this cozy-yet-elegant resort property exudes style, comfort and excellence.
If you're looking for a comfortable place to rest your head at night without all the bells and whistles of a resort, you might instead prefer to wind down with Condominium Rentals Hawaii, your source for diverse, affordable accommodations during your stay on Maui. Save on laundry with in-room washers and dryers and use the complimentary beach gear in every room. If you're feeling adventurous, take advantage of generous rental car package deals. With so many options to choose from, you'll have no trouble finding the condo that's right for you.
Gear up for a day of adrenaline and jaw-dropping scenic nature on Valley Isle Excursions' signature 10-hour adventure tour. First, you'll experience Maui's world-famous Road to Hana, with all of its history, legends, waterfalls, rainforest, lava formations, cliffside overlooks, natural swimming pools and beaches. Then you'll continue into Haleakala National Park for an Instagram-worthy sunset view. Maui's only tour company to cover all this ground in a single day on a small, 12-passenger custom cruiser, Valley Isle Excursion is the ideal way to make the most of your time on the island. You can also choose a sunrise or celestial navigation and sunset tour on the summit of Haleakala volcano. The company's newest volcano tour explores areas like Iao Valley, the Haleakala summit and Upcountry Maui ranches.
Even if you've toured Hana for the day, chances are high that you'll want to go back for more. At the end of the long, winding road to Hana stands Travaasa Hana, an upscale boutique resort in the remote rolling fields above Hana Bay.
Here you can choose from a selection of private suites or resort cottages as the home base for your stay. From stand-up paddling and coconut husking to outdoor yoga and lei-making workshops, there is a lot to do in this quiet, country pocket of the island's eastern tip. Consider it a vacation from your vacation.
Now that you're feeling restored, it's time for a jaunt to Lanai. Warmly known as the Pineapple Island for its storied past as the world's largest pineapple plantation, Lanai is visible from Maui's West Side. Answer its beck and call and you'll discover a charming, plantation-style town of tin-roofed bungalows that will be sure to transport you back to a simpler time. This 140-square-mile island has much to offer—miles of empty, pristine beaches, exceptional snorkeling and scuba diving, a half-sunken shipwreck, ancient Hawaiian temples, a friendly resident population of dolphins and plentiful opportunity for exciting off-road adventures by mountain bike or Jeep.
At Hotel Lanai, the island's rustic aesthetic blends seamlessly with the hotel's Hawaiian vintage decor and the property's towering Cook pines. With 10 guest rooms, you'll enjoy a peaceful and intimate stay, complimentary breakfast at the property's popular Lanai City Bar & Grille and a friendly staff eager to help you plan your island adventures.
Upon your return to Maui, enjoy a day at the picture-perfect sandy cove known as Napili Bay. Protected from big waves by a barrier reef, this beach offers calm and clear waters teeming with wildlife — perfect for snorkeling, stand-up paddleboarding or sinking into a beach chair and soaking up the views. When the sun starts to fall, check into a condo-style guest suite at the waterfront Napili Kai Beach Resort.
Here you can opt for a romantic, private Na Hoku dining experience at the edge of the bay and under the stars, courtesy of the resort's Sea House restaurant. In the morning, explore the resort's beachfront amenities, including an 18-hole putting green, a fitness studio, a horticultural tour and special activities for kids.
End your Maui experience on a sweet note with a tour of the island's fragrant lavender farm or a taste of Hawaii's famous shave ice treats. After all that adventure, you'll need a comfortable place to rest. Maui boasts a range of hotels for every kind of traveler, from luxe adults-only resorts to funky bed-and-breakfasts. If you're traveling with children, Marriott Bonvoy Hawaii offers a great selection of accommodations for families. The ultra-luxurious Ritz-Carlton, Kapalua pampers its youngest guests, too, from keiki menus every hotel restaurant to a unique program that offers education excursions for the entire family. The Westin Maui Resort & Spa along Kaanapali Beach boasts an expansive 87,000-square-foot aquatic playground. The Wailea Beach Resort-Marriot, Maui has a pool with two waterslides, a game room and a movie theater on property. And the Residence Inn Wailea offers all the comforts of home, with spacious suites, full kitchens and in-room washers and dryers. No matter what you're looking for, Marriott offers vast options for accommodations that suit your needs until it's time to bid the Islands "A hui hou," until we meet again.