Destination: Oahu
A Day of Nature, Culture and Munching on Hawaii's Capital Island.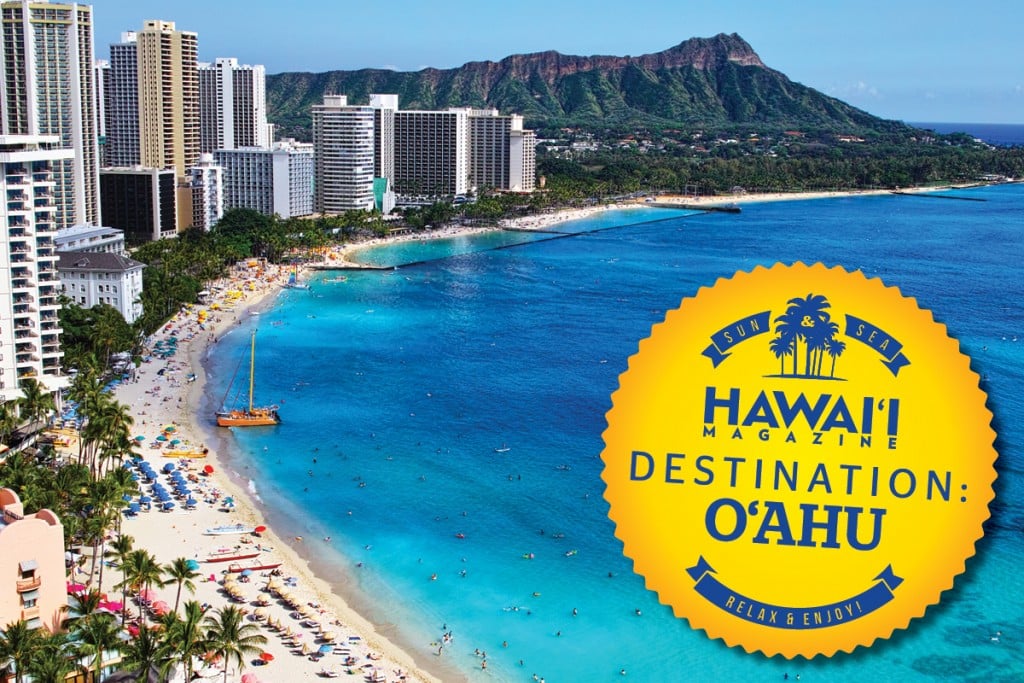 Known as The Gathering Place, Oahu is home to both the bustling, cosmopolitan center of Honolulu, as well as the North Shore and its pastoral charm. From internationally renowned surfing to breathtaking mountain vistas to creative East-meets-West dining experiences, there's a world of things to do, see and eat on this oasis in the middle of the Pacific. In fact, you could spend weeks exploring its winding valleys and coastlines and multicultural city streets. We've put together some Oahu daytrip to-do's for an action-packed itinerary of quick hits that will keep you steeped in aloha and ready for adventure.
Start the day in luxury by treating yourself to an indulgent breakfast at Halepuna Waikiki by Halekulani. This new property is the latest venture by high-end Island hotel icon Halekulani, and sports all kinds of buzzworthy, oasis-like relaxation amenities in the heart of Waikiki. Think infinity lap pool, hot tub and pool bar on the eighth floor and panoramic views of the south shore.
One of our favorite parts of this new hot spot, though? The Halekulani Bakery & Restaurant, the first branded Halekulani food establishment. Head out early from your hotel room with a morning swim, when it's not as hot or crowded. Then stop by the new eatery right on the beach for a laidback breakfast of artisan breads, pastries, cakes and coffees. While there, check out the chocolate-viewing room—yes, chocolate-viewing room!—to spy some of the confections being whipped up.
After that, stroll through the galleries at the Honolulu Museum of Art. This Honolulu fixture has an eclectic mix of paintings, sculptures and more, from European classics by artists such as van Gogh and Monet to impressive historical collections of Japanese woodblock prints. Furthermore, the beautiful building that houses the museum's collections boasts a variety of themed courtyards and elegant nooks ideal for exploring. Stop for lunch in the tranquil café and enjoy dining in the balmy tropical outdoors in a garden setting complete with a waterfall and sculptures by Jun Kaneko, a celebrated Japanese ceramic artist.
After a relaxing morning and lunch, it's time to really see the island with an exhilarating tour from Paradise Helicopters. It's literally a bird's-eye view of Oahu's natural splendor—and one that many travelers will never experience: the breathtaking valleys and peaks of the Koolau Mountains, offshore cresting surf breaks, precious coral reefs, the vast craters of the island's long-silent volcanoes, brilliant candy-colored sunsets that set the evening sky on fire. Choose from a variety of tour options to suit your interests, whether you're hoping to glimpse hidden waterfalls or world-famous beaches.
If sightseeing in a helicopter isn't enough of an adrenaline boost for you, book a tandem jump out of an airplane at 14,000 feet with Pacific Skydiving. The company, which boasts more than 40 years of skydiving experience, promises a minute-long freefall on its Ultimate Skydive jump—its most popular—as you marvel at the 360-degree view of the island's stunning North Shore. Pacific Skydiving also offers a tandem jump from a helicopter and a skydive out of an airplane from 24,000 feet, the highest tandem jump offered in Hawaii.
Now that your feet are firmly back on land, spend some quality time exploring the city and doing one of everyone's favorite travel activities: shopping. Duke's Marketplace in Waikiki turns a narrow alley of a street into a veritable marketplace for souvenirs. The lively little avenue is packed with vendors carrying all manner of wares, from kitschy hula girl tchotchkes to shell jewelry to Hawaii-themed T-shirts. You'll likely find a standout gem amid the hustle and bustle of the bazaar, one of the last remnants of a vintage Waikiki.
The rest of Waikiki is, shall we say, a bit more polished. Luxury retailers and high-end restaurants are typical, with a blend of upscale local and international brands. For a souvenir of the Islands with some real history, opt for one of the homegrown brands that have built solid reputations in the Islands. Surf Line Hawaii and Jams World are known for their eclectic art-inspired prints and aloha aesthetic. These sister product lines have their roots in local surf culture from decades past. Today's Surf Line Hawaii shop in the International Market Place is the latest iteration in an evolution of a heritage brand, with hip patterns, modern resort silhouettes and breezy, beach-ready styles that are perfect for Oahu's beach-to-street lifestyle.
After an afternoon of shopping, jump back into the ocean before grabbing a quick bite or cocktail, preferably with a sunset view. As the sun drops, the tiki torches along Kalakaua Avenue are lit, and the sounds of hula waft through the air. It's been a long day of culture, natural wonders and, of course, retail therapy, but it's not a tropical vacation day without cocktails at poolside or beachside. The Waikiki Beach Marriott Resort and Spa is the perfect place to unwind after a long day of adventuring. The Moana Terrace bar on the upper pool deck of the hotel is open air—the better to enjoy the tropical breezes and starry sky—and features nightly entertainment. Plus, it's right on bustling Kalakaua Avenue, a few steps from Waikiki's sandy beaches, which means a post-mai tai (or two) beachside stroll at the end of the evening. All that's left now is to tuck yourself in and get ready for a whole new set of adventures tomorrow.