Did You Know Hawaiʻi Has Its Own Four-Leaf Clover?
The ʻihiʻihilauakea is a rare, endangered fern that resembles the lucky shamrock.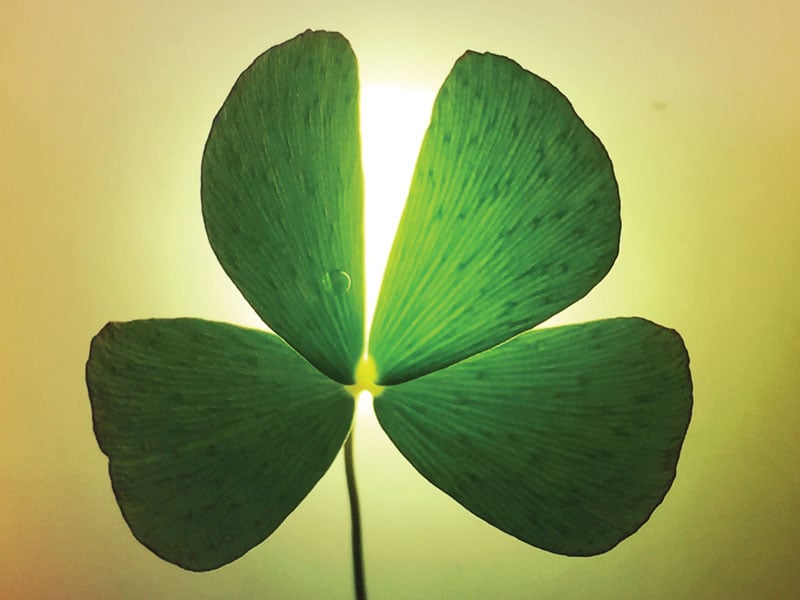 Four-leaf clovers are a symbol of good luck and ubiquitous with St. Patrick's Day, celebrated on March 17.
And while the holiday is the feast day of St. Patrick, the patron saint of Ireland, some 7,000 miles away from Hawaiʻi, the Islands boast its own version of the lucky plant.
The ʻihiʻihilauakea (Marsilea villosa) is a rare, endangered fern that resembles a four-leaf clover. It's found in the crater on the western end of Hanauma Bay on Oʻahu, which has the same name. ('Ihi'ihilauakea is also the name for the wind that blows across the area.)
According to Rick Barboza, who co-founded Oʻahu-based Hui Kū Maoli Ola, specialists in native Hawaiian plants and landscaping, this endemic plant is actually not a four-leaf clover at all. In fact, it's not even a flowering plant. It's a tiny fern that reaches only up to 6 inches tall. It sprawls across the ground with tendril-like rhizomes and periodically sends out a four-petal frond on a stalk no thicker than a strand of hair. At night the fronds fold up, then open again after the sun rises.
This fern can only be found in dry lowland areas of Oʻahu and Molokaʻi, typically in shallow, short-lived ponds.
Barboza explains that its name—ʻihiʻihilauakea—is also the name of a woman who was an aliʻi (Hawaiian royalty) from Waimānalo on Oʻahu who lived near Hanauma Bay. She was known for her beauty, kindness and skill in fishing and surfing. "With a little luck of the Irish, and this good-luck charm," he says, "you might be so fortunate to meet a woman like this."
For more information about the ʻihiʻihilauakea or to purchase one, visit Hui Kū Maoli Ola.