How 11 Surf Breaks on Oʻahu Got Their Names
Every surf break has a name—and a good story that goes along with it.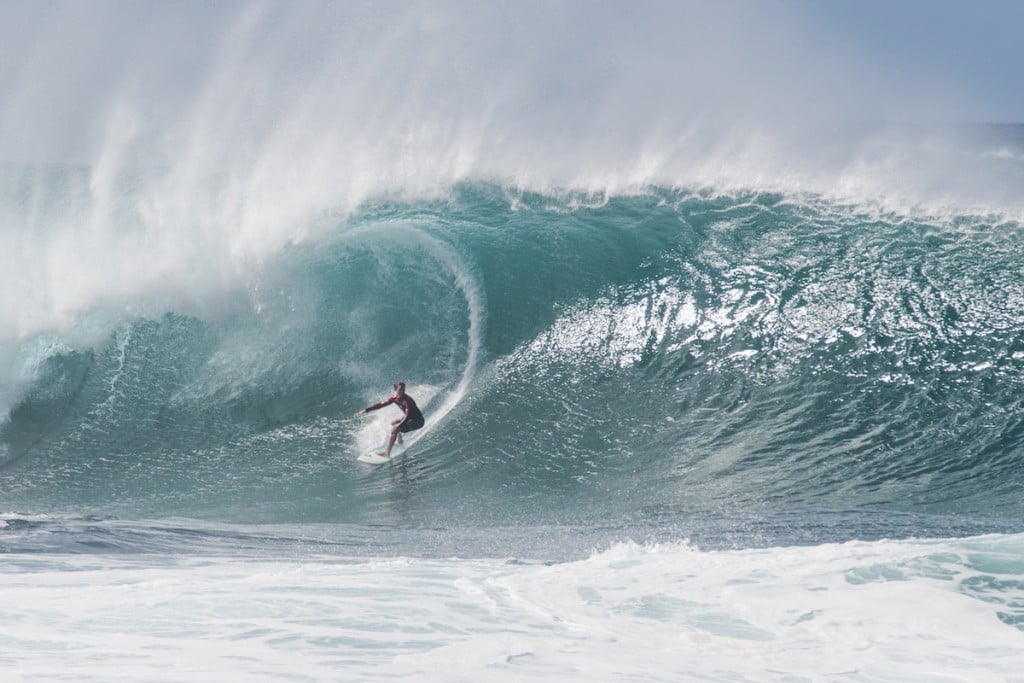 Every surf break on Oʻahu, even the ones that only emerge during historic swells, has a name.
And these backstories can be intriguing, clever—or downright hilarious.
Here are some of the stories behind Oʻahu's surf breaks, thanks to the manaʻo (thought, belief, theory) of historian John Clark.
LISTEN: "Have Aloha Will Travel" podcast episode 4 with John Clark about how surf breaks got their names
Pipeline, North Shore
One of the most famous waves on Oʻahu's North Shore, Banzai Pipeline was likely named after 1961, when it was first successfully surfed by California's Phil Edwards, then one of the best wave riders in the world. After he returned to the beach, he discussed with his friends what the break should be called. Just so happened there was a construction project to repair an underground pipeline happening nearby on Kamehameha Highway. As they drove by the project, Edwards' pal Mike Diffenderfer looked into the open trench and suggested they name the break, "Pipeline." They all agreed. ("Banzai" was added later to its name. "Banzai," in Japanese, means "ten thousand years," and is used as a toast at festive occasions to wish someone a long and prosperous life. It was also said during World War II by Japanese soliders as a war cry before going in battle—maybe the same feeling as charging the treachrous Pipeline.)
Canoes, Waikīkī
The friendly waves of Canoes, fronting the Sheraton Moana, A Westin Resort & Spa in Waikīkī, is one of the best spots on the island for beginners. It's also one of Hawaiʻi's most famous surf breaks, as this is where many visitors to the Islands see and experience surfing for the first time. Surfing ambassador and Olympian Duke Kahanamoku famously surfed these breaks—but so has modern professional surfers including 11-time world champion Kelly Slater. Outrigger canoes surf the waves here every day—the only place in the world where this happens—hence its name, Canoes.
Green Lanterns, Māʻili
This wave breaks off the  mouth of the Māʻiliʻili Channel on Oʻahu' West Side. Old-timers can remember the Green Lanterns Restaurant that, until 1958, sat across from the Ma'ili break that bears its name.
Gums, North Shore
At the west end of ʻEhukai Beach Park is a sandbar break that folks call Gums. The story goes that, during the early 1970s, when most surfers were transitioning from longboards to shortboards, one surfer who lived nearby continued to surf here with a longboard. One day he wiped out and the board hit him in the mouth; he lost his front teeth, exposing his gums. He had dentures made, but he lost those, too, after another bad wipeout. Regulars started calling this break, "Gums," in his honor.
Old Man's, Waikīkī
Albert "Oscar" Teller came to Hawaiʻi in 1932 and learned to surf in Waikīkī. In 1958 he moved into a cottage by Sans Souci in Waikīkī and started surfing this spot regularly. During the 1960s, Ralph Sallee and Floyd Bendickson, two younger friends who surfed with him, began calling the site Old Man's after Teller and the name stuck. Teller surfed here regularly until 1984 at the age of 75. He died a decade later and his ashes were scattered at this break.
Yokohama, Waiʻanae
Yokohama is the name of a famous port city in Japan. The name of this spot—including the bay itself—came from a Japanese switchman name Yokohama who lived nearby in the early 1900s. He worked for the Oʻahu Railway and Land Co., which ran trains around Kaʻena Point unti 1947. The train stop was named for him—and the name extended to the beach. Its Hawaiian name is Keawaʻula, which means "red bay" in ʻōlelo Hawaiʻi (Hawaiian language), said to be named after the numerous mūheʻe, or cuttlefish, that color the water. It was believed that the spirits of newly dead would come to a place here called Ka-hoʻihoʻina-Wākea (Wākea's turning-back place). If the ʻaumakua (a family god) thought the person was not ready to die, he would turn the spirit back to re-enter the body.
Toes, Niu Valley
Veteran surfer and Triple Crown producer Randy Rarick grew up in the '60s on the beach in Niu Valley in East Honolulu. He and his neighbors were the first to surf the waves that broke over the shallow reef offshore. (They would go at high tide.) At first, they were going to call it Rarick's House. But when one of his friends ran up to the nose of his longboard while surfing there, the name "Toes" stuck. (It was shortened from the popular surf phrase, "Toes on the Nose.")
Alligators, North Shore
This break—sometimes called Baby Sunset—is named after a massive limestone rock on the beach which is shaped like an alligator's head. The beach here is actually called Kaʻalaea, which means "ocherous earth" in Hawaiian.
Pinballs, Waimea Bay
This break is located in Waimea Bay on the North Shore, alongside the bounders between the north end of the beach and the point. It doesn't break here often, but when it does, wipeouts can mean surfboards (and surfers) bounce off the boulders like pinballs bouncing off the bumpers in a pinball machine. Hence the name.
Kaiser's, Waikīkī
In 1954, Henry J. Kaiser and Fritz Burns bought 8 acres of beachfront property in Waikīkī with the intent to build the first self-contained visitor resort in the area. In 1955, the first of this plan—the Kaiser Hawaiian Village Hotel—opened. (This is now the Hilton Hawaiian Village.) Kaiser dredged a channel through the reef to allow access to the beach for commercial catamaran tours. The surf site on the west margin of that channel is called Kaiser's. Even though the hotel named changed—Hilton instead of Kaiser—the name remained.
Blue Moon, Hawaiʻi Kai
This second-reef surf spot only breaks when there's a big south swell. A blue moon is as second full moon in a calendar month—a rare occurrence. SInce this wave only shows up during a monster south swell—or "once in a blue moon"—it was called Blue Moons.