Dine at Aloha Mixed Plate, Maui's Casual Eatery with Stunning Oceanfront Views
It's the best place in West Maui to go for local cuisine and fun cocktails.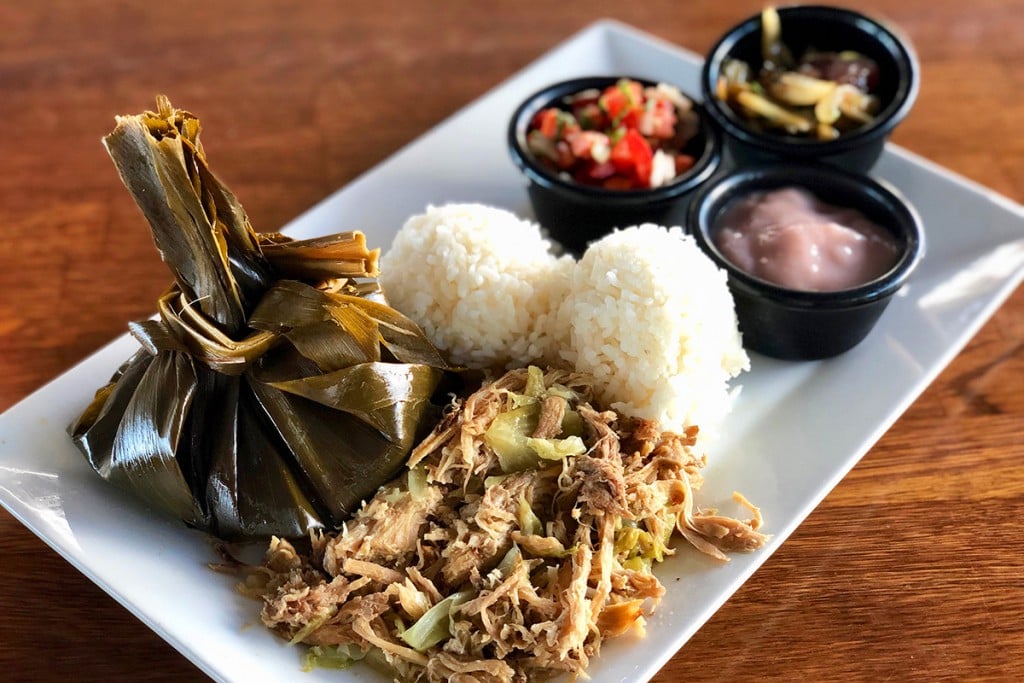 The New York Times once reported that Aloha Mixed Plate is "paper plate meets million-dollar view." The view remains rich, yet the prices are still easy on the pocketbook. It's just that these days, it's got even more oceanfront space than ever before after a recent renovation — and ceramic plates have kicked up the casual hangout to a picnic-on-the-beach-times-10 mode.
And wow, the food! Corporate Chef Ivan Pahk has taken it to new heights.
What a way to start your day. The on-trend Breakfast Menu includes twists on local-style breakfasts. Taste house-made "SPAMP" in the Eggs Benedict and Fried Egg Sandwich, Taro Hash from their very own Hoaloha Farms, Kalua Pig Omelet and Saimin Deluxe with noodles from sister restaurant Star Noodle.
Enjoy updated local classics such as shoyu chicken, kalbi ribs, coconut prawns, chow fun and saimin — and fun new items such as "SPAMP" musubi with shiitake rice that you wrap in nori sheets at your table. SPAMP, by the way, is a spin on Spam with the last three letters, "AMP," standing for Aloha Mixed Plate.
"We do not use Hormel," says Pahk. "We slow cook pork shoulder with spices, garlic, a little salt and sugar. No fillers. We mix it ourselves and it's insanely good."
Situated next to its sister business, Old Lāhainā Lūʻau, Aloha Mixed Plate is THE West Maui place to go for fun and casual meals of plantation fare in a jaw-dropping al fresco setting for breakfast, lunch, dinner and happy hour. A sea of diners wearing rubber slippers, T-shirts and shorts flock there like bees to a hive for local cuisine and fun cocktails such as the Sassy Wahine and the Gimme Guava with vodka..
Executive Chef Sergio Perez grills fresh island fish, served with local pineapple salsa, rice and sautéed vegetables or chimichurri, taro and seasonal vegetables, and poke of the day that is fresh off the boat. He tosses Hoaloha salad —a mix of Waipoli greens, kabocha pumpkin, tomato, cukes, split peas, almonds and long beans. He also excels at sandwiches like kalua pig and fresh catch on house potato buns.
"We now have 130 seats," says General Manager Nicky Boskoff. "Before we had just 95. We renovated the bathrooms and the kitchen, and we moved the bar for a better view of the ocean. Now the upper deck has a roof that retracts and opens up so at night you can see the stars and dine al fresco."
"People love our loco mocos, teri ribeyes and clams with black-bean sauce on sizzling platters," says Pahk. "They are flying out the door. And the Alii Plate with kalua pig, laulau and lomilomi salmon highlights our housemade fresh poi, made with taro from the company's 300-acre Hoaloha Farms. Old Lahaina Luau provides the imu, or underground oven, for the slow cooking of the pig."
Desserts from Executive Pastry Chef Ed Morita, are house-made soft serve ice creams, chocolate pot de crème (chocolate cake soaked in coconut cream, topped with rich chocolate pudding, rice cracker crunch, strawberry puree and whipped cream), and bibingka upside-down pineapple cake.
For more details, call Aloha Mixed Plate at (808) 661-3322 or visit www.alohamixedplate.com.