Discover Island History and Unparalleled Luxury at Maui's Haʻikū House
Spending a night in this hale on the hill is worth every penny.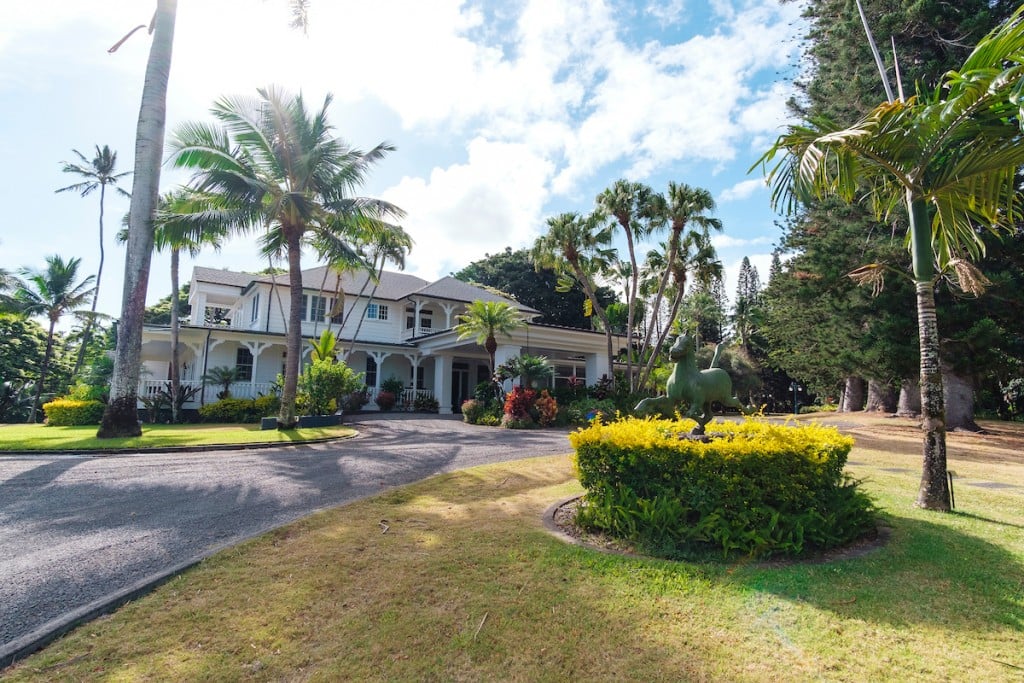 Nestled amongst the quaint neighborhoods and farms that take up much of Maui's upcountry town of Haʻikū—Pāʻia's less busy, more homey counterpart—is one of Maui's most luxurious short-term rentals. Perched at the top of a long driveway, this hale (house) on the hill is steeped in history and sits regally on a 20-acre lot, which guests can roam for hours on end. The land was originally deeded to Reverend Richard Armstrong in 1848 by King Kamehameha III and went through a litany of wealthy owners—such as sugar kingpin Henry Baldwin and notable philanthropist Athalie Clark—who all added their own touches to the estate before being bought by its current owners in 2015. Welcome to the Haʻikū House.
Okay, calling the Haʻikū House a "house" might be a little inaccurate. It's a mansion, with nine bedroom suites—all with ensuite bathrooms—spread across two stories. When first built, in 1850, the home was actually smaller than its current revision, however, the home's third owner Athalie Clark gave the land to a superchurch she was a part of, Crystal Cathedral, and its reverend, Reverend Schuller, decided to build the additional suites to house churchgoers as well as priests-in-training. And it was actually Athalie Clark who filled the expansive property with much of the flora—from sprawling monkeypod trees to towering palms—that can still be seen today.
While the home is in itself a relic of the past, its interior decor has kept up with the times. After its current owner, the Chan family purchased the Haʻikū House in 2015, they put a whopping three million into interior renovations and modernizations. From a kitchen with enough marbled counter space to cook an entire lūʻau to an ultra-chic home bar and a modern entertainment center, the home is definitely with the times. Did we mention, there's not one, but two fridges? However, the renovation did a great job in keeping the homey charm and allure of the Haʻikū House's original design, still feeling like a plantation home—albeit, a huge plantation home—while finding a way to seamlessly slip in modern-day comforts.
Walking through the Haʻikū House, it's always a good idea to have a coaster or two on hand. Much of the furniture filling the home is actually priceless. From a gorgeous wooden dining table with fish inlays to an eye-catching koa wood bench in the home's main hallway, these pieces were actually gifts to Henry Baldwin—whose family owned the home for nearly a hundred years—given by Hawaiian royalty and some of the biggest names in the sugarcane industry back when the crop was king. Other relics include original copies of sheet music for Hawaiian tunes and intricately designed model ships that you may want to tiptoe around. And while the home at times does feel more like a museum than an accommodation, it's almost harder to find a spot that's not lounge-worthy in the not-so-humble abode. From the master bedroom deck with a stunning birds-eye view down the coast of Maui's northern coastline to the outdoor patio that surrounds a fire pit, the Haʻikū House still feels like a home.
A nightly rental rate averages in the $6,500 range. But, it's important to remember that this estate has enough room—and rooms—to accommodate multiple families, up to 20 people. So if you have a large family reunion on the calendar, maybe Nana is celebrating her 100th birthday, and are really looking to splurge on a special occasion, the Haʻikū House is a fantastic option for an alternative accommodation. Trust us, it'll be worth every penny.
For more information, visit haikuhouse.com.