Discover Oahu's Historic Chinatown District on this Twice-Weekly Walking Tour
Hawaii Heritage Center offers tours that allow people to experience the history, food and culture of one of Honolulu's most historic districts.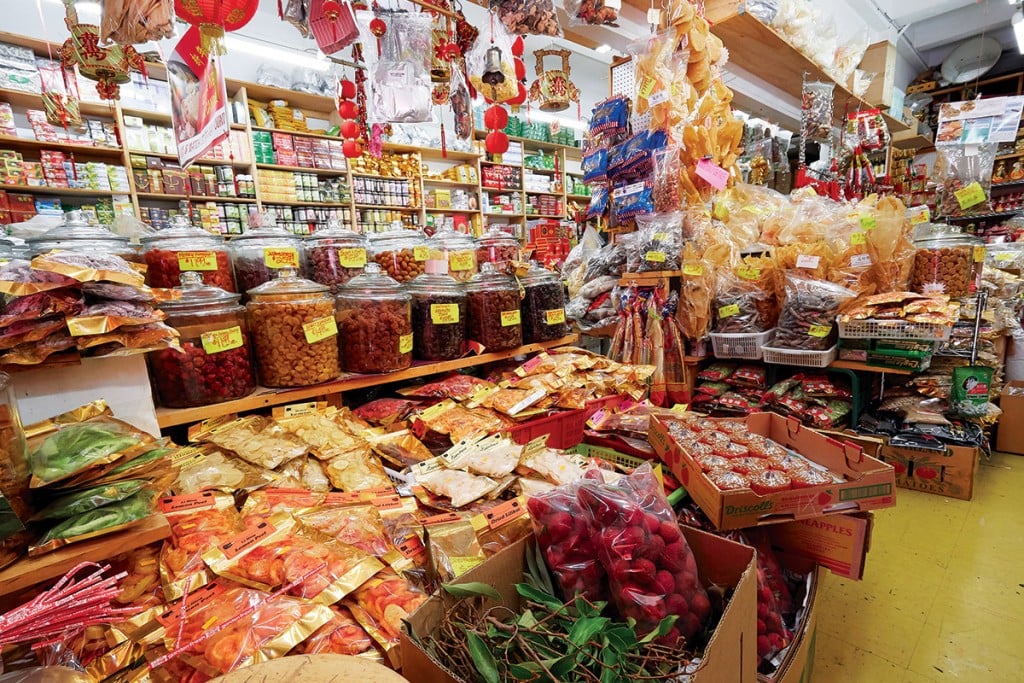 "Come closer," my guide says.
My eyes widen—I'm already mere steps away from the action—but I do as I'm told. Just a foot in front of me, I watch as a woman deftly peels and folds look funn, Cantonese steamed rice noodles, into long translucent rolls. In under a minute, the stack of slippery sheets has been transformed into a mountain of noodles, ready to be eaten.
It's then, as I stand behind the counter of the Ying Leong Look Funn Factory (1028 Kekaulike St.) in Honolulu's Chinatown, that I understand I'm witnessing a master perform her craft.
This is the kind of expertise I learn about on the Chinatown Food, History and Culture Walking Tour, run by the Hawaii Heritage Center, a nonprofit founded in 1980 to preserve and perpetuate the rich history and cultural heritage of the Islands.
The tour takes me deep into Chinatown, an area I'd been too intimidated to really explore on my own. However, alongside Carol Suzuki, my guide for the two-hour walk, I'm at ease as she shows me the hidden gems and historical markings in this culturally significant neighborhood.
Before the tour even starts, I find myself fully immersed in history at the Hawaii Heritage Center, surrounded by artifacts such as decorative dragons and an antique Chinese bed. They serve as a backdrop while Karen Motosue, vice president of the center's board of directors—a volunteer position she's held since the center was established in 1980—highlights the organization's efforts to document various cultures' ethnic contributions to Hawaii. Chinatown is a central part of this study, Motosue says. As families grow more affluent and leave their Chinatown beginnings, new immigrant groups step in. Now, Honolulu's Chinatown not only represents Chinese culture and businesses, but Japanese, Thai, Filipino, Korean, Laotian and Vietnamese ones as well.
Motosue waves us off and our group walks two blocks to our first stop: Dr. Sun Yat-sen Memorial Park (1041 Bethel St.), which commemorates the Father of Modern China, who studied at Iolani School and Punahou School before returning to China.
We delve further into Chinatown's history at the Chinatown branch of First Hawaiian Bank (2 N. King St.), which displays pictures of Chinatown streets from the early 1900s.
The photos show a Chinatown newly rebuilt after the second of two devastating fires—and the bubonic plague—had swept through the neighborhood. The first blaze burned through eight blocks in 1886 and was fought by many firefighters, including King Kalakaua himself.
A little over a decade later, in 1899, Yon Chong, a Chinese bookkeeper, died from the bubonic plague. In Honolulu, he was the first of 71 to get the disease—all but 10 died—prompting a quarantine of the area, as well as "sanitary fires" to burn down infected buildings. One of those fires got out of hand in 1900 and raged for 17 days, destroying over 38 acres.
As Suzuki tells us about these tragedies, I'm suddenly very aware of the resilience of this often-overlooked area of Hawaii's capital, where rebuilt businesses—new and historic—work harmoniously to enrich a culturally vibrant neighborhood.
Just steps away from Downtown Honolulu, you can find the city's trendiest restaurants including The Pig & The Lady, Senia and Fête; flower and lei shops; and boutiques selling everything from graphic tees to locally made housewares. Chinatown's a go-to lunch spot for office workers and the setting for cultural nighttime events including Night in Chinatown and the Lunar New Year Parade.
Throughout our tour, Suzuki leads us into both well-known and hidden spots to sample their signature foods. In addition to the look funn, we try the crunchy-yet-chewy sesame peanut candy from Sing Cheong Yuan Bakery (1027 Maunakea St.), the doughy ma tai soo from Char Hung Sut Restaurant (64 N. Pauahi St.), pork hash from Royal Kitchen (100 N. Beretania St. #175) and, my personal favorite, sweet and crispy banana lumpia from Naty's Kitchen Filipino Food in Maunakea Marketplace (1120 Maunakea St.).
I stand right in front of the cooks as they work, watching helpers, often family members, fill and pinch the ma tai soo into soft bundles from the other side of the table at Char Hung Sut. I'm eating foods I'd never tried before at places I never would've found without Suzuki's expert guidance.
We tour markets—including Oahu Market (145 N. King St.) and Kekaulike Market (1039 Kekaulike St.)—packed with produce I recognize, like the large and spiny jackfruit, and others that have no name in English. Their bright colors mesmerize me, and I think I asked Suzuki, "What's this?" over a dozen times. She always smiles before answering, revealing the ways I can eat the soursop and star apples that have me awestruck.
We also visit sacred sites in Izumo Taishakyo Mission of Hawaii (215 N. Kukui St.), a Japanese Shinto shrine with a distinct wooden A-frame structure, and Lum Sai Ho Tong temple (1315 River St.), where curled incense slowly burns in front of offerings.
By tour's end, I have a wider appreciation of Chinatown—a district that is rooted in its significance for immigrant families, providing an area for them to foster community and celebrate their cultures, yet always changing. I'm already planning my next venture into the district's markets, where the flavors are strong and the people who live and work here encourage you to come visit, to draw closer.
Chinatown Food, History and Culture Walking Tour
1040 Smith St., Honolulu, (808) 521-2749, hawaiiheritagecenter.org. Tours leave at 9:30 a.m. on Wednesdays and Fridays. Tour duration is about two hours. No reservations needed. Cost is $30 per person.