Discovering Hawaii Through Food: Where the locals eat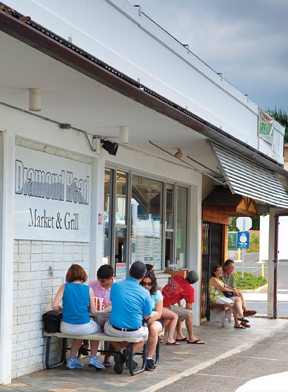 As always, the July/August issue of HAWAII Magazine is all over the subject of Island food and cocktails.
In the feature Can't You Just Taste Hawaii? award-winning chef and restaurateur Peter Merriman takes us on a road trip visiting the Maui farmers, ranchers and fishermen he buys from exclusively, proving that fresh, Island-raised ingredients always taste better. Tropical cocktails with a fresh, modern twist are the subject of Contemporary Tropicals: A Guide to the Best in Island Libations—Royal Hawaiian Hotel master mixologist Joey Gottesman shares eight of his best tropical cocktail recipes with HAWAII readers.
When did we actually eat anything?
When editor John Heckathorn compiled Discovering Hawaii Through Food—an island-hopping travelogue uncovering many of the small places and food sources that only Hawaii residents know about.
You'll find the complete collection of these local favorites that John found on Oahu, Maui, Kauai and the Big Island of Hawaii in our Taste of the Islands annual food and drink issue, on newsstands nationwide now. But in the sharing spirit of the feature, we thought we'd offer a favorite from each island here—you know, just to whet your appetite for more.
Dig in!
Oahu
Diamond Head Market & Grill
Just outside Waikiki, you'll find Oahu's best plate lunches and other local delights, like teriyaki burgers, all at reasonable prices. Want something healthier? How about a grilled fish salad with fresh mesclun greens? Absolutely the best meal on Oahu you order at a window and eat at a table in nearby Kapiolani Park.
3158 Monsarrat Ave., (808) 732-0077

Kauai
Pono Market
Kauai takes poke seriously. Everyone has his or her own favorite poke stop, but ours is Pono Market in Kapaa, where the ahi shoyu poke is some of the best we've tasted. That's not all, of course. You can get sushi here. The plate lunch menu changes daily, but there's always great Hawaiian food. It's not a restaurant, though. Mainly a place to pick up and go.
4-1300 Kuhio Highway, Kapaa, (808) 822-4581
Maui
Pukalani Superette
This bustling local grocery store not only sells fresh Maui meats and produce, but also has a kitchen with 16 employees, turning out a dizzying array of local foods, from kim chee to poke, from chow fun noodles to bacon and egg musubi. A nice place to stock up for a picnic Upcountry.
15 Makawao Ave., Pukalani, (808) 572-7616
Big Island of Hawaii
Hawaiian Style Café
This 47-seat eatery in Waimea has the best loco moco in the Islands. The "small" loco comes with a full pound of Big Island forage-fed ground beef, with a heaping portion of grilled onions, a fried egg and gravy. If you can finish a large order—two pounds of ground beef—you get two free 10-inch pancakes. (Is that a reward or punishment?) Go early because they close when they run out of food. In fact, call first, because they close whenever they feel like it.
64-1290 Kawaihae Road, Waimea, (808) 885-4295