Disney ready to book reservations for Hawaii Aulani Resort, Aug. 2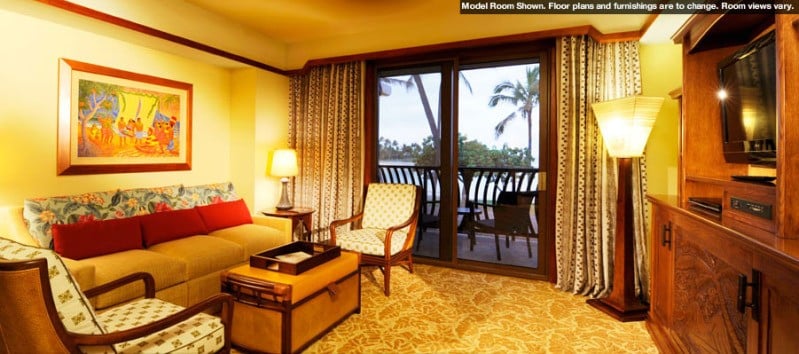 Want to be among the first guests at Disney's Aulani Resort & Spa when its first phase opens on Aug. 29, 2011?
Walt Disney Parks & Resorts will begin accepting reservations for its first Hawaii hotel/timeshare property on Aug. 2, more than a year out from the resort's opening date. The 360 hotel room/481 multi-bedroom vacation villa resort, designed for family travel, has been under construction since last summer on 21 acres of beachfront land at West Oahu's Ko Olina Resort & Marina.
The property's official name is: "Aulani, a Disney Resort & Spa, Ko Olina, Hawaii."
Disney this week also opened sales of the Aulani Resort & Spa's 481 vacation villas to members of its family-oriented Disney Vacation Club. The club's membership is estimated at 450,000 worldwide.
The company has said that it expects to open Aulani's first phase with 209 hotel rooms and 119 vacation club villas ready for guests. Disney recently released the photos you see here, of a two-bedroom Aulani model unit.
Walt Disney Parks & Resorts first announced the Hawaii resort project in October 2007, shortly after purchasing the Ko Olina beachfront acreage. Ground was broken on the project—then called Disney Vacation Club Resort Hawaii—in November 2008. Construction began in summer 2009.
Disney's design plans for the Aulani Resort & Spa include 48,685-square-feet of outdoor features, including a centerpiece "wonderland of water" featuring snorkeling lagoons, river pools, sunset-facing hot tubs, waterfalls, water slides, fishponds, pathways and tide pools stocked with native sea life. The resort will also include an 18,000-foot family-friendly spa, two restaurants, kids clubs, wedding lawn and a 14,545-square-foot convention and banquet facility. The resort also claims one of the man-made crescent lagoons along the Ko Olina shoreline.
Disney has said that it plans to market the Hawaii resort toward luxury family travel. The company has not yet revealed Aulani's pricing structure for its hotel rooms.
For more information, visit Disney's Aulani Resort & Spa website or Disney Vacation Club's Aulani website.