Dog Days with Pono at Turtle Bay Resort
He enjoys long walks on the beach, jumping in his favorite tidepools and greeting guests in the Turtle Bay Resort lobby.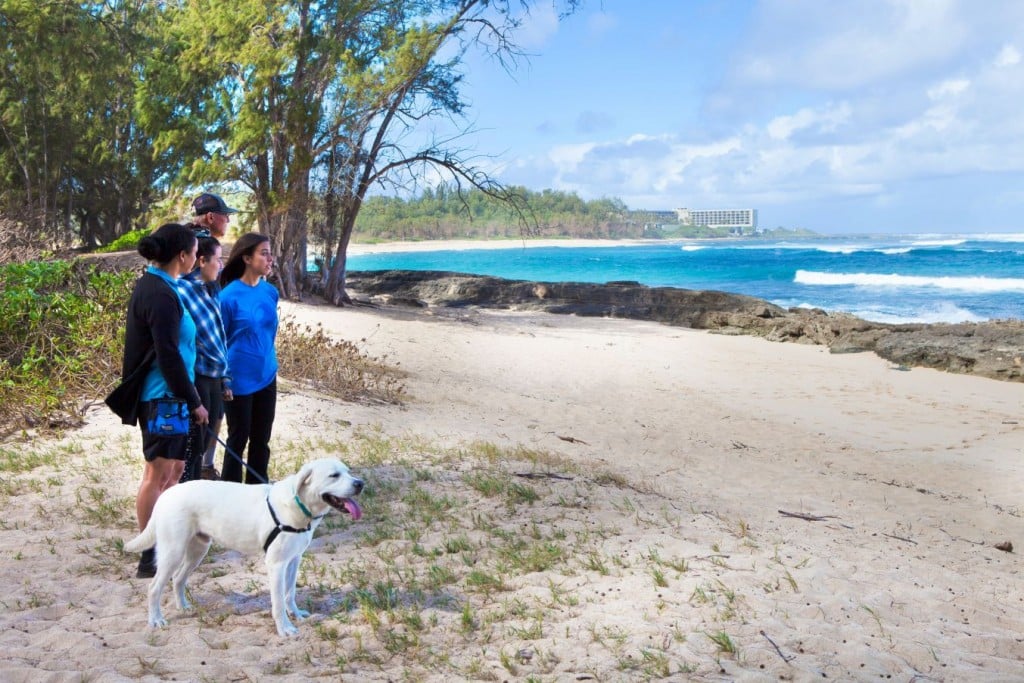 There's no doubt about it. Pono, the Turtle Bay Resort's canine ambassador, is living the life. Spending his days at the Turtle Bay Resort's 850-acre property, the 1-year-old Labrador retriever spends his working days hanging out at the hotel lobby's Guidepost, getting pet by resort-goers and hiking to Queen's Bath with guests and his handler (and mom) Alicia McCumbers, who is the director of activities for Turtle Bay Resort. And while it may seem like Pono's just on vacation, it's actually a tough job being such a good boy.
Pono (which means goodness or uprightness in Hawaiian) has been living the "suite" life since he was just a puppy. Born in Waimea on the Big Island, Pono was hand selected by Hawaii Fi-Do Service Dogs, a nonprofit organization which has been providing the people of Hawaii with certified service dogs for the past 15 years, to be the Turtle Bay Resort's canine ambassador. McCumbers reached out to Hawaii Fi-Do to help in the selection process as well as the training procedures Pono would have to go through to become acclimated to his new workspace. Growing up in the Turtle Bay Resort's stables, where he became friends with the horses and a barn cat named Doug before moving in with McCumbers, Pono began getting himself used to the hotel at 14 weeks old, after he had received his shots.
"Our biggest challenge was to keep him from jumping on people when he was a puppy," says McCumber, who consults with Hawaii Fi-Do trainers on a weekly basis. Still very much a puppy, Pono learned quickly to stop putting his paws on guests, especially small children, something McCumbers attributes to his mellow demeanor. He also has a quiver of tricks, like high-fiving and sitting, and has been trained in the same way a Hawaii Fi-Do service dog would be, although Pono is not service dog certified.
While Pono may be a working professional—there's something so cute about a dog with a job—in his off time, Pono is just Pono. He jumps in his favorite tidepools, digs holes in the sand at the beach in front of the Turtle Bay Resort stables and acts just like any young dog would. "When he's here, everybody is his friend," says McCumbers, who lives with Pono on an 8-acre plot of land in nearby Hauula. "But when he's coming home with me or he's in the car and a stranger comes up, he'll bark."
Of course, Pono would never do something like that to guests and is often friendly with other dogs. (Turtle Bay Resort is a pet-friendly hotel.) Like anyone working in the service industry, Pono knows how to get his game face on, which for a handsome Labrador isn't so hard. "From when he was a puppy, once we got to the doors, he'd always stop and do a little shake, like he was getting ready for the day," says McCumbers. "And then when he comes in, he's looking to see who pets him first."
You can hike with Pono twice weekly, on Tuesdays and Thursdays and say hi to him at the Guidepost in the Turtle Bay Resort lobby. Hikes are free, and donations go directly to Hawaii Fi-Do Service Dogs. For more information, visit Turtle Bay Resort's website or call the hotel at (808) 293-6000.