Downward Dog Meets Upright Goat at Maui Goat Yoga
This Kula farm pairs the meditative practice with adorable miniature goats—and it's awesome.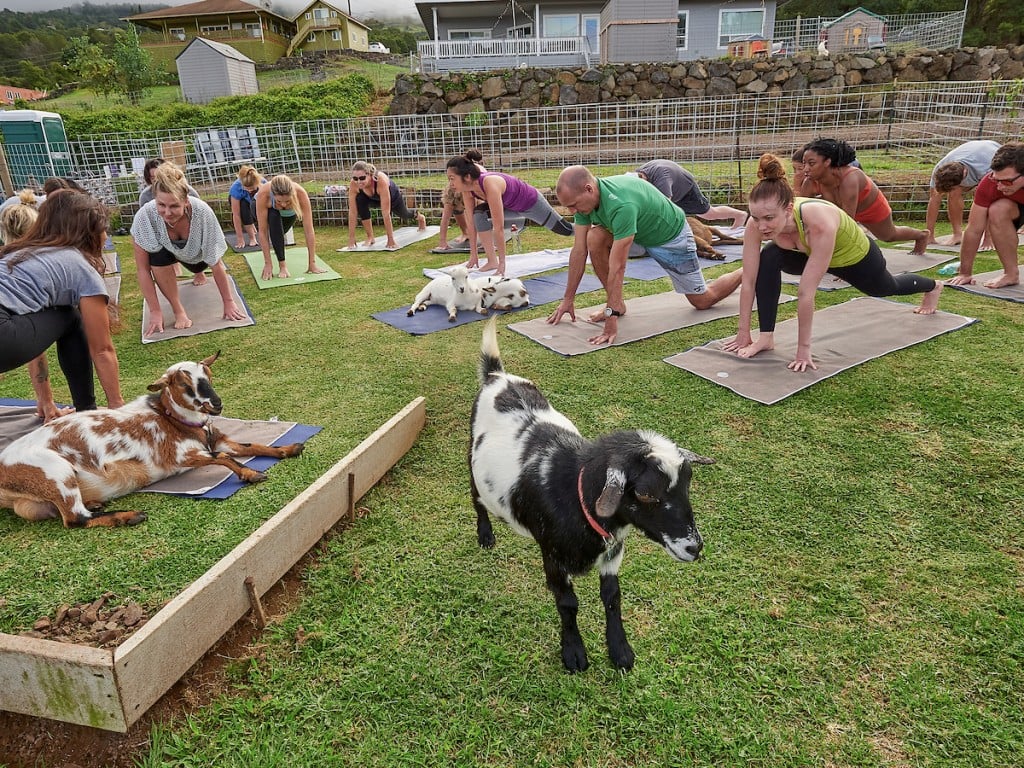 When we were planning our recent trip to Maui, there was only one thing on my must-do list: goat yoga.
Honestly, I planned the entire trip around it.
Maui Goat Yoga offers yoga classes at its picturesque farm on the slopes of Haleakala with panoramic views of the Maui coastline—with about a dozen adorable Nigerian Dwarf goats nuzzling and napping around you. I mean, what's not to love?
Goat yoga is new to Hawaii, but the practice has been around on the Mainland for a few years.
The trend started at a small farm in Albany, Oregon in 2016. Owner Lainey Morse, who had eight goats, hosted a child's birthday party at her scenic farm. A mom who taught yoga suggested Morse hold yoga classes there. Her immediate thought? Add the goats.
That resulted in goat yoga—and today, her classes at Original Goat Yoga are so popular, she has more than 1,000 people on her waiting list. She has also licensed out the name of her company to farms in eight other states, with classes selling out regularly.
Classes at Maui Goat Yoga are generally booked up, too, and we were lucky to snag a couple of spots last Friday.
The experience is likely exactly how you imagine it: You show up in workout gear with a yoga mat (or rent one for $5), a towel, maybe a bottle of water and a lot of gleeful anticipation.
Our instructor, Maluhia Karas, spent a few minutes on goat etiquette—which was really more of an introduction to goat behavior. They may pee, they may poop and they'll probably chew on your shirts. "If you're new to goats, you'll find that they're really gentle and friendly and affectionate," Karas said. "Give them aloha and they'll give it right back."
Then it was time to bring in the goats—and it couldn't have been cuter. In a fitted tank top, camouflage leggings and a huge smile, Wendy Terino Hatchie escorted the miniature goats, who ran, lept and pranced to the grassy area where the yoga class was being held. We could barely contain our squeals.
Hatchie knows every single goat by name—they have collars and nametags—and describes their personalities as if they were old friends. Cookie, one of her first goats—Hatchie bottle-fed her from 2 weeks old—is lively and playful, the queen of snugglers. Duder, named after Hatchie's brother, is a gentleman who would never jump on you. His twin brother, Jon Snow, named after the character in "Game of Thrones," is a lover who will chew anything he can get in his mouth. Part of the fun is just watching Hatchie talk about her goats.
"If you don't want to do yoga, you can snuggle or cuddle with the goats," Hatchie said, smiling. And she meant it.
As the goats—and a few resident chickens—roamed the fenced-in area, the class started. One of the bigger goats decided to sprawl on the open mat in front of me, where he napped for the entire class. Other goats, especially the kids, visited each person, hopeful for a nuzzle, maybe a treat.
And the way these goats made everyone feel was immediate and palpable. People unfolded out of Downward Dog or Child's Pose to rub the goats' heads or scratch their backs.
Let's be real: The yoga part of this experience is really secondary to being around these goats. The instruction is about 40 minutes long—not very intense but exceedingly relaxing. But it's hard to om when a 20-pound goat is biting your hair.
Arguably the best part of the class came at the end, what Hatchie calls, "goat therapy." After the instructors handed out small plastic bags of Cheerios and pieces of crackers to feed the goats, the smartphones came out and the goats were coaxed—with said treats—onto our backs for the perfect Instagram post. Some got into difficult plank positions, others just crouched down on all fours. The goal was the same: to get one of these goats to perch on our backs long enough to snap a photo.
There is a benefit to having a goat on your back: Their hooves can provide something of a massage as they move around to stay balanced. But really, we did it for the photo. And we're OK with that.
$36 for 90 minutes, $48 for sunset yoga with live music, $5 to rent a mat. Wear workout clothing and bring a towel and water. Consider socks if you're uncomfortable walking on grass with goat poop. 936 Keanuhea St., Kula, Maui, (808) 379-3335, mauigoatyoga.com.