Dragons in Waikiki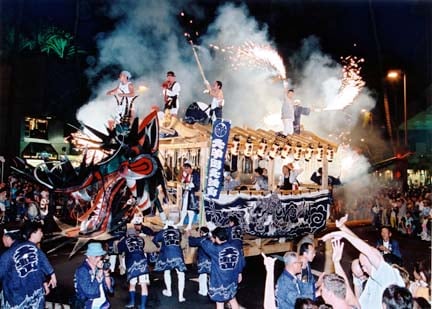 One of the state's signature cultural festivals kicks off in Honolulu this weekend.
The annual Honolulu Festival is three days of music, art, dance, games, demonstrations and workshops aimed at spotlighting the cultures of Asia and the Pacific. Artisans from Japan, Australia, the Philippines, Taiwan, Korea, Tahiti, the U.S. Mainland and, of course, Hawaii are in town.
By-invitation-only events with Honolulu Mayor Mufi Hannemann and other dignitaries kick-off the fest today. But the best of the festival will be held on Saturday and Sunday, largely in Waikiki and at Ala Moana Center, all open to the public, and mostly free.
You'll find the schedule of Honolulu Festival events and entertainment here—including where to catch aboriginal dancers from Australia, hula troupes from around the Pacific (including Japan), Hawaiian quilt demonstrations, Korean dance and even the Virginia-based Potomac Falls High School Band.
The "don't-miss" event of it all is the Honolulu Festival Grand Parade, 4:30 to 8 p.m. on Sunday. The bulk of the fest's 5,500 entertainers and artisans will march down Kalakaua Avenue—many of them showing off what they do best. There'll be floats, dancers—and somewhere in the middle of it all, a 33-foot-long fire-and-smoke-spitting dragon—manipulated by more than 200 handlers from Kyushu, Japan.