Duke Kahanamoku Beach Challenge celebrates Hawaiian makahiki with ocean sports and games this weekend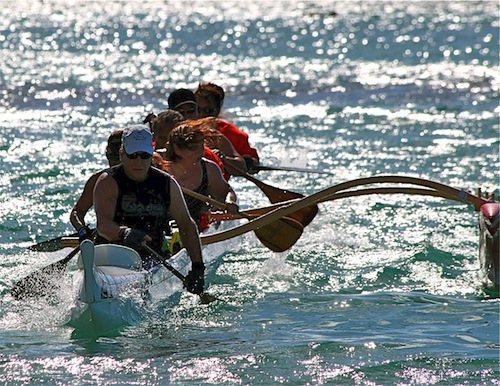 If you're in the midst of very modern Waikiki this weekend and find yourself yearningt for a glimpse into old Hawaii, check out the 29th annual Duke Kahanamoku Beach Challenge.
The annual event, which benefits the Waikiki Community Center, is a mix of Hawaii heritage and modern Waikiki fun, with double-hulled canoe races, tug-of-war, stand-up paddle board races and a variety of Makahiki season games such as ulu maika (sand bowling) and konane (Hawaiian checkers).
The daylong event happens this Sunday, April 13, from 9 a.m. to 3 p.m. at the Duke Kahanamoku Lagoon and Beach at the Hilton Hawaiian Village Waikiki Beach Resort & Spa.
The day's schedule of events begins with open-ocean canoe races and stand-up paddleboard races staged in Duke's Lagoon. On the beach, you can participate in traditional makahiki games and activities once played in old Hawaii or enjoy live entertainment by the likes of ukulele master Jake Shimabukuro and musician-vocalist Henry Kapono.
Makahiki was traditionally a season when early Hawaiians honored Lono, their god of peace, prosperity and fertility. Festivities would start with the first sighting of Makalii—the constellation Pleiades—as it rose above the horizon at sunset. The season would continue while Pleiades was visible in the night sky, often from October through much of February. During Makahiki, tributes were made, battles halted, and sporting competitions staged.
Photo: Duke Kahanamoku Beach Challenge
The Duke Kahanamoku Challenge was founded in 1985 as a community service project by the Waikiki Jaycees. It's now a fundraiser for the nonprofit Waikiki Community Center, which operates multigenerational programs and provides assistance to area families and individuals in need.
There's no charge to participate in Makahiki games, watch the races, enjoy the entertainment or peruse the various Hawaiian arts and crafts on display.