Duke Kahanamoku OceanFest rides Waikiki surf all next week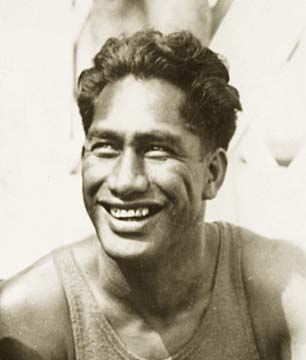 Want to take part in some awesome surf action in Waikiki? Minus the embarrassment of wiping out or the pain of getting sand in your pants, that is.
The 7th Annual Duke Kahanamoku OceanFest kicks off eight days of surf contests and ocean-related activities, Sunday at Waikiki's Kuhio Beach. Presented by the Outrigger Duke Kahanamoku Foundation, the weeklong festival honors the legacy of the Hawaii surf legend while raising funds for local scholarship and grant programs.
Duke Kahanamoku, of course, was the famed Waikiki beach boy and waterman who ruled the surf off Kuhio Beach for decades with great warmth and Aloha spirit. He also brought Hawaii worldwide attention with his surf skills and passion for the sport.
Duke won five Olympic medals—three of 'em gold—in the 1912, 1920 and 1924 summer games. He was also the first inducted to both the International Swimming Hall of Fame and International Surfing Hall of Fame. Top that, Michael Phelps!
In 1999, Surfer Magazine named him Surfer of the Century—a fitting title for a man who put the sport in the global spotlight.
With a week's worth of surf action, the Duke's OceanFest has something for everyone. A complete schedule of events is here. For more information, call (808) 545-4880.


Me? I'm down for these can't miss OceanFest events:
• Roxy Jam Honolulu Pro Women's Surf (Aug. 20-23). I'd be remiss if I didn't give it up for the ladies. This meet attracts the best female surfers from around the world and is Waikiki's only women's longboard surf competition.
• ITSA/ISA Waikiki Sandbox Bar World Title Tandem Surf (Aug. 20-23). I'm really excited about this contest—a wicked combination of surfing and acrobatics with two riders on one board. Check back with HawaiiMagazine.com in the next few days for a post from me on the event and Waikiki's storied tandem surfing history.
• Waikiki Lei Parade and Draping of Duke's Statue (Aug. 24, 4:45 p.m.). OceanFest's closing ceremony is traditionally held on Duke's birthday. Colorful lei are carried by surfboard down Kalakaua Avenue—Waikiki's main drag—and draped on Duke's iconic beach-fronting statue. What can I say? I'm a sucker for the sentimental stuff.
See you on the beach, kids!