Eddie Aikau big wave surfing contest celebrates its 30th year, holding period begins Dec. 1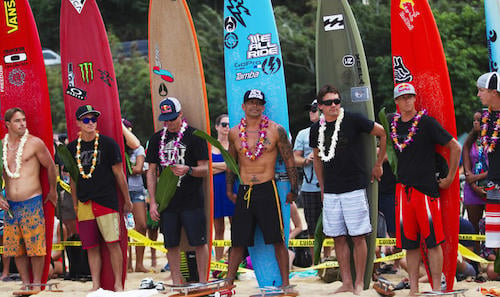 Every year, an invited shortlist of the world's most elite surfers head to the North Shore of Oahu to wait for Hawaii's biggest waves. But it's not every year that the really big waves come.
The holding period for this year's 30th annual Quicksilver in Memory of Eddie Aikau—the world's longest-running and most prestigious big wave invitational—runs from Dec. 1, 2014 through Feb. 28, 2015. So, it's officially time to start hoping that the really big waves will make an appearance this year.
The single-day competition only commences when open ocean waves off the North Shore consistently top 20 feet. Waves that big usually translate to 30 to 40-foot monster waves at the competition's headquarters in Waimea Bay. Because of the invitational's strict wave height requirements, the contest has only been held eight times in its now 30-year history. The last time was in 2009.
"The Eddie," as the contest is affectionately nicknamed, honors Eddie Aikau, the North Shore lifeguard and legendary Hawaiian surfer who loved to ride Waimea Bay's giant winter waves.
Aikau was a member of the crew of Hokulea, the Hawaiian long-distance voyaging canoe, when it undertook its second voyage bound for Tahiti in 1978. Six hours into the trip, high winds and rough seas capsized Hokulea 12 miles south of Molokai. With no rescue in sight, Aikau, volunteered to paddle a surfboard to Lanai, about 10 miles away, for help. The crew was rescued hours later, but the 31-year-old waterman was never seen again.
The Eddie is the only big wave invitational sanctioned by the Association of Professional Surfers (ASP), the governing body of professional surfing. Should the huge waves roll in, surfers are required to reach them on their own—without the jet-ski assistance that is sometimes used in big wave surfing to achieve the perfect starting position.
This year, 28 invitees and 24 alternates will wait out the holding period, hoping for a chance to showcase their skills and compete for the prestigious title. Among this year's competitors are Kelly Slater, Reef McIntosh, Bruce Irons, Clyde Aikau, last year's Van's Triple Crown winner John John Florence, and the 2009 Eddie winner Greg Long. You can see the complete roster here.
The event's official opening ceremony will be held on Thurs., Dec. 4 at 3 p.m., when invited surfers and members of Aikau's family will paddle out into Waimea Bay, form a circle, join hands and celebrate the legacy of Aikau and other late big wave surfers.
Also continuing simultaneously on Oahu's North Shore until Dec. 20, is the 32nd annual Vans Triple Crown of Surfing, the surf world's most prestigious annual contest series. Wave heights for the Triple Crown competition don't have to be quite as big as those needed for the Eddie—about 15 feet—so there's a good chance you can catch some of the pros at work regardless.
The opening ceremony for the Eddie, as well as any competition that takes place, will be streamed live on the event's website. We'll keep you updated on this year's Eddie here at HAWAIIMagazine.com and on our Facebook page.