Eddie Aikau immortalized in children's book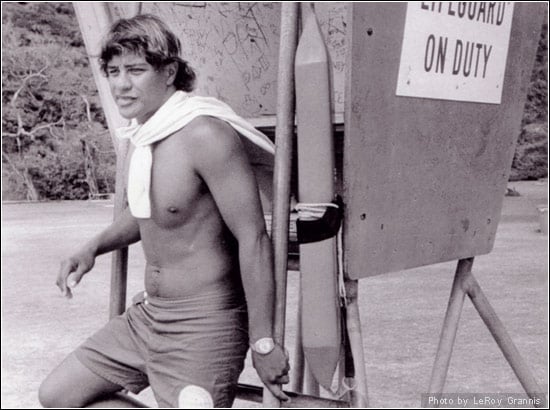 Eddie would go.
Perhaps you saw or heard the phrase somewhere here in Hawaii. On a t-shirt. On a bumpersticker. Maybe somebody even told you a story about the saying's namesake, Eddie Aikau.
Aikau was a noted big wave surfer and lifeguard, part of the crew for the Hawaiian long-distance voyaging canoe Hokulea's second voyage, bound for Tahiti. Six hours into the voyage, high winds and turbulent seas capsized the Hokulea between Oahu and Lanai. With no rescue in sight for the Hokulea's crew, Aikau volunteered to paddle a surfboard to Lanai, about 10 miles away, for help.
The crew was rescued, but Aikau was never seen again after paddling off. The still-used phrase "Eddie would go"—enshrined in the title of a 1995 HONOLULU Magazine article about the incident, written by crewmate Marion Lyman-Mersereau—is a tribute to Aikau's heroism.
So is Lyman-Mersereau's Eddie Wen' Go: The Story of the Upside-Down Canoe, a just-released children's book that gives Aikau's tale an inspired re-imagining. Hawaii ocean creatures—dolphins, humpback whales, sea turtles, frigate birds and a gabby shark—not humans, recount the legend of the "upside-down canoe" and the fearless Aikau.
It's a great kids' read—full of clever adventure, colorful characters and gorgeous watercolor artwork by Hawaii artist Melissa DeSica. Lyman-Mersereau, who helped build the Hokulea and was on the voyage with Aikau, wrings inspiration from the tragic day through her ocean characters and Aikau's heroism.
A read-along CD brings the book's sea characters and copious use of Hawaiian words, phrases and pidgin to vibrant life.
Lyman-Mersereau will be giving readings from Eddie Wen' Go at Honolulu bookstores throughout the summer—here's a schedule. The book is on sale now at bookstores, or click here to purchase.
Click the book cover above for book artwork and excerpts from the read-along CD.