Embrace the Outdoors by Glamping at Camp Olowalu
At Camp Olowalu you can reconnect with nature while still sleeping in an actual bed.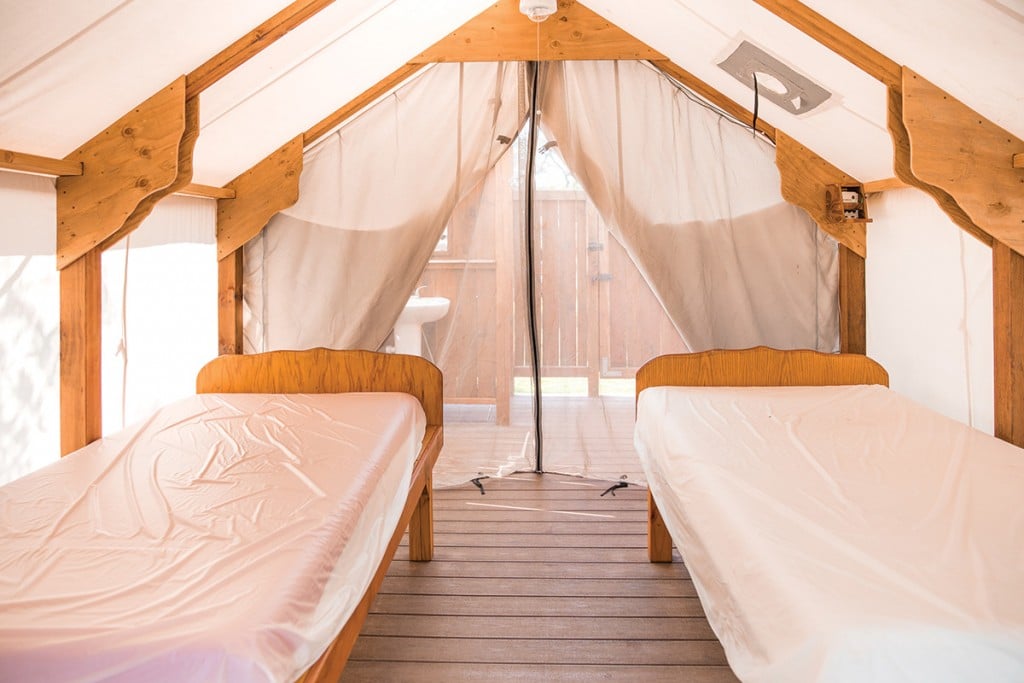 My friend and I sit on wooden Adirondack chairs, basking in the sun and talking about the next few days of our Maui getaway.
It's her first time on the Valley Isle and we have a lot planned: Visiting Haleakala, cruising Upcountry, seeing the culturally significant Kukaemoku (Iao Needle). Plus, she has a foodie's hit list of restaurants. But first, we take in the view.
We're at Camp Olowalu in West Maui. For our trip, we decided to forgo traditional accommodations for something more adventurous. The campground is known for its tentalows, a portmanteau of tent and bungalow. Each tentalow sits off the ground, has a lanai (porch) in the front, beds and a private shower and sink. They'll not only provide a great home base for our daytrips, but also offer a clean and comfortable place to relax when we want to just enjoy the oceanfront campground. During our three-night stay, we can enjoy all the perks of camping—without having to rough it.
Two rows of cream-colored canvas tentalows string the perimeter of Camp Olowalu, as Mauna Kahalawai, or the West Maui Mountains, rise dramatically in the background. Camp Olowalu's grounds are well maintained with fresh-cut grass between each campsite and defined footpaths to the front office, bathrooms and beach. Fruit enticingly hangs from the mango, papaya and even ulu, or breadfruit, trees that dot the area. There are also picnic tables, barbecue grills and fire pits for essential camping hangouts. We won't cook all our meals, but thankfully we won't have to go far. Across the street from Camp Olowalu is the family-owned Olowalu General Store, established in 1932, and Leoda's Kitchen and Pie Shop. (Be sure to get the chicken pot pie.) Plus, it's only a 15-minute drive to Lahaina.
Camp Olowalu sits on a 700-acre beachfront property, much of which is conservation land. Olowalu was farmed for years; Hawaiians raised taro, and sugar was later grown and harvested after Hawaii became a U.S. territory, and then a state. It was also the site of the deadly Olowalu Massacre in 1790, in which an American trader, Simon Metcalfe, ordered his ship's crew to fire on Hawaiians, killing more than 100 of them. But while Olowalu has a storied history, it is best known as a special gathering place for kamaaina (longtime residents) and visitors. Camp Olowalu opened in 2006, but it's been a popular campground for decades. In 1955 Camp PECUSA—Protestant Episcopal Church in the United States—opened as a place for retreats, summer camps and family reunions. Camp Olowalu has carried on that tradition. Our neighbors here are a young couple vacationing from the Mainland, a kamaaina family on a camping staycation and a few women on a girls' trip.
Camp Olowalu offers four different camping options, ranging from basic to deluxe. The campground has 35 tent campsites and 15 car campsites for those who want the true, live-in-the-outdoors experience. If you want a bed, your own shower and more space, then opt for one of the 21 tentalows. And for even more comfort, or if you have a big group, reserve one of the six cabins, which sleeps six and includes full bathrooms and the use of an adjacent kitchen and mess hall. Since the campground is used for family reunions and events, it can fill up, especially in the summer, so make sure to plan ahead with your reservations.
Checking in was easy. Getting into our tentalow for the first time, however, was somewhat trickier. We couldn't get the zipper to open. Tim, the camp manager, stopped by and, with some WD-40, pliers and a little finesse, unzipped the tentalow.
Camp Olowalu first built its tentalows in 2015. While only roughly 4 years old, I can tell the structures—Tim says the tentalows are the most popular option—have seen heavy use.
Each tentalow has two small but surprisingly comfortable beds. Camp Olowalu provides a bin with a blanket, pillow, sheet set and towel for each person and a cooler. (The blanket is thin, so if you're camping during Hawaii's winter months, bring layers.) There's also a large wooden chest you can lock, since the tentalows don't. In the rear of the tentalow is the private open-air shower and sink. My favorite part, though, is the lanai in the front of the tent. From our chairs, we can see the ocean through the trees. It quickly becomes our go-to spot to hang out each evening as we reflect on the day and talk about our lives in Honolulu. It's cool and there are no mosquitoes. The best part? There's no light pollution here. It's a breathtaking place to watch the night sky. I even see shooting stars.
With the creature comforts of cozy beds, hot showers and a relaxing lanai, we're reminded we are, in fact, still camping. While each tentalow has solar-powered lights, my friend immediately notices there are no outlets. And our cell reception is painfully slow. Camp Olowalu does have a charging station with 11 plugs adjacent to the front office—where the cell service is also slightly better.
We embrace it, and use our camping trip as an opportunity to disconnect, literally and metaphorically. It's not hard to do in this beautiful part of Maui. Olowalu Beach is mere steps away from our tentalow. It's a black-sand beach that's known for calm waves and stellar snorkeling, and is one of the more secluded beaches in West Maui. It's also home to a mother reef; meaning there are a lot of colorful fish, and even honu, or Hawaiian green sea turtles, to spot. In fact, you can book 2.5-hour guided kayak and snorkeling tours with Kayak Olowalu on the campground property. We decide to just go swimming and lounge on the sand, and make sure to visit the beach every day on our trip. Camp Olowalu is nearly picture perfect, whether you end up having the cell service to post those photos or not.
Camp Olowalu Tentalow rates start at $140 per night for a standard size and $195 per night for a family size, campolowalu.com.