Enter HAWAII Magazine's video contest for a chance to win an Oahu vacation
That stunning video footage from your last visit to our Islands could be the grand prize-winner in our inaugural HAWAII Magazine Video Contest.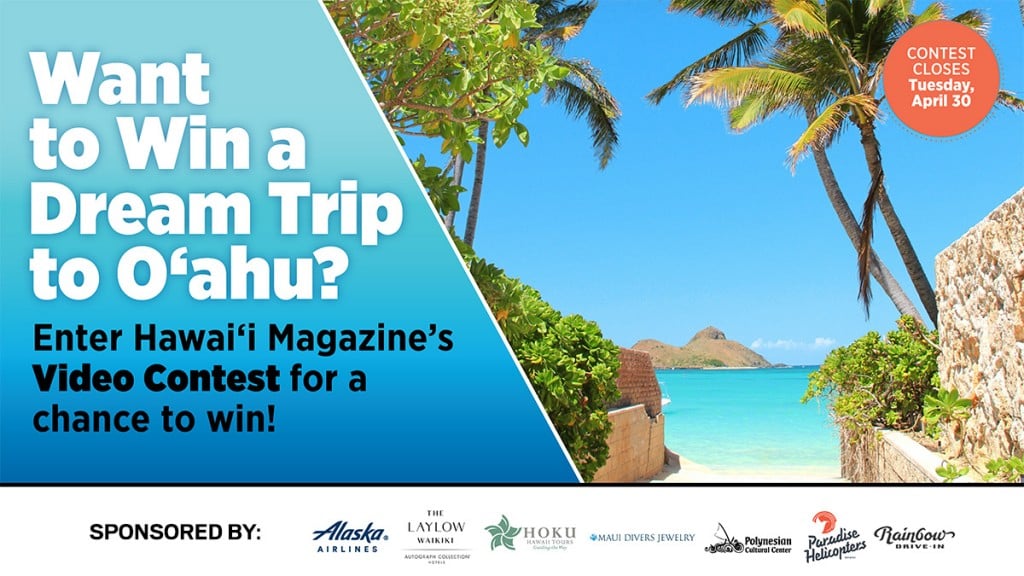 The Islands of Hawaii are special in so many different ways, and we want to see you create a video of Hawaii that inspires others to travel to the Islands and learn about its people, places and cultures. Be creative, tell a story, and capture the island's beautiful scenery, whether it's a dramatic sunset at a beach, an open-ocean adventure off the Napali Coast, a hula dancer at a festival, a helicopter flyover of Oahu, or lava flowing on Big Island. What inspires you?
How to enter: Make and submit a high-quality travel video, no more than 60 seconds long, and under 200MB in size, to the link below. Videos must be formatted to 1920×1080 (horizontal) and must not contain any watermarks or logos.
Judging: The first round of judging will be done by HAWAII staff. Finalists will go to an online popular vote, open to the public (the winner will receive a separate Viewers' Choice prize).
The final round Grand Prize round will be judged by in-house staff and freelance videographers.
*Please note: To offset the cost of processing all entries and ensure that we receive entries of the best quality, we will be charging an entry fee of $10 per video.
Your deadline to submit a video is Tuesday, April 30, 2019.
Prizes
GRAND PRIZE (ONE WINNER):
· Roundtrip air travel for two (2) to Honolulu on Alaska Airlines. **
​Alaska Airlines flies nonstop from 10 West Coast destinations to Hawaii, including Seattle, Los Angeles, San Francisco, San Diego, Portland, San Jose, Oakland, Anchorage, Sacramento, and Bellingham. Comfort, convenience, and friendly service await you on every flight. Stream 400+ free movies and TV shows to your own device, or rent an inflight tablet for more options. Keep your devices charged with power at your seat. Grab a bite inflight with our fresh meals inspired by the West Coast food scene. Winner and guest are responsible for their own transportation arrangements and costs above and beyond the Alaska Airlines flight certificate.
· A 5-day/4-night stay at Laylow Waikiki in a Junior Suite, plus $75 resort credit. Waived daily resort fee and parking.
Perched on the revitalized Kuhio Avenue in the heart of Waikiki, the thoughtfully-designed Laylow Waikiki blends midcentury modernism with its Hawaiian roots, artfully conveying the island's melting pot of cultures and its post-war architecture movement. Works by midcentury visionaries inspire the aesthetic of guestrooms, suites and public spaces while Hawaiian furnishings from the period have been reinterpreted to give the hotel its distinct sense of place.
· A HOKU Hawaii Tours Eco-Adventure Tour for two (2).
This extravagant and activity-filled island tour features a historical guided journey of Waimea Valley, a refreshing waterfall swim, and a chance to stand-up paddleboard on the Anahulu river or shop through historic Haleiwa Town. Enjoy a delicious lunch with North Shore favorites and Hawaii's famous shaved ice. Round off your day checking out the surfing beaches of the North Shore, the beautiful Byodo-In Temple and the breathtaking view of the Pali Lookout.
· An exclusive Maui Divers Design Center Tour, with Swag Bag.
Enjoy a 20-minute tour with a film about the discovery of Hawai'i's precious corals including Hawaiian Black Coral, the state gem. Watch skilled artisans create authentic Hawaiian and pearl jewelry right before your eyes.
· A Polynesian Cultural Center Alii Luau Package for two.
Delve into the culture of six different island villages, enjoy a luau live, eat at the Alii Luau buffet, and more!
· Paradise Helicopters Legends of West Oahu Tour for two (2).
Get acquainted with Hawai'i's unique cast of characters on the Legends of West Oahu flight. How did demi-God Maui use his hook? Did Pele always live only on Hawaii Island? Over the course of your 30-minute flight, our pilot will regale you with myths of Hawaii's deities as you view this fabled island from above. Tour central Oahu, the beauty of the North Shore, and Waianae, retracing their adventures. From your vantage point, you will have a unique opportunity to see with your own eyes how the aina (land) is inextricably linked to our akua (gods). This is a great flight for kids, or anyone interested in learning how the geographical features of our island home form the culture and legends of Hawaii.
· Rainbow Drive-In $100 gift card
Eat at the iconic Hawaii diner known for its plate lunches, from loco mocos to shoyu chicken, chili dogs and more.

VIEWERS' CHOICE PRIZE
· $200 Visa gift card
1. All contest entries must be submitted by Tuesday, April 30, 2019.
2. Employees of aio and its companies, judges, and contest partners and their immediate families are prohibited from entering the contest.
3. Contestants may enter multiple videos. Each entry must be submitted separately.
4. Color, black and white and sepia videos are eligible.
5. Videos must be formatted to 1920x1080px, and be no more than 200MB per individual file.
6. Only videos taken in Hawaii are eligible. All video submissions should state in the submission form when and where they were taken and (if possible) include the names of the people pictured.
7. A signed model release form is not needed if the video was taken at a public event or festival, or depicts an immediate family member.
8. Please do not send any previously published videos.
9. Winners will be notified in May 2019, after final judging by HAWAI'I Magazine staff.
10. The 2019 Grand Prize winning video and the Viewers' Choice winner will be published online at hawaiimagazine.com and on YouTube at youtube.com/havealohawilltravel.
11. HAWAI'I Magazine and aio Media reserve the right to publish all winning videos and video contest entries to utilize them in the marketing and promotion of HAWAI'I Magazine, aio Group and/or PacificBasin Communications.
12. HAWAI'I Magazine reserves the right to publish still images or video footage from video contest entries for editorial purposes in HAWAI'I Magazine and on hawaiimagazine.com.
13. Entries that fail to comply with the Official Video Contest Rules will be disqualified.
14. Certain blackout dates may apply to Grand Prize winner's travel.
15. Grand Prize winner and guest are responsible for their own transportation arrangements and costs above and beyond the Alaska Airlines flight certificate.
Mahalo for entering! Good luck!