Everlasting Aloha Found at Maui Divers Jewelry
Maui Divers Jewelry has been designing and making Hawaiian jewelry since 1959. The company handpicks its pearls from all corners of the Pacific.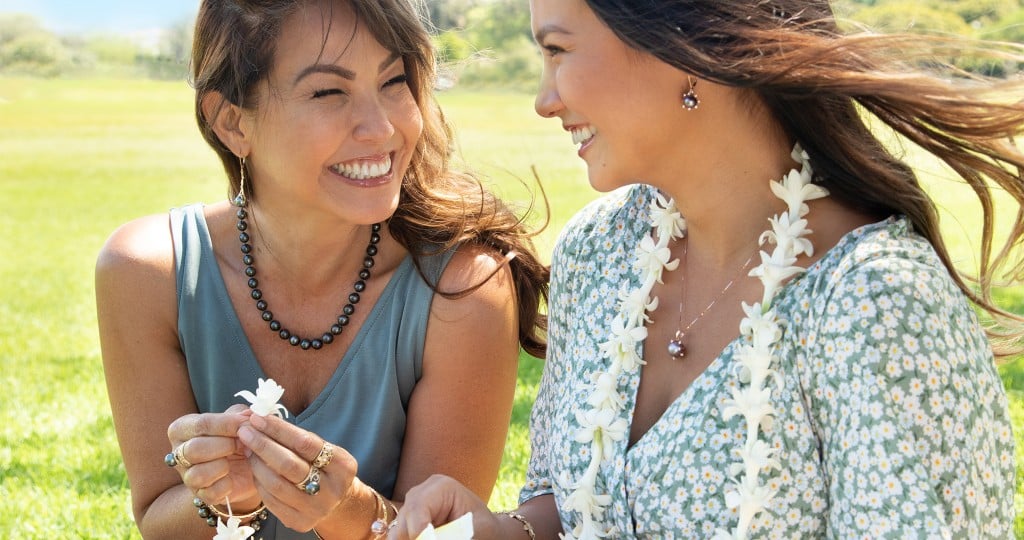 For many visitors to Hawaiʻi, a pearl necklace, bracelet or pair of earrings from Maui Divers Jewelry is a must-have. Although what some might not realize is that Maui Divers Jewelry prides itself on being local. From production to inspiration, each piece cherishes unique experiences and memories of both locals and visitors.
Each piece is designed by local artisans and is inspired by Hawaiʻi's nature and culture, reflecting the elegance of the Islands. According to Hugo Laverde, creative director, the pearls in their collections are sourced from all corners of the Pacific. "We work with different dealers and we select the best pearls for our collections," he says. "We handpick the pearls that we want to use for all our designs, whether they are black pearls from Tahiti, white Akoyas from Japan, South Sea from Australia or purple freshwater pearls from South East Asia."
Once the pearls are selected, the team at Maui Divers Jewelry works together to create all of the jewelry at the company's design center in Honolulu. "The brand has been around for more than 60 years," explains Laverde. "We are an established local brand, locally owned employing local people. Our collections are not made overseas or on the mainland. Everything is created in-house."
Having all their jewelry designed and created in-house is the hallmark of Maui Divers Jewelry. Today, the company has numerous store locations around the state, with employees who have worked there for more than 40 years. Everyone who shops at Maui Divers Jewelry carries their memories of Hawaiʻi with them—and these high-quality pieces are likely something they'll treasure forever.
The newest collection offered at Maui Divers Jewelry is called Pearls in Bloom. Each piece is a mix of plumeria flower and Tahitian black pearls or purple freshwater pearls. "It is our most popular, newest collection and is the perfect gift for Mother's Day," says Laverde.
Another beloved collection is the Hawaiian Heritage Collection, which is very modern and simplistic. "It's a modern take on the classic pearl," explains Laverde. "You can wear it every day or you can also dress it up."
Additionally, there are classic pearl strand necklaces, which are highly desirable because of their timeless and classic look. There are many characteristics to a pearl that help identify its quality and price point, Laverde says: "One of the things is the size—the bigger the pearl, the rarer, which makes it more valuable."
The next factor with pearls is the body color. "We want to make sure they have an even tone throughout them—the same greenish look instead of a dull color," he says. After that, Maui Divers Jewelry considers the "overtone" which is the pinkish and purple colors on top of the pearl.
Then there's luster, which shows how reflective the pearl is. "If you can see yourself in your pearl, it has really high luster and that means it's high quality," Laverde says.
"A team of more than 40 people work in the design center. Something that people donʻt realize is the amount of labor and hands that touch each item before it reaches the store. From the metalsmiths that cast the gold to the jewelers that polish the items and the skilled astisans that set diamonds and pearls. Each piece is unique, crafted with pride and is backed by our industry leading Forever Guarantee, which ensures this treasure of today lasts a lifetime."
Besides beautiful jewelry, Maui Divers Jewelry offers intimate private tours of its Design Center in Honolulu for a behind-the-scenes experience. For more information, visit mauidivers.com.