Every full moon, a stand-up paddling tour with Turtle Bay Resort
Experience the North Shore by night with this new guided tour.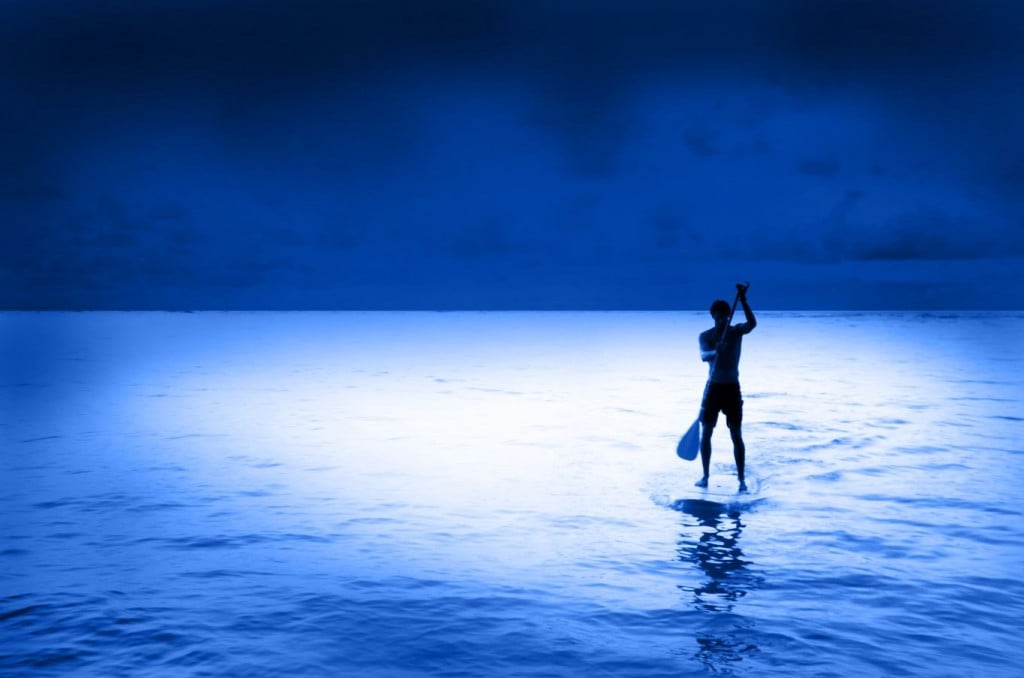 Kawela Bay on the North Shore is a pristine cove beach that attracts beachgoers from across Oahu, thanks to its seclusion and water activities. Protected by an outer reef, Kawela's nearshore waters are generally calm, which means you can swim, kayak, snorkel with marine life and spot honu (turtles) practically all year-round.
Now add moonlit stand-up paddling to that list.
A two-hour Full Moon Paddle tour, offered monthly through Turtle Bay Resort on the eve of the full moon, pairs groups with the on-property Hans Hedemann Surf School staff, who transport stand-up paddlers from its outpost to Kawela Bay, to experience it in a totally new light—moonlight, that is.
Following a quick drive to the bay with your expert guides (or, if you wish, you can take a leisurely 20-minute walk there from the resort), you'll find a bright campsite set up. There are tents to stash your belongings, a food and drink station to order meals from Ke Nui Kitchen and a communal dining and talk story area, where someone will eventually start a campfire and play Kapena and Bob Marley covers on guitar for the duration of the night.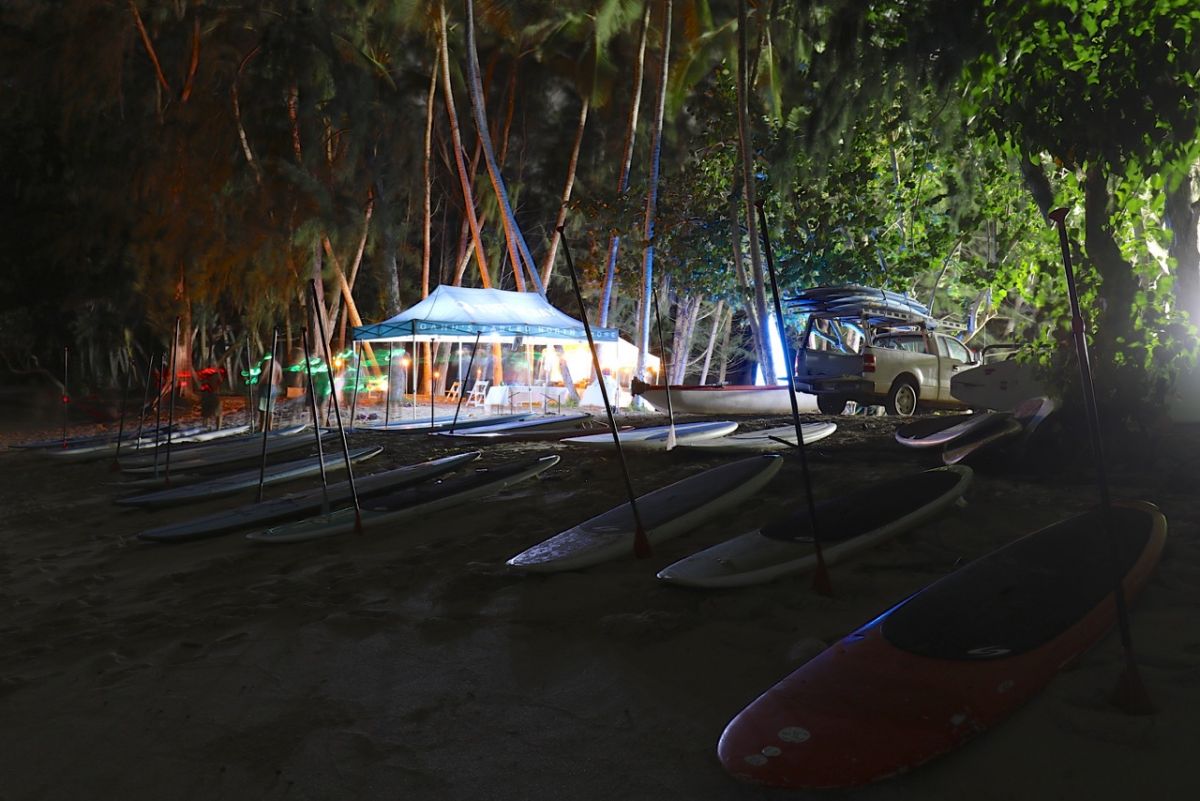 As wonderful and accommodating as that all is, the real fun doesn't take place here on land, but on the water. Kawela Bay is lit up with glow-in-the-dark floats that trace the surprisingly wide boundaries of where you can stand-up paddleboard and explore. (Just be mindful of the seemingly rogue illuminated markers scattered within the area; they have a purpose, indicating exposed reef inside the boundaries to steer clear of.)
The tour supplies stand-up paddleboards in varying lengths and widths (if you bring your own, the tour comes at discount) and glow-in-the-dark necklaces and bracelets to help guides track everyone's whereabouts and to keep everyone from paddling into each other.
At first, like most things about the ocean at night, the feeling is slightly unnerving. You're plunging your paddle into dark ominous waters while the rumbling thunder of waves echo in the distance, but because of the well-established zone and guides floating nearby to traffic everybody, it's easy to adjust to your new environment. Once you're cruising in the bay, and feeling comfortable enough to finally look up and take in the novelty of the gigantic full moon—its glow amplified by the nearly nonexistent light pollution on this side of Oahu—you realize how unique and special this experience is.
Overall, the tour format is casual and loose. The guides (many of whom I gathered to be local college kids from the North Shore area) are knowledgeable and friendly, and the food by Ke Nui Kitchen is all around satisfying (after about 45 minutes of stand-up paddling, the jidori chicken really hit the spot, personally).
The activity is also broad in its appeal. When I went, it was a mix of families, a group of 20-something backpackers from Europe and a couple on their honeymoon. Not all of us were stand-up paddlers, either.
Hans Hedemann Surf School also had a four-man outrigger canoe waiting on the beach for those who wanted to enjoy Kawela Bay beneath the moonlight, but without the physical strain of having to paddle.
The next Full Moon Paddle is set for December 2, 2017 6 to 8 p.m. and is open to non-guests of the resort. Book online through Turtle Bay Resort.