Everything You Need To Know About Visiting Hanauma Bay Now
Hanauma Bay Nature Preserve on Oʻahu reopened on Dec. 2 with new rules and fees.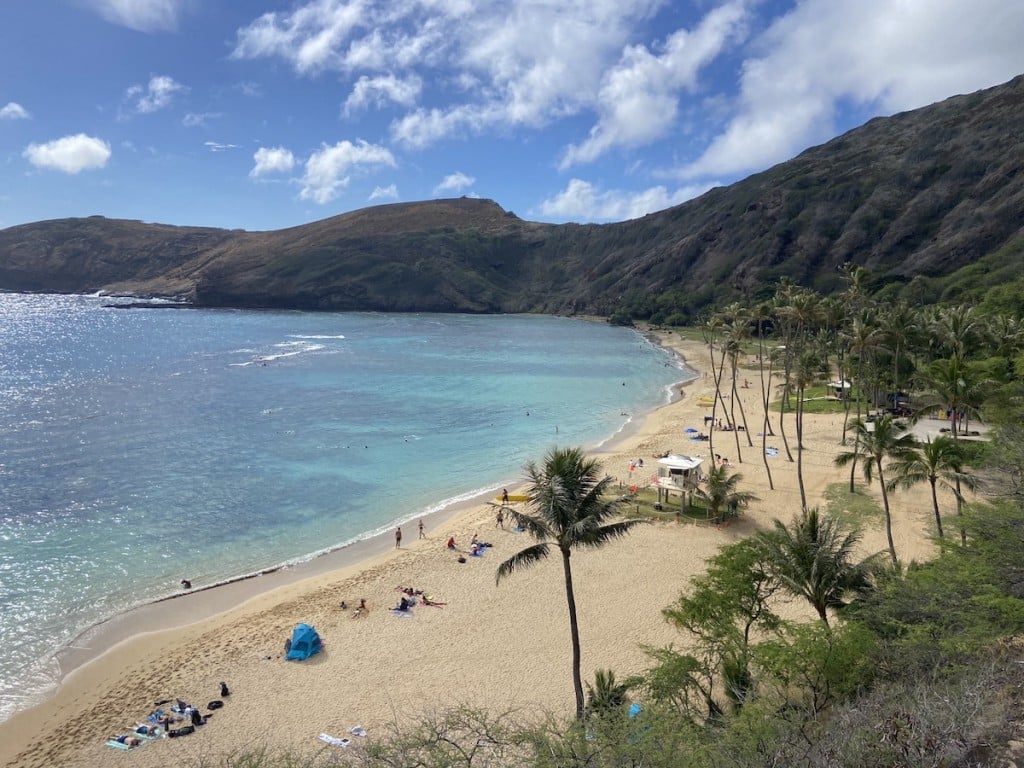 UPDATED, April 26, 2021:
Starting today, you can book your visit via this website.
This online system will allow you to select a show time up to 48 hours ahead of your planned visit to the nature preserve. For instance, beginning Monday the public can begin reserving a time slot for Wednesday. Reservations will remain open until the spaces are filled or until midnight the day before, so reservations for Wednesday will close after 11:59 p.m. the preceding Tuesday. Viewing the educational video is required for each entry into the nature preserve, regardless of previous viewings.
Reservation time slots are available in 10-minute increments, beginning from 7 a.m. until 1:40 p.m., Wednesdays through Sundays. You can reserve a spot for up to 10 people at a time—no more than five children and/or five adults.
Entry and parking fees will be collected when you arrive to Hanauma Bay. (In the future, though, the online system will be able to collect fees for non-residents. Entrance is still free for locals who can provide a valid photo ID and children younger than 12.)
Walk- and drive-in traffic will still be allowed on a first-come, first-serve basis.
UPDATED, Jan. 12, 2021:
The city has allowed walk-in entry again, starting Jan. 13.
The city is changing entry rules to Hanauma Bay again. Visitors will be given tickets that tell them what time they can watch the educational video before going to the beach. People can either remain in the parking lot and upper area of the preserve, or leave and come back.
All visitors must wear a mask, practice social distancing and avoid gathering.
Only 720 people are allowed in the park at a time.
UPDATED, Jan. 8, 2021:
Starting on Jan. 9, the city has issued a new entry procedure to address safety concerns: Only vehicular traffic can enter the bay. Walk-ins are not permitted.
Hanauma Bay Nature Preserve reopened on Dec. 2 after being closed since March 2020 due to the COVID-19 pandemic.
And while much of Hanauma Bay is the same—a gorgeous stretch of sand, ocean teeming with marine life—the visitor experience is slightly different with this reopening.
Here's everything you need to know if you're planning to visit Hanauma Bay soon:
Park Hours Have Changed
The park is now open from 6:45 a.m. to 2 p.m., with hours subject to change. That means no one will be allowed to enter the park after 2 p.m. Park staff will start moving visitors out of the park at around 3:30 p.m. with the park officially closing at 4 p.m.
Limited Visitors a Day
Access to Hanauma Bay—the parking lot entrance and theater—will be limited to 30 people every 15 minutes. Once a group exits the theater after watching the park's educational video, the next group will be allowed to enter. This means only 720 people (including children) are allowed into the park every day. Right now, park officials are trying to let in an equal number of vehicle occupants and walkers into the park in each group.
You Will Likely Have To Wait
In the first week of reopening, lines formed outside the nature preserve. Some people said they waited hours to get in. Just FYI.
The Park is Closed Two Days a Week Now
Prior to the closure, Hanauma Bay was closed on Tuesdays. Now, it will be closed on Mondays and Tuesdays.
New Safety Protocols in Place
All visitors must wear face masks at all times except when snorkeling (obviously) and maintain social distancing. And all visitors, even returning ones, are required to watch the educational video in the theater prior to visiting the bay. Prior to this reopening, visitors who return within a year could skip this part. Not anymore.
Fees Went Up
It costs $12 per person for anyone 12 years and older. It's still free for Hawaiʻi residents with ID. There are no refunds for admission. Parking fees are $3 for non-residents and $1 for Hawaiʻi residents. The parking fee is refunded if you leave within 15 minutes of entry.
No Tours Allowed
Commercial tours are not allowed to operate at Hanauma Bay right now. That includes commercial vehicles, taxis and commercial tour groups including sightseeing, scuba and snorkel groups. The city bus service to Hanauma Bay is still suspended.
Bring Your Own Food and Gear
The gift shop, education center, food concession, and snorkel and locker rental facilities are still closed. That means you need to bring your own food, drinks and snorkel gear. The bathrooms, showers and tramway to and from the beach are all in operation.
For more information, call (808) 768-6861 or visit here.