Experience culture firsthand by volunteering at a Hawaiian fishpond on Saturday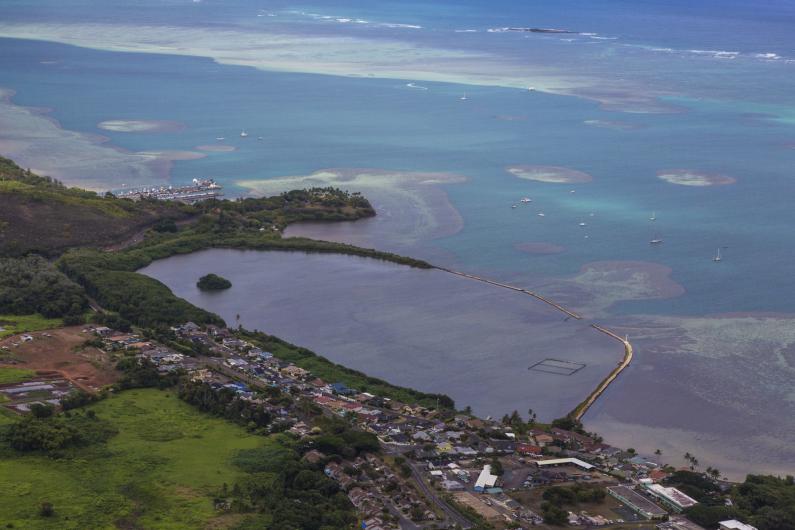 There is an olelo noeau (Hawaiian proverb) about education that says, "ma ka hana ka ike," which means "to learn by doing." You can experience this ancient wisdom firsthand this weekend on the east side of Oahu.
To get this hands-on experience of Hawaiian culture, there is a community gathering at Paepae o Heeia on Oahu's eastside on Saturday morning, December 12.
Volunteers will stand in a line and pass stones varying in size over 2,000 feet from the parking lot to the fishpond to help place the final rocks and coral on the fishpond's wall.
"The event that is happening is a part of our 'Pani Ka Puka' ('Close the Hole') campaign, which is to close the 80-foot gap in our 800-year-old wall," says Kelii Kotubetey, assistant executive director of Paepae o Heeia. "It's just going to be a day of amazing and historic proportions because we really haven't seen this kind of gathering and outpouring of support by a community for a particular fishpond in at least over 200 years."
"This is the way our ancestors built fishponds," Kotubetey says, "so we're using that same thought process, that galvanizing spirit!"
Paepae o Heeia is a registered 501(c)(3) non-profit organization that was founded in 2001 and whose purpose is to restore, maintain and care for the 800-year old Heeia Fishpond. Fifty years ago, heavy rains and flooding caused a 200-foot puka (hole) in the fishpond's walls, preventing the regulation of fish species in the pond and consequently prohibiting traditional Hawaiian methods of aquaculture. For the past 14 years, Paepae o Heeia has been restoring the fishpond and Saturday is the final phase of this restoration project, but there's still a long way for Paepae O Heeia to go assures Kotubetey.
"The Pani Ka Puka event is not the end," he says of Heeia Fishpond. "While we are closing the puka and finishing this particular section of the wall it actually signals an opening or a celebration of a new future for this fishpond because for the last 50 years the entire fishpond was un-useable for traditional aquaculture."
"Now with the closing of the puka we'll be able to regulate the fish going in and out of the pond. Therefore, we will be able to return the fishpond to traditional aquaculture, which hasn't been seen in 50 years. So this event is not an end, it truly is a beginning."
Paepae o Heeia is calling for 2,000 volunteers to place the final rocks and coral on the fishponds' wall and to register click here. Volunteers are encouraged to bring a water bottle, hat, sunglasses, sunscreen, gloves, covered shoes and clothes that can get wet and dirty. This event is not only an opportunity to learn about Hawaiian culture by participating in an authentic cultural practice, but it is promising to be a demonstration of genuine giving and collaboration.
"This is a prime and great example of the word, spirit and feeling of aloha because how often do we get together with friends, family, neighbors, coworkers and even strangers, who then become our friends and family," Kotubebey says. "We're all gathering in the spirit of aloha. The definition of laulima, 'lau' meaning 'leaf,' and 'lima' meaning 'hands,' so many hands working together make light work as we know. So the value of 'laulima' is cooperation and we literally could not get a project like this done without the support of so many people."