Experience Hawaiʻi's Most Haunted Tales Through Master Storyteller Lopaka Kapanui's Walking Ghost Tours
For nearly 20 years, Lopaka Kapanui has shared the beauty and rich history of Hawai'i through its diverse stories and legends.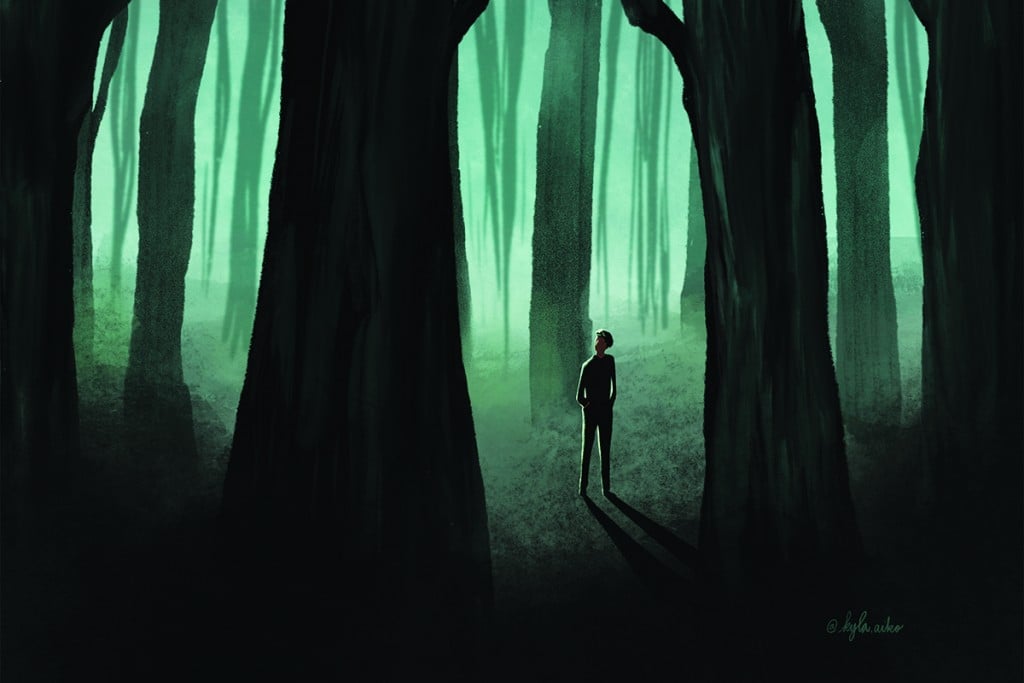 Six of us stand outside 'Iolani Palace in Honolulu, looking through a wrought-iron fence encircling a mound covered in grass and flowers. "That is a burial mound," Lopaka Kapanui says. "Sometimes, groundskeepers still catch people trying to unearth the bones that lie underneath."
The sun has already set and the humid summer heat seems to linger as we set out on our evening ghost tour of Downtown Honolulu. But there is a chill in the air that grows cooler and cooler with each tale the master storyteller tells. With only the moon and flickering street lamps to light our path, we walk from the palace grounds to Ali'iolani Hale, the judicial building located across the street, into the old post office next door and finally back to the palace. I hear birds cawing as they swarm above our heads and feel the wind blow through the empty downtown streets. It gives me chills—both kinds.
For over 20 years, Kapanui has shined light on this side of Hawai'i through his Mysteries of Hawai'i walking ghost tours. An expert in the mythology of the Islands, he says he feels an obligation to pass down stories to both new generations of Hawai'i people and visitors alike.
Kapanui began his journey in 1994 when, on a friend's urging, he attended a ghost tour led by late author and historian Glen Grant. This first encounter developed into a mentorship as Kapanui learned how to perfect his craft and interweave the stories his family passed onto him with those he learned from Grant. "In Hawai'i, what strengthens storytelling is that we have so many different cultures," says Kapanui. "And they give us different stories."
On his Mysteries of Hawai'i tours, guests learn about Hawai'i's spiritual history and culture, often through photographs that Kapanui brings. One of the most notable photographs, he tells me, is of his former assistant and a tour guest walking on a road near the Pali Lookout.
It's late at night, and not a single star is visible in the sky. The two men cross from Windward to the Leeward side of O'ahu along a road near the Pali Lookout. While the assistant holds a flashlight to light their path, the guest holds an offering wrapped in ti leaves meant for Kamapua'a, the pig god. What's remarkable about the photograph, taken by Tanya Kapanui, Kapanui's wife, is neither the scenery nor the people. It's the ghostly green light—perhaps a warning or residual from Kamapua'a—that appears just underneath the offering.
And what was the offering the guest presented to the pig god? A plate of roast pork.
But the Pali is just one of many haunted locations on O'ahu. Back in Downtown Honolulu, the main post office, judicial building and state Capitol are a few other spots where significant spiritual activity has been reported.
During his tours, Kapanui tells guests that "what happens isn't up to me, it's entirely up to you. It has everything to do with what's going on in your heart—spirit—that determines what happens or doesn't happen." And he believes this is what empowers people to join his tours and not only learn about, but also experience Hawai'i in ways beyond museums and lū'au.
"There are already people coming with more of an aspect of wanting to know how to respect not only the culture but also the people of Hawai'i," Kapanui says. "But [when they arrive] it would be a good thing to ask a hotel concierge, 'Where can I learn? Where can I eat authentic food that's not at a lū'au? What can I do at these sacred places—what's the protocol?'"
This October, Kapanui hopes to bring in psychic and paranormal investigator friends to enhance his ghost tours. Their new perspectives will allow for a broader look at the spirits of Hawai'i and hopefully increase people's interest in learning about and passing along these stories. After all, as Kapanui puts it, "There's really no end to stories that can be collected in Hawai'i."
To learn more or make a reservation—or to hear more ghost stories about Hawai'i—visit mysteries-of-hawaii.com. For more spooky stories told by Kapanui, be sure to check out our new weekly video series—Haunted Hawaiʻi: Stories by Lopaka Kapanui—where the master storyteller himself will be telling chicken skin tales on our website throughout the month of October, every Friday.